DVD Dimensions Page 3
The Third Dimension
The Integra DPS-8.3 is a high-end "universal" player that can handle both DVD-Audio discs and SACDs as well as CD-R/ RWs (including MP3 files), DVD+R/ RWs, and DVD-R/RWs. To vouch for its pedigree, the player is THX Ultra-certified. Its black front panel exudes solidity - it looks quite formidable compared with the increasingly popular silver-faced models. The button count is somewhat greater than today's norm, including a small but highly ergonomic cursor control to navigate onscreen menus. Three principal buttons are nicely haloed by blue light, and small LEDs glow for SACD, DVD, or CD playback. There's even a headphone jack with level control, an increasingly rare perk.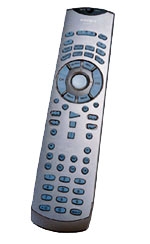 Overall, this is the classiest front panel I've seen in a long time, and a welcome relief from the junky plastic that becomes common as prices are driven down. Speaking of welcome relief, the backlit learning remote is light years beyond the usual handset. Its buttons are cleanly laid out, and the lettering is highly legible.
Because it has a Dolby Digital/DTS decoder onboard, the rear panel is busy with connectors, including a set of BNC jacks - a real rarity. (See back-panel photo below and "Features Checklist" PDF.)
Installing this player in my system was a pleasure. Thanks to its BNC video outputs, for the first time I could omit the RCA-to-BNC adapters I usually use and connect the player directly to my Princeton TV's BNC inputs. Excellent! The two extra surround outputs made it a snap for me to drive an additional pair of surround speakers. However, when both pairs are selected, the output for each speaker drops by 3 dB, so I had to boost the level.
INTEGRA DPS-8.3
DIMENSIONS 17 1/8 inches wide, 3 5/8 inches high, 12 3/8 inches deep PRICE $1,200 MANUFACTURER Integra, Dept. S&V, 18 Park Way, Upper Saddle River, NJ 07458; www.integrahometheater.com; 800-225-1946
Setup was straightforward thanks to the player's Setup Navigator, which presented a series of onscreen multiple-choice questions (language, aspect ratio, and so on) that guided me through the entire process. To help you understand which settings affect which disc formats, the menus are color coded: blue for DVD-Video only, orange for SACD/DVD-Audio/CD, yellow for DVD-Video/CD, and green for all other formats. The Basic menu allows control over essentials such as selecting Dolby Digital or DTS output, while the Expert menu expands the horizons with upscale audio and video controls.
To get the best results from the player's multichannel analog audio output, it's essential to set up the bass management. The front left/right speakers have a fixed "large" setting. The center speaker and left/right surrounds can be set to "large," "small," or "off" (but the surrounds cannot be set independently). The subwoofer can be set to "on" or "off." For DVD-Audio playback, the center and surround speakers are automatically set to "large" on the menu. If you reset them to "off," the multichannel audio is automatically downmixed to stereo, unless the DVD-A title doesn't permit downmixing. You can also boost or cut levels for the multichannel analog outputs by ±6 dB in 0.5-dB increments, and a test-tone generator helps you set these levels independently for each channel.
For speaker-distance compensation, you can set distances to the listener for the front left/ right pair from 1 foot to 30 feet in 1/2-foot increments. As usual, these distance settings do not apply to SACD playback, but they do apply to DVD-Audio.
Like any upscale player, this one provides some nice perks: A Last Memory feature lets you continue playback from a specific location on up to five different discs. You can save settings (such as video adjustments and subtitle languages) for up to 15 DVDs. There are three factory picture presets and three custom presets in which you can make a long list of video adjustments, from color and brightness noise reduction to sharpness and gamma.
With all that video optimization on hand, I felt confident that the DPS-8.3 would provide excellent playback, and I wasn't disappointed. The Matrix glorifies two distinct fashion statements: the color black and automatic weapons. Nothing demonstrates this as vividly as the shootout in the skyscraper's marble lobby, which probably holds the world record for the most rounds squeezed off in a movie scene. Visually rich with flying debris, marble dust, gunsmoke, and muzzle flashes, it's further dramatized by reflections on the marble walls and floors, and Trinity's shiny clothing. All of this was precisely conveyed by the player's component-video output. I did not detect any flaws whatsoever in its MPEG decoding or in the video output signal. Moreover, with its full set of video controls, I could compensate for any disparity between the player and my TV.
The sound design of this scene is busy indeed, with heavy, metallic clanging, whooshing sounds as the actors fly though the air, the ping of shell cases hitting the floor, and, of course, the staccato of gunfire. The DPS-8.3 didn't shrink from the mayhem - its Dolby Digital decoder and digital-to-analog converters (DACs) kept pace and were as transparent as glass.
Cleansing my palette, I turned to music playback - Mark O'Connor's Hot Swing Trio In Full Swing, a multichannel SACD. The title track starts with O'Connor's energetic violin accompanied by Jon Burr on bass and Frank Vignola on guitar. The complex harmonics of string instruments are always hard to reproduce - here they sounded crisp but not harsh. On "Honeysuckle Rose," the gang is joined by singer Jane Monheit, who was recorded with her lips very close to the microphone. The Integra player accurately reproduced the slight edginess on her loudest notes - less accurate DACs might have smoothed this out or made it sound worse.
Whether it's movies or music that you care most about, this elegant player will do justice to your favorite entertainment material. One small complaint: my review sample's power cord was a bit loose in its rear socket. No reality is perfect.
The Final Dimension
These three players demonstrate the diversity of today's DVD scene. Traditional DVD-Video/CD-and-nothing-else players might still outnumber the others, but there are more and more with new twists. The Hitachi DV-PF73U neatly unifies the two parallel universes of VHS and DVD. Its VCR will satisfy any lingering sentimentality for tape and maybe even let you put off buying disc replacements for some of your favorite movies. The DVD player is basic, but the quality of its component-video output is respectable and shows exactly why DVD trumped VHS. Best of all, you get two realities for the price of one.
The Panasonic DMR-E50 is a neat piece of technology. Its playback chops are great, and its ability to record on either erasable or nonerasable DVD discs will rock the world of anyone accustomed to tape recording. Moreover, its recorded quality at XP and SP can be almost indistinguishable from the original. But remember that you can't copy DVD movies. For less than the price of some playback-only models, this DVD recorder is extremely nifty.
Technologically, the Integra DPS-8.3 is a far cry from earlier disc players, but it inherits the mantle from older CD and DVD players as today's version of a traditional, high-end model. It looks the part with its black front panel, and it rests its case on comprehensive video adjustments and as close to "universal" playback capability as you're likely to find today.
All three players offer a different perspective on the DVD scene. While audio and video quality can be a function of price, diverse functionality often is not. This opens the door to exciting options for buyers. Whichever way you go, there's a DVD dimension waiting for you.
PDF: In the Lab