DVD Dimensions Page 2
The Second Dimension
Panasonic's DMR-E50 ($500) lets you make high-quality recordings in the write-once DVD-R and rewritable DVD-RAM formats, whether you're time-shifting TV broadcasts, archiving camcorder footage, or creating your own DVD movies. A double-sided, 9.4-gigabyte (GB) DVD-RAM disc holds up to 6 hours of video and stereo Dolby Digital audio per side and can be played on other DVD-RAM-compatible players. DVD-R discs are playable on most (not all) standard DVD players.

PANASONIC DMR-E50
DIMENSIONS 17 inches wide, 3 1/8 inches high, 11 1/4 inches deep PRICE $500 MANUFACTURER Panasonic, Dept. S&V, One Panasonic Way, Secaucus, NJ 07094; www.panasonic.com; 800-211-7262
Of course, the DMR-E50 can also play standard DVD-Video discs, standard audio CDs, and recordable CD-R/RWs (including discs with MP3 files). DVD-Audio and Super Audio CD are off limits, however. As with most DVD players these days, a progressive-scan output is provided. Like the Hitachi DVD/VCR combo, but unlike conventional DVD players, the DMR-E50 has a TV tuner onboard.
The recorder's front panel won't win any awards for industrial design, but it does manage to tuck a lot of functionality into very few buttons. The Time Slip button and Chasing Playback capability are the killer apps. Because the DVD-RAM format lets you record and play at the same time, you can use the former to watch instant replays and the latter to watch a program from the beginning after you've already started to record it.
The back panel has the standard audio and video inputs and outputs (see back-panel photo below and "Features Checklist" PDF) plus an antenna input and output. Unfortunately, there is no FireWire input for connection to a camcorder. For my evaluation, I connected the Hitachi VCR's analog audio and composite-video outputs to the DMR-E50's inputs. Then I connected the DVD deck's optical digital audio output to my receiver for outboard Dolby Digital/DTS decoding and its component-video output to my TV. I also wired its antenna input directly to my cable tap. The recorder can utilize VCR Plus+ channel settings, and you can assign the same channel numbers used by broadcasters (and listed in published program guides) to the corresponding cable channels. This makes it easy to choose channels for timer recordings (up to 16 programs up to a month in advance).

The DMR-E50 can record on 4.7-, 9.4-, and 2.8-GB DVD-RAM discs, both cartridge and noncartridge types, and 4.7- and 9.4-GB DVD-R discs. A blank 4.7-GB DVD-RAM disc is supplied. Recording time depends on the quality level. A 4.7-GB disc holds 1 hour at XP (high-quality) level, 2 hours at SP (normal), 4 hours at LP (long play), and 8 hours at EP (extended play). To help remember what you've recorded, you can enter program and disc titles. You can also create and edit playlists and programs. For example, you can erase or divide a program and even protect it against accidental erasure.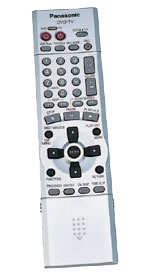 I started my evaluation with simple playback - or at least as simple as The Matrix permits. When Neo is first told about the Matrix, he sits in a hotel room with Morpheus. The colors are warm and dingy, the lighting low. Morpheus slowly spins a silver case in his hands, its surfaces reflecting the room around him, and Neo looks back at himself in Morpheus's sunglasses. These dark and subtle hues were convincingly reproduced, and the details looked sharp. On the audio side, the recorder's digital output didn't hit any snags in conveying the scene's dialogue, sparse music, and occasional cracks of lightning.
Of course, DVD recording is the DMR-E50's forte, so I recorded an episode of Dragnet from cable. Playback quality of the parts of my new DVD-R recorded at the XP and SP levels was excellent, with good color and picture detail that was indistinguishable from the original broadcast signal. I also copied some unprotected VHS tapes and was equally pleased with the result. With these top-quality recording modes, video quality is limited mainly by the source material (cable, satellite, or tape) rather than by the recorder.
On the other hand, picture quality was noticeably inferior in recordings made at the LP and EP levels, with slight fringing along with video noise and washed-out colors. Also, fast-moving objects were not reproduced smoothly. Overall, image quality was several notches below what I saw at the XP and SP levels. In any case, the A/V inputs are analog, which limits fidelity, and you're limited to S-video picture quality and stereo soundtracks. Since The Matrix is copy-protected, the recorder refused to record it. On the other hand, it dutifully copied the nonprotected feature presentation from the Sound & Vision Home Theater Tune-Up DVD.
It was a drag watching the commercials in my Dragnet recording. No worry - the CM Skip button jumps playback ahead by 1 minute, and the Time Skip button skips ahead by a user-selected interval. I could also watch an entire program, but if the plot was a little slow, I could play it back at 1.3x speed - Dolby Digital soundtracks are reproduced without a pitch shift.
Thanks to the miracle of time travel via data compression, a.k.a. Chasing Playback, I could watch Dragnet from the start while the DMR-E50 was in the middle of recording it, I could record a new program while watching a previously recorded one, or I could jump back to review an earlier portion of a program still being recorded. These three functions conclusively prove that reality is just an illusion.