Doomsday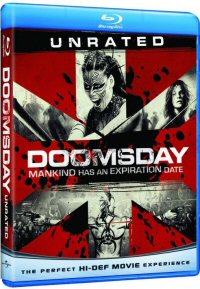 A deadly plague known as the Reaper Virus attacks Scotland, killing thousands and infecting millions more. To contain the disease, England constructs a wall along the border to keep out infected citizens from the north. Twenty-five years later, the virus reappears, forcing the government to dispatch a military team to search out a Scottish researcher (Malcolm McDowell) who was close to finding a cure during the first outbreak.
Why is it that virtually every movie that predicts our future society depicts us as a bunch of blood-thirsty lunatics? I just don't get it. Doomsday doesn't break any new ground in this regard—in fact, virtually every plot point has been used at one time or another, and like many such movies, over-the-top brutal violence permeates this one.
While this is not a very good movie, the 1080p/VC-1 transfer is pure eye candy. Brilliant colors jump off the screen, and intricate detail is well-resolved, especially in the background. Black levels are inky with jaw-dropping shadow detail. Universal has delivered another stellar video encode on Blu-ray.
Bass enthusiasts have another movie to add to their repertoire with this dynamic DTS-HD Master Audio soundtrack. Much like Paramount's Cloverfield, the audio is an integral part of an otherwise forgettable story. Discrete effects utilize the full 360-degree soundfield, placing you directly in the middle of the action. At times, the dialog is tough to understand due to some mumbling by the actors, which is the only real flaw in an otherwise exceptional mix.
The supplements are highlighted by a U-Control PIP presentation, but sitting through the film once was enough of a challenge, so this feature is best left for the enthusiasts of the genre. The other feature is an audio commentary with the writer/director Neil Marshal and some of the actors.
Fans of senseless and bloody violence will be very excited about the presentation on Blu-ray. I'm not such a fan, so take my impressions with a grain of salt, but from a technical perspective, this one delivers.
Release Date: July 29, 2008
Film: 4 out of 10
Picture: 10 out of 10
Sound: 9 out of 10

Review System
Source
Panasonic DMP-BD30
Display
JVC DLA-RS1 projector
Stewart FireHawk screen (76.5" wide, 16:9)
Electronics
Pioneer Elite SC-09TX THX Ultra 2 AVR
Belkin PF60 power conditioner
Speakers
M&K S-150s (L, C, R)
M&K SS-150s (LS, RS, SBL, SBR)
SVS PC-Ultra subwoofer
Cables
Monoprice HDMI cables (source to pre/pro)
Best Deal analog-audio cables
PureLink HDC Fiber Optic HDMI Cable System (15 meters) from pre/pro to projector