Doing The DVD Combo Page 2
One of the first things you'll want to do is let the VCR's tuner search for TV channels it can receive. Once this process is completed (it takes a few minutes), you'll be able to use the channel up/down buttons without hitting static.
As a DVD player, the DVR4000 has a couple of frills, including three bookmarks and 2x and 4x zoom. The zoom feature allowed me to blow up my 2.35:1 letterboxed copy of Pulp Fiction into a full-screen version, which also helped me appreciate how grainy - sorry, Quentin, I meant gritty - the film is. There are six scan speeds, including the mind-bending 128x, which lets you glance at a 2-hour movie in about a minute.
This scanning flexibility is almost sabotaged by its implementation on the remote, though. In a button-reduction effort gone horribly wrong, you press the forward or reverse button once to jump to the next or last chapter and have to keep pressing it to increase the scan speed. This means you have to hold the button down 3 whole seconds before the action speeds up to 2x, another couple of seconds before 4x kicks in, and so on. Duh? Accessing slow motion is faster, but there's only one speed, and you can only go forward. One thing I did like: six of the buttons glow in the dark, which makes it easier to find and operate the remote.
The DVR4000 is an okay DVD player that produces a visually loud picture - it can be muted somewhat if you turn down the contrast on your TV (see the lab notes). As a VCR, it offers 16-event/1-year programming, the ability to record searchable index marks, and the option of briefly superimposing the date, time, and source of a program at the beginning of the recording. There's no output for an infrared emitter, though, so you won't be able to program it to change the channel on a cable box.
Since the combo's $349 price tag is about as much as you'd expect to pay for an average DVD player and a basic VCR purchased separately, the value is in the integration of the most popular home video formats in one device. If you have both a limited budget and cramped space, the DVR4000 is worth a look.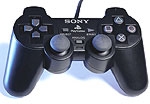 Sony PlayStation 2 Until recently, Sony was uncharacteristically low-key about the ability of the PlayStation 2 ($299) to play DVDs -probably to keep attention focused on the console's state-of-the-art gaming capabilities (and not to hurt the sales of its own DVD players). But the company now finds itself up against Microsoft's Xbox, which not only offers its own take on state-of-the-art gaming but can play DVDs as well. To set itself apart from its competitor, Sony is now quick to point out that, unlike the PS2, Xbox needs a $30 add-on before it can even play movies. Since we had a PlayStation 2 on hand but were still awaiting the arrival of a fully functional Xbox, I wasn't able to compare the two consoles as DVD players. Of course, hard-core gamers are probably wondering why anyone would even bother to watch movies on a PS2 considering its ability to engross a user in car races, sports simulations, and martial arts tournaments, among other diversions.
As a DVD player, the PS2 isn't exactly chock full of bells and whistles. It does have an optical digital audio output, but the proprietary A/V connector used for gaming means that if you want a higher-quality video connection than composite video (joined to a stereo cable), you'll have to buy an accessory S-video cable for $30 or a component-video cable for $20.
When it comes to playing DVDs, the PS2 is geared toward people who want to pop in a disc, hit start, and leave well enough alone. The game controller, which is tethered to an 8-foot cable, lacks DVD-specific labels and has few DVD-specific buttons. (Tripping over a cord in the dark is no fun either.) While it's pretty easy to figure out that you begin movie playback by hitting the arrow-shaped start button (it also doubles as a pause control), it takes a little experimentation to figure out that the button with the orange "O" stops the movie and that the R2 button makes the player scan forward.
---
LATEST VIDEO