Denon DVD-3910 Universal DVD/SACD player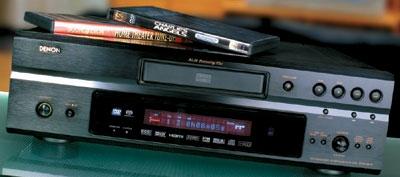 One way to improve the performance you get out of your home theater is with a component that can be adjusted in so many ways, you can enhance the whole system just by setting it up right. That's what Denon's hyperadjustable DVD-3910 does for multichannel music and movie soundtracks.
Fast Facts
DIMENSIONS (WxHxD) 17 1/8 x 5 1/2 x 16 inches PRICE $1,299 MANUFACTURER Denon Electronics USA, usa.denon.com, 973-396-0810
Key Features
• 3 different digital audio outputs, 2 digital video outputs • Bass management and speaker-distance compensation for all formats • outputs HDMI, DVI, IEEE 1394, and Denon Link; component-, composite- and S-video; optical and coaxial digital audio; multichannel and stereo analog audio
Some of the player's flexibility stems from its ability to play Super Audio CD (SACD) and DVD-Audio discs not only through the usual multichannel analog outputs but also through three (!) different digital connections. There's Denon Link for compatible Denon gear, an IEEE 1394 (a.k.a. FireWire or i.Link) interface, and an HDMI port, which can also carry digital video. There's also a second output for digital video, a DVI port. All this gives the player an unusually crowded rear panel and an abundance of hookup options guaranteed not to degrade DVD quality.
Much of the rest of the player's versatility shows itself in setup features and options. For audio, the most valuable feature is its unusually consistent bass-management/speaker-distance compensation system. Once you've set this up, the same processing will be applied to everything the DVD-3910 can play - from the lowest-fi MP3 and WMA files, through standard CDs and Dolby Digital or DTS soundtracks, right up to the best multichannel music recordings on DVD-Audio and SACD!
Proper bass management routes deep bass to the subwoofer when you're using a subwoofer/satellite speaker system. And distance compensation is essential for getting the most solid and detailed imaging - especially across the three front speakers - from both movie soundtracks and surround sound music recordings. Denon is one of only a handful of companies to provide distance compensation for SACD playback. The DVD-3910 even applies distance compensation to its subwoofer output and offers a range of common crossover frequencies to choose from - features usually found only in high-end receivers.
Video also has its share of adjustments. You get four types of progressive-scan con version (two optimized for playback of film-derived DVDs, and two for discs from video sources) as well as adjustable presets for the common video parameters (brightness, contrast, and so on) plus a gamma control to fine-tune the gradations between light and dark parts of the picture. By the way, I don't recommend messing with gamma for casual viewing, since all controls of this type are easy to screw up. But this is another way you - or a professional installer - can tweak video performance to the nth degree, particularly if you have a plasma, LCD, or DLP TV.