Denon DVD-3910 Universal DVD/SACD player Page 2
SETUP Once you figure out which of the outputs is best for your system, setup is pretty straightforward. If you use the DVI or HDMI output for video, the player will upconvert video from the DVD to either the 720p (progressive-scan) or 1080i (interlaced) HDTV format.
While the traditional analog and digital audio connections work as usual, using the IEEE 1394, Denon Link, or HDMI options might mean having to forgo other features. For example, when you use the IEEE 1394 output to a receiver, the player's analog outputs as well as your speaker-balance and speaker-distance-compensation settings are disabled, since the player assumes these functions are being handled by the receiver (as they usually are). And if you use the HDMI output, it will carry stereo audio from the CD layer of hybrid SACDs but not multichannel audio from the other layer.
The remote is comfortable to hold and nicely laid out. But only the cursor/menu controls and the basic transport buttons in the center are backlit.
MOVIE PERFORMANCE Images looked superb. Even the deep shadows, expanses of empty sky, and featureless walls throughout the new Ed Wood DVD (reviewed on page 109) were smooth and clean. I found no evidence of progressive-scan problems like jagged diagonals and color-smearing.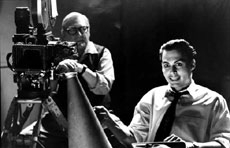 Black-and-white DVD movies like Ed Wood can challenge even topnotch players, like the Denon DVD-3910.
After using test patterns and
Ed Wood
to adjust the gamma for playback on an LCD TV, I was able to see details in near-black shadows, without increased picture noise or major distortions. This also had a big impact on playback of the BBC/Opus Arte DVD of the Berlioz opera
Les Troyens
(
The Trojans
). One of very few opera productions recorded live in high-definition video - most movies aren't as full of fine detail - it looked especially lifelike and vivid.
MUSIC PERFORMANCE The multichannel soundtrack of Les Troyens was also superbly lifelike. Everything I played on the DVD-3910 - from CD to DVD-Audio and SACD - sounded equally clear and clean. Proper bass management paid its usual dividend in solid lows from such over-the-top multichannel productions as the DVD-Audio disc of Blue Man Group's The Complex. And while Thomas Tallis's Spem in Alium is pretty esoteric, the Tallis Scholars' multichannel SACD of this and other a cappella Renaissance music has imaging properties that make it much more demanding of a surround setup than a typical pop production. With speaker-distance compensation set properly on the DVD-3910, I heard stunning polyphonic clarity within a reverberant cathedral ambience. I almost felt I could point to each of the 40 singers!
PLUS Superb audio and video quality. Consistent bass management and distance compensation for all formats! Many picture-quality adjustments. Complete set of digital outputs.
MINUS Expensive.
BOTTOM LINE
From its wide range of outputs to its wealth of adjustments, the Denon DVD-3910 is the most versatile disc player I've ever reviewed. Most of us will be happy with the factory settings, but inveterate tweakers and pro installers will have a ball fine-tuning them for the best possible performance. And while it's pricey by megastore standards, it's one of few players at any price that can deliver well-adjusted multichannel audio from all discs to
any
sound system. Add in its topflight audio and video performance, and you'll see why it's now my favorite universal DVD player.
PDF: In the Lab