Denon DVD-2200 Universal DVD/SACD Player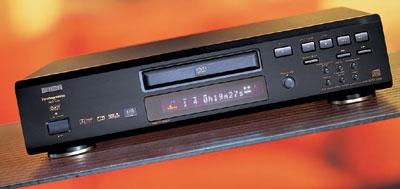 Photos by Tony Cordoza When the DVD-Audio and Super Audio CD formats were launched, critics bemoaned the start of yet another format war, knowing that when incompatible formats compete, consumers often don't buy either one. Instead, they wait to see which format is left standing. Of course, if you have a "universal" player, you won't have to wait for a format-war "winner."
FAST FACTS
KEY FEATURES • Plays most audio and A/V disc formats • Full Dolby Digital/DTS decoding • SRS TruSurround virtual surround sound • Bass-management adjustments for all formats • Bass Enhancer mode for stereo playback
OUTPUTS component video (switchable between progressive-scan and interlaced), S-video, and composite video; coaxial and optical digital audio; multichannel and stereo analog audio
DIMENSIONS 17 1/8 inches wide, 4 inches high, 12 1/2 inches deep
WEIGHT 10 3/8 pounds
PRICE $629
MANUFACTURER Denon Electronics, Dept. S&V, 19 Chapin Rd., Pine Brook, NJ 07058; www.usa.denon.com; 973-396-0810
Denon's DVD-2200 is a prime example of an affordable player that can handle not only DVD-Video discs but DVD-Audio and SACD titles, too. It also plays CDs, of course, and CD-R/RWs - even discs with MP3 music files or JPEG photos. For added versatility it can play DVD-R/RWs. On the other hand, Windows Media Audio (WMA) files and one of the recordable-DVD formats are not supported (click to see our "format compatibility" table in PDF), so technically this player is "quasi-universal."
Denon has resisted the urge to glitterize the DVD-2200 and has instead given it a conservative style with a front panel that has just enough rounding to take the edge off. In a nod to audiophile sensitivity, the player segregates power-supply, video, and audio circuitry on different circuit boards to help minimize the potential for background interference. It even has buttons that let you turn off the video signals when listening to music, the digital audio signals when using the analog audio output, and the display to eliminate any electronic interference it might generate.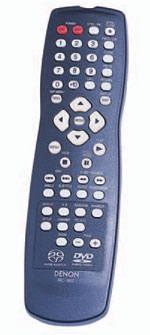 There are also buttons to select progressive-scan or interlaced video output and to activate SRS virtual surround to simulate a surround sound experience if you're using only two speakers. If you have a habit of losing your remotes, you might be disappointed that there are no menu-navigation controls. The remote, of course, has a set of cursor controls, which are conveniently located in the middle of the handset and glow in the dark.
Like its styling, the player's onscreen menus avoid visual extravagance and present a simple but visually pleasing interface. It was an easy matter to set up the player. I chose the widescreen and progressive-scan options for the video output and tweaked the contrast, brightness, sharpness, hue, and gamma controls. I especially liked the gamma-adjustment screen, which lets you fine-tune gradations of black to white with unprecedented precision, and I was pleased that I could store my adjustments in any of five presets.
Since this is a multichannel player, I spent a few minutes adjusting speaker-configuration, channel-level, and delay-time settings. To check out music playback, I started with a six-channel SACD. Alison Krauss & Union Station's New Favorite is an excellent example of how good a well-recorded SACD can sound.
The first track, "Let Me Touch You for Awhile," features Krauss primarily in the center channel, with just the right touch of reverberation to give her voice a realistic sense of ambience. During the first verse, there's a wash of reverberation from the acoustic guitars in the surrounds, but during the bridge, a dry lead guitar is panned to the rear - a trick that subtly draws your attention to the spatial artistry of this surround mix. The DVD-2200 did an excellent job of conveying the cleanly recorded acoustic instruments and the airy quality of Krauss's voice.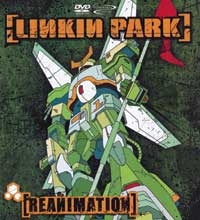 The Denon player faithfully conveyed the mayhem on this DVD-Audio remix.
It's customary for a band to mark time between studio albums with a live album, a greatest-hits album, or a remix album of previous material. Linkin Park's Reanimation is just such an album - in this case a DVD-Audio remix of material from the band's debut, Hybrid Theory. But Reanimation takes that metal/rock basis and radically reshapes it. Melody and sentimentality are replaced by heavy-duty rap and hip-hop. For example, "Pts.of.Athrty" cranks up nasty synth percussion, bone-dry vocals, blazing guitars, and scratching embellishments to produce a startling electronic work. The music slashes from one sound to the next, the volume abruptly jumps from minimum to maximum and back, and pure guitar distortion interplays with delicately reverberating vocals. The DVD-2200 faithfully handled the mayhem without adding, or subtracting, any distortion or noise from the complex mix.
HIGH POINTS Broad disc compatibility. Intuitive onscreen menus. Very good to superb audio and video quality.
LOW POINTS No headphone jack. Doesn't play WMA files.
For a movie check, I popped in The Lion King. This cartoon - er, animation - doesn't have nearly the visual finesse of such old-time Disney classics as Snow White, but it has enough subtlety to make it visually entertaining. In Chapter 6, the lion cubs frolic amid a lush landscape of bright colors before tumbling into the elephant graveyard, a gloomy place of somber tones. The DVD-2200 reproduced these hues vividly, providing as much of a cinematic look to the animation as possible. Moreover, the black edges around figures looked solid, and there were no visible scan-line effects between color borders.
Denon's DVD-2200 player is more proof that competing formats can be elegantly reconciled. Instead of flashy style or engineering gimmicks, this player focuses on performance. If you're looking for a multiformat player that delivers solid audio and video quality, be sure to put the DVD-2200 on your short list.
PDF: In the Lab