Denon DVD-1930CI Disc Player
The universe is still expanding.
People seem to love bashing the last great format war—SACD versus DVD-Audio—in which, of course, there was no real winner. My personal opinion has always been a little different. I consider it a unique pleasure to bask in the warm embrace of 5.1 high-resolution channels of some of the best popular music ever. I continue to do this, as I always have, by way of an affordable universal disc player, as one could fairly call it in the days before HD DVD and Blu-ray. I'm glad to see that manufacturers are still supporting the high-resolution audio formats, helping the consumer take advantage of all the great software currently available, much of it heavily discounted in the aftermath of the conflict.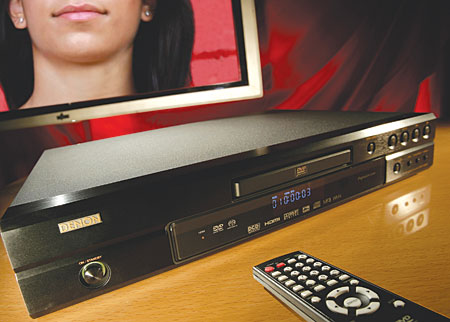 Adding to these players' value is the notion of video upconversion, an increasingly popular feature as HDTV continues to be the unstoppable gotta-have-it juggernaut of home entertainment. The true HD formats of Blu-ray and HD DVD are still finding their way in this brave new 1080p world, likely fated for a shiny home-video war-to-end-all-wars of their very own. But it's nice to know that we can still connect a source that pairs well with HDTV right now—and one that can exploit our current movie libraries.
How's That Sound?
Denon is diving headlong into the fray with their reasonably priced DVD-1930CI deck. Like all good disc players, it performs its own Dolby Digital and DTS decoding. So, all you need for music and movies is the multichannel analog input of a home theater pre/pro or receiver, like the Onkyo TX-SR601 I used during this review. You will of course need to secure your own sextet of audio cables for the task. If you prefer to let your receiver or a dedicated decoder crunch the bits to take advantage of more elaborate formats such as Dolby EX or DTS ES, you can pass the raw digital signal via coaxial or optical cable. Stereo and multichannel analog sound quality get an audible boost in Denon's Pure Direct setting, which you can access via a button on the face of the unit. This temporarily disables HDMI output, all other video outputs, and the glowing front-panel display. This was an unexpectedly serious audiophile feature on what seemed at first glance to be a "music and movies for the masses" machine.
The DVD-1930CI offers 480i and 480p video over the component output, in addition to 480i/p, 720p, and 1080i/p over HDMI. The DVD-1930CI offers bass management over HDMI, supports HDCP, and has settings for brightness, contrast, color, gamma control, and sharpness to better match your TV's strengths and weaknesses. But it doesn't include an HDMI cable. The back panel incorporates an RS-232 serial-command-control port for custom-install integration, as well as a remote in/out IR-command-control port. Once I had the player wired up, I spent the requisite time exploring its setup screens. The menus here are more involved than some that I've seen, thanks to the DVD-1930CI's versatility and quality. There are three menu levels. The Quick menu contains basics like aspect ratio, progressive/interlaced video, and onboard decoding on or passthrough. The Custom menu has submenus for Display (aspect ratio again, progressive scan again) and includes Progressive Mode, which is actually the five settings for the DCDi processing. The Audio menu offers Dolby Digital and DTS options (again), HDMI, and Analog. You can configure each audio choice for stereo or multichannel and input the size/type of speakers and any desired delay time. Although Initialize is the last menu on the bill of fare, you shouldn't select this after you've changed a bunch of settings. The Initialize menu returns everything to the factory defaults: humdrummery such as HDMI two-channel, Dolby/DTS passthrough, and a 4:3 aspect ratio. There's a separate on-screen control system for SACD, backed by its own button on the remote, but there's none for DVD-Audio, which immediately begins playing, with graphics, when you insert a disc.

DCDi
Despite my fondness for the Faroudja Sage demonstration disc for testing the performance of progressive-scan DVD players, the DVD-1930CI is one of the first affordable decks I've tried with Faroudja's DCDi processor chipset inside. DCDi was once an option only in high-end progressive-scan DVD players, but the march of technological progress has put it within the realm of lower-cost DVD machines. Here, however, Denon is using the 2301 chipset specifically, not the more powerful, highly customizable 2310 chipset found in their significantly more expensive DVD-2910 and DVD-3910 models. Clearly, this lower-priced model should not be held to the same standard. Even so, it does offer the five different user-customizable settings I mentioned earlier.
The titular DCDi test on the Faroudja test disc checks the processor's ability to perform its central goal of eliminating the jagged edges that can plague standard interlaced video viewed on progressive-scan displays. I saw smooth, realistic edges on the swinging-pendulum pattern. With the more real-world challenge of the Stars and Stripes billowing in the breeze, there were very few jagged edges. Also, the fast-panned top edge of the glass around the hockey rink looked wonderful. Film-mode processing (or reverse 3:2 pulldown) was quick, picking up the 3:2 sequence almost immediately. There seemed to be a mild amount of shakiness, though. Mixed content—video and film—was a toss-up. In one video sample, the telltale text was soft and hard to read; in the other, the processor quickly acquired the text, which then sharpened before my eyes, as if by some digital magic. Lastly, bad-edit correction—which keys off of any deviations from the essential 3:2 cadence, a common glitch in film-to-video transfers—was thankfully clean of motion artifacts. With the torture DTS Demo disc, the Apollo 13 clip was remarkably free of artifacts.
Making the Most of What You've Got
Now, upconverting standard DVD content to high-definition resolutions is not the panacea some folks think it is. Sure, it does provide an effective bridge between 480p content and 720p-and-up inputs, but it can also look excessively processed. I was pleased to see that the DVD-1930CI's upconversion was extremely natural looking, without the layer of digital edginess that I've seen before. I was distracted by some softness around the opening text of Master and Commander, but blacks were exquisitely natural, even in the brutal below-deck shadows of the H.M.S. Surprise. The video processing here did little to help the grainy, flickering compression artifacts in Superman, but this player did better with the fine textures than others have. High-end video content like Finding Nemo, however, was sharp and stable, exhibited smooth motion, and was a joy to watch. Two megabytes of buffer memory enable some of the slickest layer transitions on dual-layer discs I've ever witnessed. The pause in audio and video is almost undetectable, especially when compared with older DVD players I've tried.
Pure Direct audio and DCDi aside, there are a lot of small touches here that make the DVD-1930CI sing—everything from optional onscreen sound-level graphics to a front-panel HDMI selector button. Three-and-a-half bills put it toward the ceiling of "entry level," but this deck seems to think it is a midrange player or better, even if the price tag says something else.
Highlights
• 1080p output over HDMI
• DCDi processor has five customizable settings
• Price is very reasonable