Deadwood: The Complete Series (Blu-ray)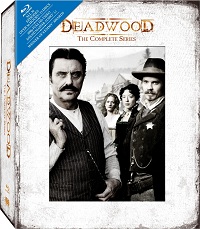 In the late 19th Century, Deadwood, South Dakota, was a boom town where prospectors came to strike it rich. It was illegally established on Indian land and attracted a wide variety of people from all different backgrounds. The town sheriff, Seth Bullock (Timothy Olyphant), came to Deadwood to open a business and ends up wearing a badge in order to keep law and order. Opposite him is Al Swearengen (Ian McShane), a local business man whose moral compass veers in the opposite direction as a local pimp and crime boss.
This show isn't for those easily offended by foul language or violence, both of which are quite prevalent. In fact, my wife left the room 15 minutes into the first episode because the "F-word" was said over 20 times—literally. She complained the writing was lazy but in fact it was completely intentional according to creator David Milch. He wanted to recreate the rough and tumble atmosphere of the real town and by my wife's reaction; he succeeded a little too well.
Video Highlights

AVC/1080p encodes on 13 discs
Sepia based color palette
Excellent detail
Occasional soft shots and crushed blacks
Audio Highlights

DTS-HD MA 5.1 soundtracks
Outstanding frequency response
Engaging surround track
Superb imaging
Plethora of discrete effects
The video transfers are quite good with only the occasional rough patch, which is to be expected with 36 hours of material. That being said, it's the audio track that really impresses with crisp dynamics, reference-quality imaging, and outstanding frequency response.
Bonus Materials

17 Cast and Crew Audio Commentaries
Making Deadwood: The Show Behind the Show featurette
The Real Deadwood: Out of the Ashes behind-the-scenes featurette
The New Language of the Old West featurette
An Imaginative Reality Season One wrap-up
The Real Deadwood: 1877 documentary
Making of the Season Two Finale documentary
Production photographs
Deadwood Matures featurette
The Education of Swearengen and Bullock featurette
The Meaning of Endings
Cast and Creative Team Q&A
Deadwood 360 tour
Al Swearengen Audition Reel
The show aired on HBO for three seasons and despite positive critical reaction, the audience started the falter and it was canceled. All 36 episodes are included and while I was able to tolerate the language and violence, it certainly isn't for the faint at heart. The show has a fitting conclusion with only a few loose ends and if you're a fan of westerns, this may be right up your ally.
Release Date: November 23, 2010
Studio: HBO
Series: 7/10
Picture: 9/10
Sound: 10/10

Review System
Source
Oppo BDP-83 Blu-ray player

Display
JVC DLA-RS1 projector
Stewart FireHawk screen (76.5" wide, 16:9)
Electronics
Onkyo Pro PR-SC885 pre/pro
Anthem PVA-7 power amplifier
Panamax M5400PM power conditioner
Speakers
M&K S-150s (L, C, R)
M&K SS-150s (LS, RS, SBL, SBR)
SVS PC-Ultra subwoofer
Cables
Monoprice HDMI cables (source to pre/pro)
Best Deal analog-audio cables
PureLink HDC Fiber Optic HDMI Cable System (15 meters) from pre/pro to projector

Acoustical treatments from GIK Acoustics
LATEST VIDEO