Dark Shadows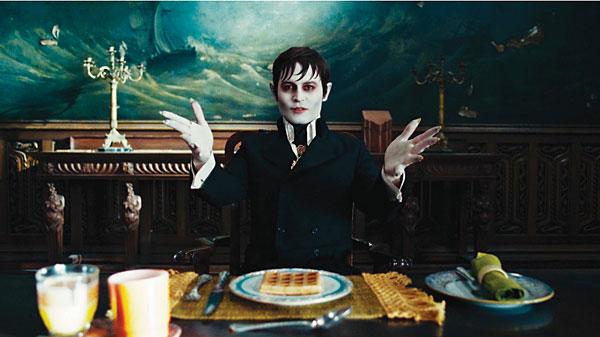 When Barnabas is unearthed 200 years later, he returns to find his family manor in disrepair and occupied by his distant and dysfunctional relatives. Of course, it's now the early 1970s and Barnabas is experiencing a significant degree of culture shock. Much of the film's humor plays on the classic fish-out-of-water story line. The scene that afforded me the biggest laugh was when Barnabas stares erotically transfixed at a bubbling red plasma-like lava lamp. And nobody could sell that scene like Depp does. Visionary filmmaker and master of the macabre, Tim Burton returns to familiar territory and the current practice of recycling pre-established material for a fresh perspective on the big screen.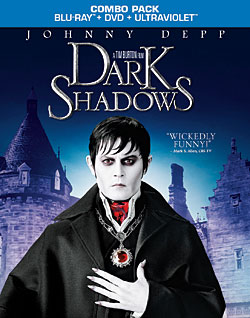 The HD picture is exceptional. Burton's preferred cinematic color palette of grays, blacks, and muted tones is crisp and vibrant. When accentuated by the warm glow of a fireplace, ghostly luminescence, or the pale light of a full moon, the results are truly striking. One nighttime exterior sequence involving bright halogen lights creates something of a pixilated halo effect in the gradation from light to dark, and there is minimal soft blur in moments of rapid movement or brisk camera pans, but not enough to be overly distracting.
The DTS-HD Master Audio 5.1 offers a consistently rousing and enveloping mix at every turn without showing off. It sports an even balance between the centerchannel dialogue track and the superlative ambient surrounds. Crashing waves on the sea coast, an exploding cannery, and a climactic supernatural fight to the death pulse through your speakers with verve and gusto, and Danny Elfman's haunting score is delightfully punctuated by groovy '70s tunes.
For such a high-profile release from Warner Bros., the extras are curiously threadbare. Maximum Movie Mode offers picture-in-picture vignettes that run concurrently with the film, along with deleted scenes and nine short featurettes called Focus Points that detail various aspects of the film's production. A bonus DVD is included, along with a Digital Copy through UltraViolet.
Dark Shadows marks Tim Burton and Johnny Depp's eighth collaboration together. Readers, you are hereby challenged to test your skill: Without going on IMDB or Googling it, see if you can name the previous seven instances. If you're successful, though, I'm afraid that breaking your arm patting yourself on the back is all we can afford to offer you in reward. Times are tough. What can we say?
Blu-Ray
Studio: Warner Bros., 2012
Aspect Ratio: 1.85:1
Audio Format: DTS-HD Master Audio 5.1
Length: 113 mins.
MPAA Rating: PG-13
Director: Tim Burton
Starring: Johnny Depp, Eva Green, Michelle Pfeiffer
There was a time long before the Twilight era when vampires were stylishly suave, spoke with heavy European accents, resided in palatial gothic stone mansions, and didn't get their wardrobes from Abercrombie & Fitch. Based on the popular cult soap opera from the late '60s that ran for more than 1,200 episodes, Dark Shadows tells the story of a young 18th century aristocrat, Barnabas Collins (Johnny Depp) who foolishly spurns the love of a vindictive witch ironically named Angelique (Eva Green). Proving that hell hath no fury like a woman scorned, Angelique places a curse on him and his entire family line. After witnessing his beloved fiancée take a suicide plunge off a seaside cliff while under a spell, Barnabas is condemned to be a vampire and then promptly sealed in a coffin and buried. And you thought your ex was a raving psychopath.
LATEST VIDEO