Copy Cats Page 2
LG LGXBR342LG's DVD/VHS combo can be considered a starter deck. It contains all the things I'd consider absolutely necessary in a combo recorder, but very few frills and no unique or innovative operating features. Essential features include: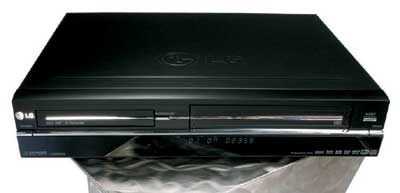 LG LGXBR342
DIMENSIONS (WxHxD) 17 x 3 1/4 x 14 1/4 inches PRICE $650 MANUFACTURER LG Electronics, us.lge.com, 800-243-0000
PLUS • Easy to operate • Good performance
MINUS • Cumbersome programming procedure
• The ability to record on an erasable format (DVD-RW) as well as the popular write-once DVD-R format. Using a DVD-RW blank disc will let you do basic editing, like removing commercials from programs recorded off air or reordering scenes dubbed from home videos. DVD-R discs don't allow any useful editing functions but are compatible with most DVD players and cost quite a bit less than the erasable discs. The LG's maximum recording time on either type of disc is 4 hours.
• An easy way to copy a videotape to DVD. You simply hit the Copy button on the LG's front panel (hidden behind a flip-door) or the one on the remote.
• The ability to program off-air recordings on either the DVD or VHS recorder. Unfortunately, LG makes you do this the old-fashioned way - manually entering the time, date, and channel you want to record. The deck doesn't even support VCR Plus+, which is pretty retro in this age of TiVo and fancy onscreen program guides.
Beyond these features, the LG deck provides all the basic playback functions you'd expect in any DVD player or VHS deck. On the DVD side you also get the standard functions for both of the two recordable formats it supports. Its remote control is the least cramped of the three, but also the largest, which sometimes requires a lot of shifting in the hand to get to the button you want - or else two-handed operation.
Hooking up the LG - and the other recorders too - is much simpler than connecting a standalone DVD recorder and VHS deck to each other as well as to a cable/antenna system. There's only one set of RF connections to worry about - an antenna input and a DVD/VCR output - and the wiring between the DVD and VHS sections is already taken care of. To get multichannel sound like Dolby Digital 5.1 or DTS from DVD movies, LG provides both a coaxial and an optical digital audio output for connection to your A/V receiver.

PDF: Features Checklist
PDF: In the Lab
PDF: Recording/Editing Options
LATEST VIDEO