Coach Carter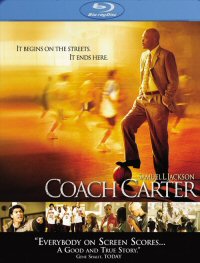 Nearly 10 years ago, I remember hearing about a crazy high-school basketball coach who locked his undefeated team out of the gym for poor academic performance in Richmond, California—about 40 miles west of my home town. As a suburb of Oakland, it shares many of the same neighborhood issues, such as street gangs, drug problems, and violence. In this dramatization, as in real life, Ken Carter (Samuel L. Jackson) takes the tough-love approach in order to teach the young men there's more to life than basketball.
If you didn't know better, you would think the movie is based on the standard formulaic approach of many Hollywood films, but the story as depicted is mostly true—with only the occasional embellishment. Jackson personifies Ken Carter, and this is one of his better performances in the past five years.
The video encode is a commendable effort from Paramount, delivering a pleasing picture. Blacks are stable with adequate shadow detail. Exterior daytime shots have a high level of detail in both close-ups and longer shots, and colors are very natural looking with consistent saturation throughout.
The Dolby TrueHD 5.1 soundtrack has no problems, although it isn't demo-worthy by any stretch. The hip-hop soundtrack brings the subwoofer to life, but it can be a bit overpowering, drowning out the dialog on occasion. The surround channels provide general ambience and crowd noise during the basketball games.
The bonus materials consist of a few behind-the-scenes featurettes, some deleted scenes, a music video, and an interview with the real Coach Carter, all in standard definition. The only HD feature is the theatrical trailer.
I'm a sucker for inspirational sports dramas, and Coach Carter is right up my alley. The HD presentation is solid and the riveting performance by Samuel L. Jackson is one of his best. Recommended.
Release Date: December 16, 2008
Movie: 8/10
Picture: 8/10
Sound: 8/10

Review System
Source
Panasonic DMP-BD55

Display
JVC DLA-RS1 projector
Stewart FireHawk screen (76.5" wide, 16:9)
Electronics
Onkyo Pro PR-SC885 pre/pro
Anthem PVA-7 Amplifier
Belkin PF60 power conditioner
Speakers
M&K S-150s (L, C, R)
M&K SS-150s (LS, RS, SBL, SBR)
SVS PC-Ultra subwoofer
Cables
Monoprice HDMI cables (source to pre/pro)
Best Deal analog-audio cables
PureLink HDC Fiber Optic HDMI Cable System (15 meters) from pre/pro to projector

Acoustical treatments from GIK Acoustics
LATEST VIDEO