A Cinema With Sense Appeal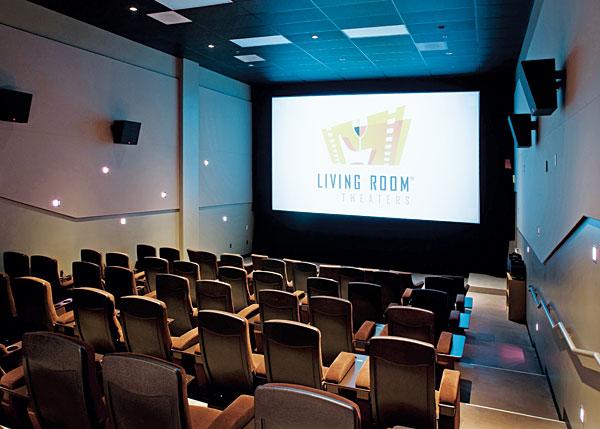 For an upscale night out at the movies without sacrificing your audio or video standards, Living Room Theaters in Portland, Oregon, is the ticket. The sophisticated cinema—housed in a historic building—blends ambiance, seating, service, and décor with cutting-edge technology.
It definitely breaks the mold of typical art house movie theaters and surpasses the ho-hum hangar-style cineplexes cluttering every neighborhood. Living Room Theaters favors indie and foreign films. A sampling at press time included A Dangerous Method, Albert Nobbs, and Pina in 3D. Coming attractions included The Kid With a Bike, Sound of Noise, and Jiro Dreams of Sushi.
The six intimate auditoriums, which range in size from 38 to 62 seats, offer plush seating, ottomans, tables for your drinks (alcoholic ones), and food that can be ordered and brought right to you. The lounge/bar lobby is an engaging space to have a coffee after a movie. In warmer months, the outdoor café is open and gives you a chance to grab a drink al fresco before your film. Seating had been on a first-come, first-served basis, but reserved seating has now been implemented in the Portland location. The company already offers this option at its second location in Boca Raton, Florida.
Portland is a city with one of the highest-per-capita film-going audiences in the country. When Living Room Theaters opened its doors in 2006, it was the first all-digital and only-digital cinema in the U.S. Auditoriums today feature Dolby Digital 5.1 surround sound with JBL speakers and QSC amps. Films are screened on either Christie 2K projectors or Digital Projection International 1080p HD projectors.
The cinema, founded by three longtime filmmakers, has also embraced local and independent directors and producers, and accepts film submissions. Some are selected for screening at the theater. The company's proprietary digitizing technology makes it possible for first-time filmmakers to secure distribution without the prohibitive costs of making and shipping traditional celluloid prints. It has proven such a vibrant part of the business that it's being spun off into its own entity—Proludio—according to Diego Rimoch, one of the founders.
And since it's an all- and only-digital theater, it's also earth-friendly. Without the celluloid prints, there are no chemicals like silver nitrate, and digital projection is more energy efficient from transportation to projection.
If you get cabin fever, this urban living room will make you feel right at home.