Children of Men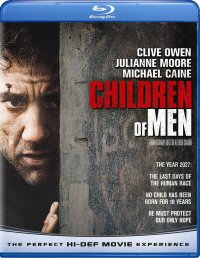 In the year 2027, the human race is on the brink of extinction due to mass infertility, and life on Earth has descended into chaos. Is Darwinism the culprit? Does the human race deserve to survive? Theo (Clive Owen), a dissatisfied government worker, becomes the unlikely potential savior of the species when he's asked by his former lover (Julianne Moore) to escort a miraculously pregnant girl out of the country to keep her safe.
While certainly not a pick-me-up by any stretch of the imagination, Children of Men is an excellent film. Director Alfonso Cuaron does an outstanding job creating a lifelike future where survival is uncertain and chaos reigns. The acting is superb, the action is intense, and in the end, there's hope that Darwin is wrong and we're worth saving after all.
The 1080p VC-1 encode exhibits excellent detail in both foregrounds and backgrounds whether it's a close-up or a long sweeping shot. Color saturation is muted and gray depicting the wearisome times, but when a splash of color enters the frame it certainly stands out from the gloom. Black levels are rich and deep with superb shadow detail.
The DTS-HD MA 5.1 soundtrack is very intense and heightens the tension of the near-future world. The dialog is firmly rooted in the center channel, but there are times when voices coming from off-screen emerge from the front left or right speaker, creating an expansive soundstage. The track really shines in the action sequences, with bullets flying from speaker to speaker and chest-pounding bass, especially in the final act.
The disc sports both Bonus View and BD-Live features, although the latter is limited to the latest trailers from Universal. The Bonus View content includes a PIP commentary with snippets from the cast and crew during the main program—interrupting an otherwise interesting film. The other supplements include some behind-the-scenes featurettes, some interviews with the cast, a couple of documentaries, and some deleted scenes.
This was my second viewing, and it lost some of its charm this time around. The depressing outlook for the human race certainly isn't for the faint of heart, but I can't think of many films that depict the future as being a great place to live other than Star Trek, but maybe that's why I like Roddenberry's universe. Regardless, the audio and video are top-notch and worth taking a look for this reason alone. Recommended.
Release Date:May 26, 2009
Studio: Universal
Movie: 8/10
Picture: 9/10
Sound: 9/10

Review System
Source
Oppo BDP-83 Blu-ray player

Display
JVC DLA-RS1 projector
Stewart FireHawk screen (76.5" wide, 16:9)
Electronics
Onkyo Pro PR-SC885 pre/pro
Anthem PVA-7 power amplifier
Belkin PF60 power conditioner
Speakers
M&K S-150s (L, C, R)
M&K SS-150s (LS, RS, SBL, SBR)
SVS PC-Ultra subwoofer
Cables
Monoprice HDMI cables (source to pre/pro)
Best Deal analog-audio cables
PureLink HDC Fiber Optic HDMI Cable System (15 meters) from pre/pro to projector

Acoustical treatments from GIK Acoustics
LATEST VIDEO