CEDIA Expo 2021: The Show Must Go On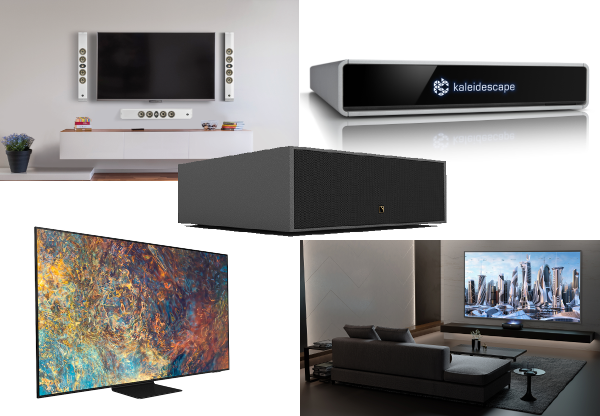 Concern over the rapidly spreading Covid-19 Delta variant has wreaked havoc on CEDIA Expo 2021, which kicked off its annual series of educational seminars on Monday and opened the demo-focused exhibition part of the show yesterday. Within a matter of a few weeks, the expo went from a highly anticipated reunion with a formidable lineup of exhibitors to an event with fewer than 100 exhibitors. No word yet on how attendance is faring, but given that at least 135 exhibitors have pulled out of the show according to Strata-gee's Ted Green, who is maintaining a
list
of companies that bailed, it's safe to say that the number will be far lower than the anticipated 15,000. Perhaps most damning is the caliber of companies that bailed — among them Sony, Samsung, LG, Harman, JVC, Yamaha, and the Lenbrook brands NAD, PSB, and Bluesound, to name a few. Even custom-installation stalwarts such as Crestron, RTI, and Sonance were no-shows. Still, the expo is soldiering on. Here's some of the CEDIA-related news that has crossed our desk.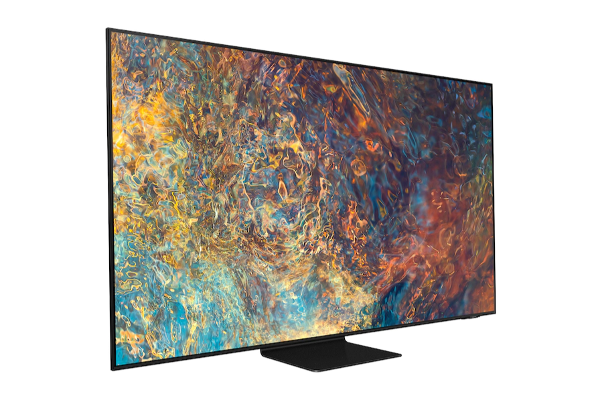 Samsung Expands Flagship Neo QLED TV Series & More
Though Samsung joined Sony, LG, JVC, and many other high-profile brands in canceling its participation in the expo, the company issued a CEDIA-timed press release to announce new screen sizes across three of its TV series.
The flagship Neo QLED QN90A TV series — featuring Mini LED technology, Samsung's 4K Neo Quantum Processor, and NextGen (ATSC 3.0) compatibility — has been expanded to include new 43-, 50-, and 98-inch (diagonal) screen sizes, bringing the total number of viewing options to seven, including the existing screen sizes of 55, 65, 75, and 85 inches.
Samsung also added an 85-inch screen size to The Frame, its lifestyle-focused series of 4K TVs, which had topped out at 75 inches. The series, which features an art mode for displaying framed paintings and photographs, now offers eight screen sizes, starting at 32 inches.
The new QN90A and Frame models are expected to be available on samsung.com later this month; pricing was not announced.
The brand's Terrace line of outdoor 4K TVs has also been expanded to include a 65-inch model designed for viewing in direct sunlight. With a rated brightness level of 1,500 nits, the new $10,000 set joins a 75-inch direct-sunlight model and three 2,000 nit "partial-sun" models in 55-, 65-, and 75-inch screen sizes. All outdoor models carry an IP55 weather resistance rating.
Samsung had also planned to showcase a new 8K version of its business-focused modular TV system, The Wall, which can be configured to beyond 1,000 inches.
For more information, visit samsung.com.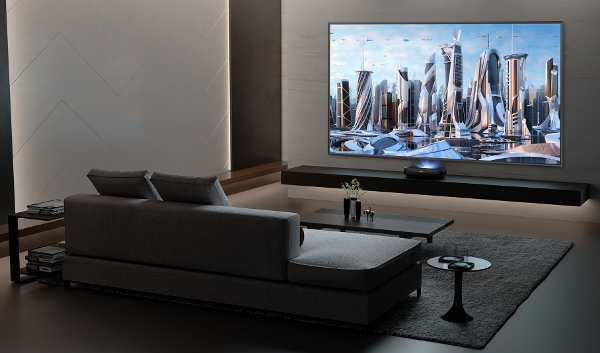 Hisense Ships TriChroma Laser TV Projection System
Hisense continues to make inroads in the U.S. TV market by expanding its line of Laser TV ultra-short-throw (UST) projection systems, the first of which we reviewed back in 2018.
Despite having backed out of the show almost two weeks ago, the Chinese company announced yesterday that the 100-inch version of the L9G TriChroma Laser TV it previewed in January at (virtual) CES 2021 is now shipping with a retail price of $5,500 and will be followed in the coming weeks by a 120-inch model that will sell for $6,000. Both versions include an ambient-light rejecting screen. The 120-inch model ships with an ALR Cinema Screen designed to achieve "exceptional color accuracy with wide viewing angles" in a dedicated home theater space, while buyers of the 100-inch model can choose the 0.4-gain cinema screen or a 1.2-gain ALR Daylight Screen with increased brightness and light rejection for use in bright rooms.
At the core of the L9G projector, which projects 4K images when placed only inches from the screen, is a new TriChroma laser engine that uses an enhanced DLP chip and separate red, green, and blue lasers to render each of the primary colors, enabling the projector to achieve a rated brightness of 3,000 lumens while covering 107% of the BT.2020 color space. The digital micromirror device (DMD) at the heart of the DLP chip is also said to react faster to movement than LED or OLED displays to achieve smooth motion with fast-action sports, movies, and games.
Both models are built around the Android TV platform, featuring built-in Google Assistant voice capability with support for Amazon's Alexa voice platform and ready access to Disney+, HBO Max, Prime Video, Hulu and numerous other streaming services. Support for HDR10 and HLG high dynamic range (HDR) is also standard and both models include a Filmmaker Mode — developed by the UHD Alliance with input from Hollywood directors and movie studios — that automatically adjusts picture settings to come as close as possible to the filmmaker's creative intent.
On the audio side, the 100- and 120-inch systems are both compatible with the WiSA wireless audio transmission protocol and feature high-speed HDMI with enhanced audio return channel (eARC) and a 40-watt Dolby Atmos sound system with two speakers that fire up from the top of the projector.
The X-Fusion laser light technology used in the L9G is rated for more than 25,000 hours of operation and the projector is equipped with a proximity sensor that shuts off the laser light source when a child (or any moving body) gets too close. The system is also Control4-certified for easy integration into smart-home control systems.
For more information, visit hisense-usa.com.


Kaleidescape's New Compact Server Can Download a Movie in 10 Minutes
Bucking the trend to bail on the expo, Kaleidescape stayed the course and is using the venue to launch new movie servers at opposite ends of the storage spectrum — a compact 12-terabyte model and a 72-terabyte model, it's largest to date.
The entry-level Terra 12 ($7,995) can download a feature-length 4K HDR movie in "as little as 10 minutes with a gigabit internet connection" and is aimed at consumers "eager to invest in the Kaleidescape experience but not ready to commit to a larger server," said CEO Tayloe Stansbury. The server can store around 200 movies and additional servers can be added to increase storage capacity over time to meet the needs of a growing movie collection.
At the other end of the spectrum, the Terra 72 ($23,995) targets movie enthusiasts with its ability to store upwards of 1,200 4K movies with lossless video and multichannel audio, making it ideal for consolidating a large collection of titles on a single server. To give collectors peace of mind, movies are stored on an array of enterprise-quality hard drives and the system is designed to continue operating even if one of the drives fails. When a failed drive is replaced, movies are automatically restored from the cloud.
Both servers are the foundation of the multiroom Kaleidescape Strato system, which pairs one or more servers with any number of Strato C players. Players cost $2,995 each and support multiple simultaneous streams in full 4K resolution — up to five for the Terra 12 or 10 for the Terra 72. The company's Terra line also includes 24TB and 48TB servers, any of which can be combined for increased storage.
Kaleidescape, which has been delivering high-end server-based movie systems for two decades, also maintains the Kaleidescape Movie Store, which claims to offer the largest collection of 4K titles, including nearly 400 titles that are not available on Blu-ray Disc. In all, the service offers some 12,000 titles for purchase and more than 8,000 for rent. Movies can be rented or downloaded in reference-quality 4K HDR with lossless Dolby Atmos and DTS-X audio without any limits on bit rate thanks to the use of a proprietary operating system that incorporates the advanced content protection movie studios demand.
For more information, visit kaleidescape.com.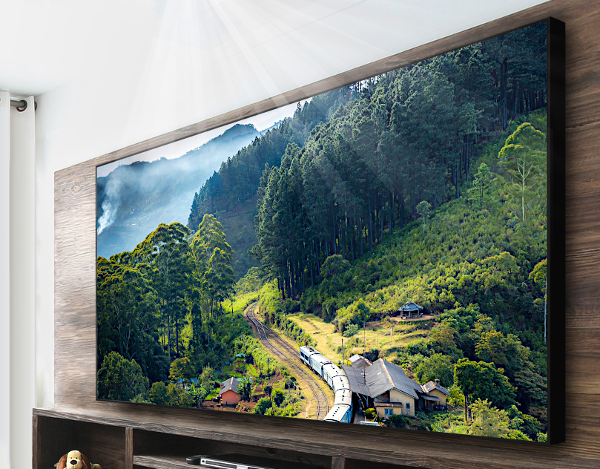 Severtson Introduces Light-Rejecting Screens for UST Projectors
Severtson Screens, the 35-year-old family-owned-and-operated company out of Sun Tan Valley, Arizona, showed up in Indianapolis to showcase a new ambient light rejecting (ALR) screen material designed for use with ultra-short-throw (UST) 4K projectors that cast an image when placed only inches away from the screen.
"Our new Ultra Short Throw ALR projection screens are engineered to reject ambient light, leaving viewers with a bright, clear image, even when there is light coming from above," said Severtson's Aaron White, adding that the new material is shimmer-free and provides "excellent contrast so images don't appear washed out" thanks to a carefully formulated surface pitch and special optical coating.
Specifications include a gain of 0.6 (on axis ±0.2) with a half-gain viewing angle of 85° and a cone viewing angle of 170°.
The ALR option is available for 100-, 112-, and 120-inch (diagonal) screens in Severtson's Narrow Frame Series at prices ranging from $2,640 to $4,210. The screens are all 16:9 and outlined by an aluminum frame featuring the thinnest bezel the company offers.
For more information, visit severtsonscreens.com.