CEDIA Expo 2021: The Show Must Go On Page 2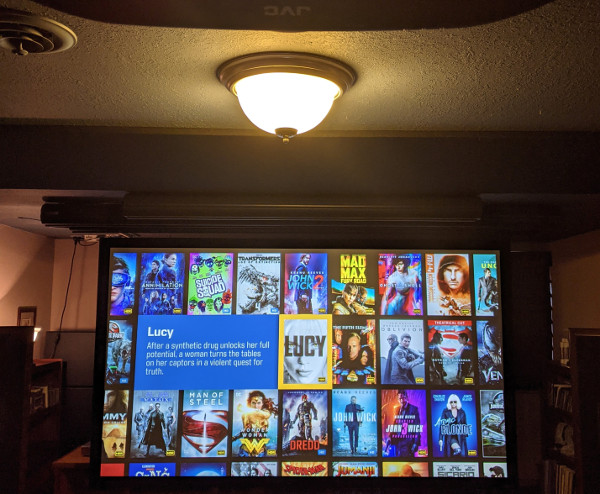 SSE Tackles Acoustical Transparency & Ambient Light Rejection in New Projection Screen
Seymour-Screen Excellence, the joint venture between Iowa's Seymour AV and U.K.-based Screen Excellence, dodged the show but remained determined to tell the A/V world about a dual-function projection screen material that rejects ambient light and allows sound to pass through.
The Ambient-Visionaire Black 0.8MP is a micro-perforated version of the company's Ambient-Visionaire Black 0.9-gain screen material featuring ambient light rejecting (ALR) properties. A series of tiny 0.2-inch holes — 120 per square inch — enables sound to pass through with "minimal attenuation and no comb filtering or lobing," according to the company.
More impressive, according to designer Chris Seymour, is the screen's ability to "absorb 90% of ambient light from any direction" while improving contrast thanks to the "combination of carbon particles and stacked, dithered nano-mirrors." The upshot: A 12x improvement in contrast ratios is possible in environments otherwise unsuitable for front projection.
"Ambient-Visionaire surfaces are comprised of billions of nano-mirrors, dithered at the desired viewing angle and layered so that side light from any direction will be absorbed by carbon particles and the substrate," Seymour explained. "The reflective elements are shrunk down to less than 1/10th the smallest size visible by the human eye, therefore the screen cannot create a discrete sparkle. So small and dense, a 16K resolution pixel would have over 300 mirrors to itself and a 4K pixel would have nearly 5,000. With this more efficient method of selectively reflecting the projected image versus ambient light, the screen offers the reference quality color uniformity that Seymour-Screen Excellence is known for without exhibiting any color shift, sparkles or ringing — all issues that have plagued performance of ALR film screens."
The Ambient-Visionaire Black 0.8MP is offered in various frame configurations, ranging in price from $2,140 for an 80-inch (diagonal) fixed-width screen to $11,000 for a 150-inch screen featuring SSE's Trim motorized masking system, though larger screens up to 210 inches are possible on SSE's Series-3 VistaCurve fixed frame.
For more information, visit seymourscreenexcellence.com.


Focal Launches its First On-Wall Speaker Series
Focal, the French speaker specialist owned by Vervent Audio Group, is not exhibiting at CEDIA and it's not clear if they were even registered as the exhibitor list was shrinking daily leading up to the show. Nonetheless, in a press release timed to coincide with opening day, the company announced plans to ship its first-ever line of on-wall speakers in September.
A follow-up to the 1000 series of in-wall/ceiling speakers introduced in January, the On Wall 300 series comprises two svelte models — the model 301 ($990 each) and 302 ($1,490 each) that can be oriented vertically or horizontally — and an optional set of stands ($490/pair).
Designed and built in France, both models are bass-reflex speakers with a port on either end of an enclosure that mate Focal's signature Flax drivers with a centrally located 1-inch aluminum/magnesium tweeter.
The model 301 is rated down to 53Hz (±3dB) and has two 4-inch woofers in an enclosure 31.5 inches tall, 6 inches wide, and 3.5 inches deep. Rated down to 50Hz, the model 302 is a two-and-a-half-way design with a pair of 4-inch woofers on either side of the tweeter in a cabinet 49 inches tall, 12 inches wide, and 3.5 inches deep. Offered in black satin or white gloss, both models include hardware designed to ease wall mounting and include magnetic grille covers.
For more information, visit focal.com.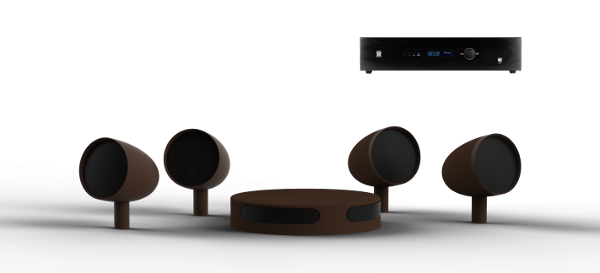 Origin Acoustics Acquires Ambisonic, Unveils New Outdoor Speaker System
Origin Acoustics, the speaker company founded in 2014 by custom-installation innovator Jeremy Burkhardt, exhibited an unwavering commitment to CEDIA 2021 where it dropped the news that it had acquired Ambisonic Systems, an Arizona-based pro/residential speaker manufacturer specializing in outdoor landscape speakers with an exotic twist — weatherproof ribbon and planar-magnetic tweeters.
In addition to extending its reach in custom audio with a new broad line of speaker systems, the company has expanded its weatherproof Acoustic Landscape line with the new three-channel AS51 System (AS51SYS). Moving up the rung from the existing AS41 system, the AS51SYS package comprises two AS51SAT satellites, each of which mates a 5.25-inch woofer with a 1-inch titanium tweeter (the AS41SAT has a 4-inch woofer), the AS51SUB "burial subwoofer" with a 10-inch woofer that vents through a mushroom-like cap, and the DSP3-150 amplifier that delivers 150 watts to each satellite plus 300 watts to the subwoofer and provides processing that "makes it easy to set and dial in this system in any environment." The satellites are rated down to 55Hz, while the subwoofer extends bass down to 35Hz.
The subwoofer, which provides one digital and two analog inputs, has been redesigned to include new lower profile ports and a driver with 40% more surface area than the driver used in previous subwoofer.
For more information, visit originacoustics.com.

Pro-Sound Brand L-Acoustics Introduces Home Theater Subwoofer
L-Acoustics, the French company with offices in Los Angeles that specializes in professional sound systems for live events, is making its debut appearance at CEDIA 2021 to preview its first residential product — a super compact subwoofer that doesn't look like a subwoofer at all. (Hopefully, they'll get enough foot traffic to make the trip to Indy worth it…)
The aesthetically unobtrusive SB10i is a passive subwoofer designed to deliver the same sonic signature of the company's larger pro subs but from an enclosure that's not much bigger a couple of shoe boxes placed side by side, making it easy to tuck away under a couch, place on a shelf, or mount on a wall with optional brackets. A single 10-inch woofer, built for high power handling, is rated down to 27Hz with a maximum sound-pressure level (SPL) of 124dB and housed in a 33-pound enclosure 21 inches wide, 21 inches deep, and less than 7 inches tall with a proprietary "L-Vent" designed to increase output while minimizing turbulence noise.
"The L-Acoustics R&D teams took on the challenge of designing a low-frequency enclosure with the industry-recognized L-Acoustics sound in a living room-proportioned enclosure," explained product manager Germain Simon. "Even though it may sound like it defies the laws of physics, our new SB10i is a brilliant realization of that objective. It condenses the full power of an SB Series sub into an incredibly small, efficient package that will fit into any environment where a visually discreet yet high-performance system is desired."
Offered in dark gray or white, the cabinet is made of birch plywood with a fabric-covered steel grille. Custom colors are also available via special order.
Pricing was not announced but the SB10i is available for pre-order with shipments slated to begin in early 2022.
For more information, visit l-acoustics.com.