Cambridge Audio Go Wireless Speaker
PRICE
$200
AT A GLANCE
Plus
Louder than smaller
portable speakers
Easy to set up
Good battery life
Minus
Lacks high-frequency detail
Lacks bass intensity
THE VERDICT
The Go is perfect for someone who wants better and louder sound than the average wireless portable, or who wants to amplify their music device and doesn't want to commit to their speaker staying put in one room.
How It Connects: Bluetooth, AptX, NFC, ⅛" analog.
The Cambridge Audio Go is lightweight and small enough to carry with you (about 2.5 pounds) but big enough to fill a midsize room with sound. Equipped with two 0.75-inch titanium dome tweeters, two 2-inch woofers, and a rear bass radiator, it's a step up from the tiny Bluetooth portables that most of us are familiar with. Perfect for kids' bedrooms, dorm rooms, or other small spaces, the Go sounds better (and louder!) than the speakers on your laptop but is easy to cart to another room. While it includes a power cable, it also has a rechargeable internal battery with a claimed 18-hour life. (To prolong battery life, the speaker automatically shuts off after 30 minutes of standby time.) And if you need to charge your device, the included USB input functions for charging while plugged into the wall or on battery power.
The Go's industrial design is basic and rectangular, and it's available in unobtrusive satin white or satin black. Volume and input are selectable through buttons on the top, and a small LED under the front grille indicates whether the Go is powered on, as well as whether the battery level is low. Worth noting is that the volume on the speaker is controlled separately from your source device, so you'll need to either set your source to full volume and adjust to the level you want on the Go, or vice versa.
How Does It Sound?
While the Go is far better than your phone, tablet, or laptop speakers, the compact size creates obvious limitations. Lower highs and the upper midrange are emphasized, and low lows are often prone to distortion or loss of volume. This means that acoustic guitar and spoken word sound resonant, rich, and full but lack the very high-end delicate detail to fret noise and consonants. Bass enthusiasts would be advised to look elsewhere. While there definitely are more lower frequencies than what you'd get from, say, a JBL Flip speaker, pop and hip-hop can quickly sound thuddy and one-note in the bass line. However, the sound quality is consistent when wired or over Bluetooth, plugged into a power source, or running off the battery, which isn't often the case with wireless portables.
The Bottom Line
While it lacks the detail and depth of more expensive models, it puts out more volume than smaller offerings.
Specs
2 in woofer (2), 0.75 in titanium tweeter (2), rear-firing bass radiator (1); 9.3 x 4.8 x 2.4 in (WxHxD); 2.4 lb
Test Bench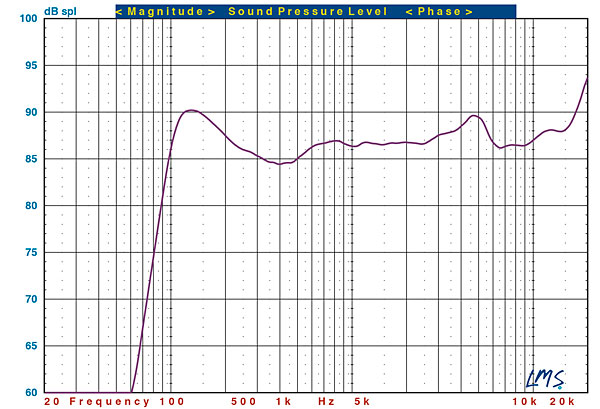 This graph shows the quasi-anechoic (employing close-miking of all woofers) frequency response of the Minx GO v2 Sound System (purple trace). The left channel was measured with grille at a distance of 1 meter.
The Minx GO v2 Sound System's listening-window response (a five-point average of axial and +/–15-degree horizontal and vertical responses) measures + 3.33 /– 1.88 decibels from 200 hertz to 10 kilohertz. An average of axial and +/–15-degree horizontal responses measures +3.72/–2.45 dB from 200 Hz to 10 kHz. The –3dB point is at 94 Hz, and the –6dB point is at 89 Hz.—MJP