Cadillac Records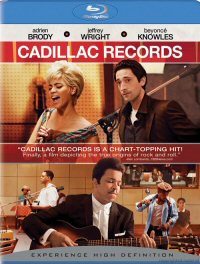 This is the true story about Leonard Chess (Adrien Brody) and Chess Records, home to some of America's greatest musical legends, including Chuck Berry (Mos Def), Etta James (Beyoncé Knowles), Muddy Waters (Jeffrey Wright), Little Walter (Columbus Short), and Willie Dixon (Cedric The Entertainer) —all members of the Rock and Roll Hall of Fame.
Even the fantastic music and strong performances can't save a haphazard screenplay that overreaches and underdelivers. The most compelling character is Etta James, but unfortunately she's relegated to an afterthought in the third act. Furthermore, Chuck Berry is the most recognizable name, yet his music and character receive little attention. The shallow script brushes over important aspects of Leonard Chess's behavior, but at least the movie delivers a fantastic soundtrack to keep things mildly entertaining.
The AVC encode captures the nuance and feel of Chicago in the 1950s and '60s. Detail is impeccable in both the foregrounds and backgrounds, flesh tones capture every pore and blemish—or in the case of Beyoncé, lack thereof—and colors are vivid and well saturated. Blacks are deep, providing excellent shadow detail, but contrast is slightly elevated during some daytime sequences, leading to some blooming in whites.
The Dolby TrueHD 5.1 soundtrack is a mixed bag. My biggest complaint is that the dialog isn't always intelligible, sometimes coming across muddled and lacking clarity. The rear speakers provide some ambience and occasional score bleed, but the music is certainly the star of the show, and the soundtrack features impressive dynamics with rich bass and a full midrange.
The special features include a commentary by writer/director Darnell Martin, deleted scenes, and two making-of featurettes—one on the production, the other on the fabulous costume design. The BD-Live disc also includes "The Chess Record Player," a feature that lets you create and share a list of songs featured in the movie with your friends. Unfortunately, it takes forever to load and isn't worth the wait.
Darnell Martin's writing and directing didn't inspire me, but the performances and music almost overcome his inadequacies. The presentation is very good, though, and it's worth a rental if you're the least bit interested in the history of rock and roll.
Release Date: March 10, 2009
Studio: Sony Pictures
Movie: 5/10
Picture: 9/10
Sound: 8/10

Review System
Source
Panasonic DMP-BD55

Display
JVC DLA-RS1 projector
Stewart FireHawk screen (76.5" wide, 16:9)
Electronics
Onkyo Pro PR-SC885 pre/pro
Anthem PVA-7 Amplifier
Belkin PF60 power conditioner
Speakers
M&K S-150s (L, C, R)
M&K SS-150s (LS, RS, SBL, SBR)
SVS PC-Ultra subwoofer
Cables
Monoprice HDMI cables (source to pre/pro)
Best Deal analog-audio cables
PureLink HDC Fiber Optic HDMI Cable System (15 meters) from pre/pro to projector

Acoustical treatments from GIK Acoustics
LATEST VIDEO