Blockbuster Hooks Up with CinemaNow
Desperate to catch up with the online transformation of its main rival Netflix, Blockbuster has struck a deal with CinemaNow to bring online movie distribution to its customers.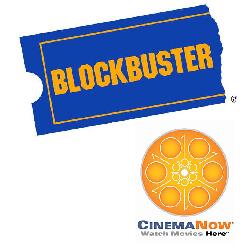 The deal is actually with Sonic Solutions, which delivers CinemaNow content. It will enable Blockbuster to deliver to media players, Blu-ray players, DVRs, set-top boxes, cellphones, web-enabled TVs, and both PCs and Macs.
Blockbuster first announced an online strategy in 2006, but has lagged behind on implementation. In the meantime Netflix has cut streaming deals involving Xbox game consoles, LG and Samsung Blu-ray players, TiVo DVRs, and set-top boxes by Roku, in which Netflix has a stake. Streaming is just a side benefit of being a Netflix subscriber. Program pricing for Blockbuster/CinemaNow was not announced in the press release.
LATEST VIDEO
WHERE TECHNOLOGY BECOMES ENTERTAINMENT