Biscotti High-Def TV Phone

Price
: $129
At a Glance
: Turns any HDTV into a videophone • Easy-to-use onscreen interface • Simple set-up—usually
Don't be fooled by the name and calligraphic logo. You won't find this Biscotti at Starbucks or the local pastry shop, but it does pop up on Amazon.com when you search "Biscotti TV Phone" ("Biscotti" alone leads you to an excellent selection of the scrumptious Italian biscuits). Although video chatting on computers has been around for years, business-style video conferencing on a big screen is still rare among everyday consumers—something Biscotti Inc. hopes to change with its tiny Biscotti-shaped TV phone.
Measuring ¾ x 6 x 1 inches and weighing 1½ ounces, the unit is actually smaller than its edible namesake and designed to match the svelte, black bezel found on many of today's HDTVs. The sleek device houses a high-definition camera and microphone and has a power input and two HDMI jacks (in and out) around back.
The promise is simple: Pay $129 for the "phone" and get unlimited, free video calling to Biscotti-equipped TVs and computers, smartphones, and tablets that support Google video chat. Even better, all you need is a TV with an HDMI input and a broadband Wi-Fi connection. No computer required. The system is said to support video up to 720p, provided your ISP can manage upload and download speeds of at least 1 Mbps.
Setup
Setup is straightforward: Use supplied sticky pads to affix the device atop your TV, plug in the power cord, and run a cable from its HDMI out to your TV's HDMI input. (Tip: The HDMI cable will pull Biscotti from its perch, so support it with tie-wraps or replace the pads with Velcro.) Then, using the credit-card-style remote, enter your Wi-Fi password, create a Biscotti ID, and add addresses to your contacts list; each address will receive an invitation that must be accepted before you can chat.
If all goes according to plan, you'll be schmoozing on the big screen in no time, assuming your router (and/or modem) likes Biscotti. Mine didn't. I set up two Biscotti—one at home and one at my friend Joe's house. Setup took about 15 minutes at each location. I spent more time peeling the backing off those sticky pads than anything else. I was ready for some big-screen chat action—or so I thought.
We tried several times to place calls between the locations but the systems would not link up. So, posing as a regular consumer (and not identifying myself as a reviewer for Home Theater), I called the customer support number. The rep began by sending invites to each location so we could try to connect with Biscotti headquarters in Texas. The call from Joe's house went through in seconds, but dialing from my location produced only "call failed" messages. The glitch was on my end, but what was the problem?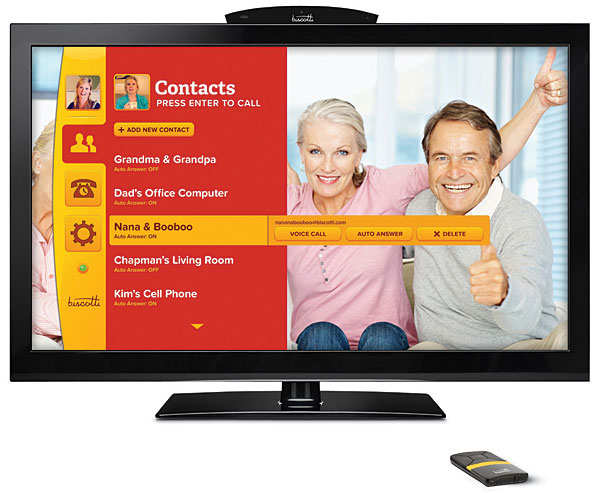 The matter was quickly referred to Biscotti's engineers, who targeted my D-Link router as the prime suspect. To their credit, they were very diligent, but remained utterly stumped…for three days. We exchanged more than a dozen emails, spoke on the phone numerous times, and made several trial-and-error tweaks to my router—all to no avail. By day three, they shifted attention to my Comcast-supplied Arris modem, ultimately concluding that it (or Comcast) was blocking certain ports that must be open for Biscotti to work. Interestingly, Joe also has an Arris modem, although a different model; he has regular Comcast service and I have the faster business-class service. It was the end of the line unless I wanted to spend even more time replacing my modem and tinkering with my wireless setup. No thanks.
While the engineers were scratching their heads, I set up Google Voice on a desktop PC at my home and called from the Biscotti at Joe's house. It worked! The audio was clear, although video quality was constrained by my aging webcam. Still, it was pretty cool chatting with my son on Joe's 60-inch Panasonic HDTV. I also set up a video chat with the Biscotti rep once it was clear that the Biscotti at home wasn't going to work. I started by swapping Joe's unit with mine to rule out defective hardware—it worked fine.
Performance
The Biscotti system is easy to use. Switch your TV to the Biscotti input and a menu bar comes up, providing access to account info, contacts, call history, and settings; the system can be set to turn on the TV when a call comes in, but only if the TV supports the Consumer Electronics Control (CEC) protocol. The remote has an enter button surrounded by four cursor keys with a return bar below, making navigation a breeze. To place a call, you go to the contacts menu, click on the address you want to call, and hit enter. When a call comes in, an accept box pops up on the screen; hit enter and the caller appears on your screen along with a small box in the lower left corner that displays the image you're sending out. The camera provides a nice wide-angle view of your room, which can be adjusted using the zoom and pan controls in the settings menu.
Overall call quality was good but the image during my test wasn't quite high-definition quality to my eye, even with a strong Wi-Fi signal and Internet connection, and the video and audio were slightly out of sync. Don't get me wrong, the picture wasn't bad, but it wasn't like watching the Discovery Channel in HD, either; colors were a bit muted and the image was slightly grainy. The audio was clear, although there were occasional shifts in volume even when the Biscotti rep was sitting still.
Comcast and a half dozen or so major TV brands now offer a high-def video chat option via Skype, making it more accessible than ever before. While I can't say how Biscotti compares with other TV phone options, there's no question that video chatting in the living room is a great way to bring far-flung friends and families together. Before you sink your teeth into Biscotti, though, I suggest touching base with the company to verify that your Internet setup is compatible.
Biscotti • biscotti.com