BenQ HT3050 3D DLP Projector Review
PRICE
$1,399
AT A GLANCE
Plus
Highly accurate and stable colorimetry out of the box
Impressively sharp and detailed images at a reasonable price
Useful calibration adjustments including lockable ISF modes
Minus
Punitive light leakage from lens opening
Limited lens adjustments constrain placement options
3D glasses not supplied
THE VERDICT
BenQ's HT 3050 delivers surprisingly good performance for its price, but noticeable light leakage drags down an otherwise strong recommendation.
For a while now, projector manufacturers who employ three LCD panels for the required red, green, and blue primary colors (we're talking about you, Epson) have pointed to that technology's ability to deliver equal lumens output for both white brightness and color brightness. Citing research by various international standards organizations, the 3LCD consortium maintains that single-chip DLP projectors (referred to as 1DLP) may suffer up to a 66 percent reduction in color brightness compared to their white brightness, principally due to the reflective, rotating color wheel, a design element found in all single-chip DLP projectors to break the white lamp light into the required primaries. To produce white brightness, segments of the color wheel are usually white (or clear), leaving less real estate for color segments and effectively restricting color brightness. Newer implementations substitute the secondary colors of cyan, magenta and yellow in lieu of white in an attempt at boosting color brightness. But projection technology shoot-outs at industry trade gatherings have observationally lent support to the 3LCD-camp's contention.
The world's largest producer of DLP projectors, BenQ, believes their new HT series of 1DLP machines narrows, if not totally overcomes, the apparent inequity between 1DLP white and color brightness levels. At
Sound & Vision
there's always an eye open for a diamond-in-the-rough. Along with its more equal white and color brightness, the new BenQ HT3050 sent our way boasts several key features aimed at dazzling your eye, the way sparkling carbon can. Does it have the color, clarity and carat weight to make the cut? Let's find out…
Features
At $1,399 the 8.1-pound BenQ HT3050 is a compact, quiet running projector clad in an attractive gloss white case with gold-colored fascia and a matching back panel trim accent, designated as a salute to movie-makers and a symbol of the Academy Award trophy. BenQ committed significant design effort into crafting the HT3050's compliance with the Rec. 709 HD color spec, so perhaps the Hollywood homage is suitably appropriate. In addition to software designed to optimize color accuracy, BenQ, addressed the internal hardware that affects color gamut (the range of colors that can be produced) and color brightness. During the design phase, lamp pairings with selected color wheel coatings were carefully scrutinized to find an ideal combination achieving Rec. 709 fidelity but also for maintaining long-term color stability and increasing color luminosity. An intriguing solution was to use pairs of red, green and blue color wheel segments, forfeiting the traditional white/clear segments used previously for driving brightness (technically, test pattern white brightness). And it seems to have worked, as the HT3050 indeed showed excellent white brightness. More on this in a bit…

Technically relevant adjustments for creating detailed, accurate images include a full color management system, grayscale fine tuning (white balance high/low) and ten gamma selection points (2.3 was my choice with an ambient light rejection screen on hand for review). Also featured are ISFccc lockable preset modes that can be used by calibrators to provide unchangeable Day and Night modes for end users. Another feature labeled Wall Color is designed to compensate for paint color when the projector is used impromptu, pointed at a wall. Convenient, perhaps, but long-term use this way is not encouraged (see Test Bench for measurements related to these settings)…screens matter.
BenQ says the HT3050 steers light using high-grade pure glass elements in its light engine and through an all-glass cinema grade projection lens with proprietary low-dispersion coatings which minimize chromatic aberrations. Image size and focus are accomplished manually by knurled "knobs" under a sliding access door, where there is also a thumbwheel for vertical centering. There's no provision for horizontal correction, requiring some precision in fixed installations (note that the lens is offset within the chassis…factor accordingly). Placement is somewhat constrained as the throw ratio, to my mind, is not as generous as should be with a limiting range of 1.15 – 1.5, plus a vertical offset of equal paucity. The long throw specification of 1.5, possibly a design concession allowing for close-to-screen-wall living room arrangements, tends to be closer to most manufacturers minimum distance specification. In a larger theater room, this may site the machine directly overhead or possibly in front of your seating arrangements.
Lamp life is rated from 3500 up to 6000 hours depending on the energy saving mode. Something I've not seen before, under Lamp Timer in the OSD menu, is tabulation for Lamp Usage Time followed by a listing labeled Equivalent Lamp Hour. Each hour registered in the brighter Normal mode (in actual play time) counts as two hours in the Equivalent column. At formal review time, the 123 Normal (actual) hours dinged the sample unit's Equivalent timer for 245.
The HT3050 will have no problem making pals with equipment you introduce it to. Two rear panel HDMI connectors, one MHL compatible, accept digital signals. The optional WDP02 wireless kit (shown below) places a wireless HDMI/MHL plug-in receiver under the HT3050's bonnet (right), upping potential HDMI inputs to three, with a multi-input HDMI transmitter capable of sending signals up to 30 meters (by line of sight; the projector's confines may affect this distance).
There are composite and component video inputs partnered by stereo RCA audio jacks for legacy components. A 15-pin female PC jack with 1/8th inch PC audio input connects computers with a companion output jack for powered speakers. A USB Type-A port charges the receiver for the optional wireless kit, while a USB Mini-B serves as a service portal. Additional back-panel facilities include a 12VDC output terminal that can trigger external devices and a 9-pin RS-232 terminal for automation systems. Cinema Master Audio+ is a 20 watt, on-board stereo speaker system that won't lose Atmos a wink of sleep, though it suffices. The remote is logical, well-backlit and easily navigable in the dark.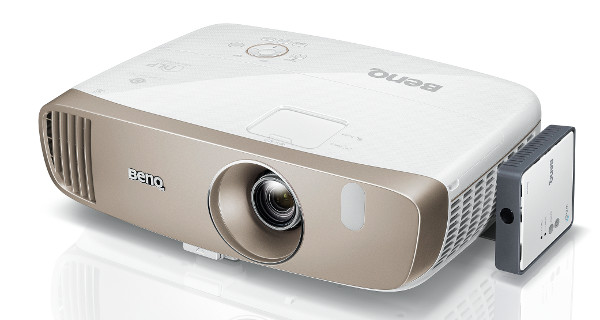 Through the Looking Glass
After considerable time with the HT3050 I was inclined to declare its image clarity class-leading and sabre sharp, with only a pinch of blue pre-shoot in the lower right corner on my sample. Given the single chip design, this is attributable to the lens and is largely inconsequential in and of itself.
However, as finely crafted as the lens happens to be, particularly for a machine in this price range, and for all those image refinements it attempts to transfer from light engine to screen, the projected image ends up being somewhat penalized by the chassis design. Specifically, the diameter of the lens barrel fails to fill the chassis opening, and with no internal isolation of the DLP engine to prevent light from sifting out from around the lens barrel, the effort expended on fine optics is inexplicably and inexorably compromised. In fact, so much light spilled out from around the lens that I initially thought the ambient light rejecting screen I was using might be hot-spotting, something virtually impossible from this particular screen design. Attempting to isolate how much unauthorized light was leaking through from around the barrel, I capped the lens with the protective cover for my Konica Minolta CS-200 colorimeter, which proved just the right size. The leaked barrel light, now working on its own, created a significant halo effect as it landed on the middle one-third of the screen. There was also a bit of light scatter on the upper left part of the screen wall (a few feet left of the screen border) plus a particularly interesting "cross" pattern on the ceiling. It was all severe enough to make me wonder how this could have passed the projector's initial design stage.