BAFX OBD II Bluetooth Adapter and Torque App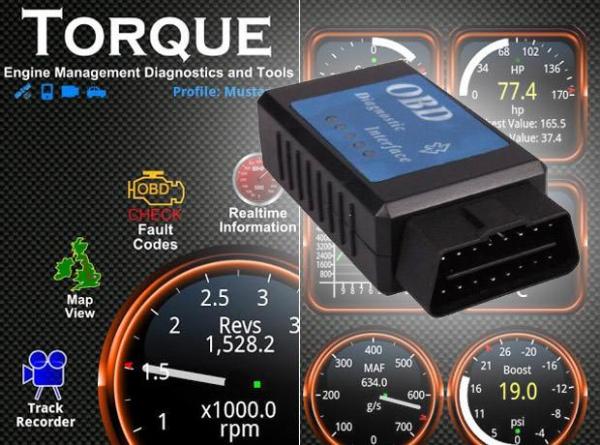 With no small amount of irony, about a week after I installed the ultra-high-tech Parrot Asteroid Smart, my SVT lit its engine warning light.
I know the sound and feel of my car really well, and it sounded and felt fine. Since a dealer would want $75 just to tell me what's wrong, I figured it was time to invest in an OBD II scanner. This device plugs into the OBD II port that every post-1996 car has, and gives you a code to tell you what's wrong (along with a lot of other data).
But wait! Now you can get a "scanner" that talks to your tablet or smartphone via Bluetooth! Now that's some app awesomeness.
There are a bunch of products that do this available, but I got the $24 BAFX. It's about two-thirds the size of a deck of cards and only works with laptops and Android devices. For this product category, it has one of the highest Amazon review rankings (4.6/5, from 742 reviews), 77% of which are 5/5. Sounds good to me.
The app, called Torque, has two versions: the free Lite, and $5 Pro. I figured I'd start with the free version.
After installing the app on a tablet, I followed the instructions included with the adapter. It all worked on the first try.
It connects easy enough, but the app is empty when you first open it. You add whatever graphs and readouts you want, from a rather extensive list. It's not much to look at, but it works well. You can get things like gas mileage (though only in Imperial gallons, a bummer), coolant temperature, and thanks to your phone/tablet's accelerometers, it can do acceleration times and more.
As far as the error codes go, it tells you the code number and a brief description. Then you can go to Google to see if this code will make your engine explode. For me, it was "P1518," which on an SVT Focus is the IMRC (Intake Manifold Runner Control). After consulting the SVT forums, I put my car up on the plastic ramps I bought at PepBoys, jiggled the cable, tapped the actuator box a few times, cleared the code, and... perfect!
Now, admittedly, there are two possible states my car is in right now, and I have no way of knowing which: 1) Totally fixed!; 2) Not fixed, but intake manifold is stuck in its short position so the car runs OK. I'm assuming if it were the latter, I'd get a return of the idiot light. If not, well, it's perfectly drivable so I'm not sure I care. Next time I have it in for service, I'll have them check it out, maybe.
The upgraded app is far more polished, there's more to it, and looks a little nicer. At $5 it's not a major purchase, though unless you plan on having this running while you're driving a lot, the free app is probably enough for most people.
Now I just wish they'd come out with an app for the Asteroid.
Bottom Line
This thing is great. Works exactly as it's supposed to, potentially saves you money, and has a cool app to go with it. The best part is that for $24 not only can I diagnose every engine light I ever have, but I can do so for my friends as well.
I'll only charge them $50 to check.