AudioControl Rialto 400 Amplifier/DAC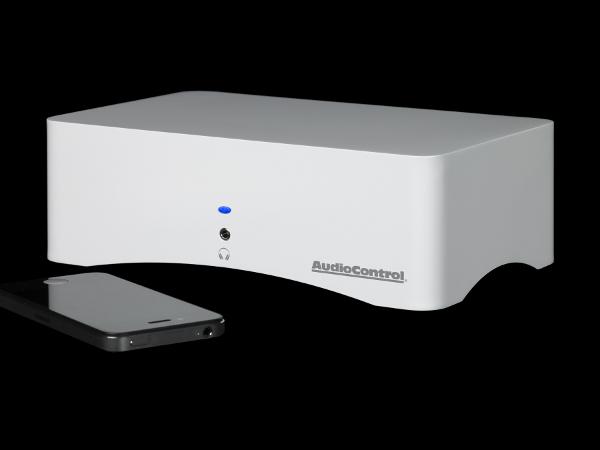 PRICE
$799
AT A GLANCE
Plus
High-performance Wolfson Audio WM8671 DAC handles signals up to 192 kHz/24-bit
AccuBASS designed to restore depth to compressed audio sources
Automatic input switching
Minus
Runs hot
Lack of front-panel controls may be problematic for some installs
THE VERDICT
This terrific amplifier and DAC solution improves sonics in a small package.
The quest for audio simplicity has come far closer to becoming a reality with the introduction of music streamers from the likes of Sonos and Apple. Now just connect one of these devices to an audio system, and you've got an entire world of music literally at your fingertips. However, these components aren't exactly revered for their terrific audio qualities, and many dress up the sonics by running them through an outboard DAC before connecting to a quality amplifier. But in space-challenged places like an office, kitchen, or bedroom, this can be easier said than done.
AudioControl saw this growing market segment as the perfect opportunity to bring high-performing audio to a small package in the form of the new Rialto 400. The Rialto is offered in either Sonos white or AppleTV black (technically Sierra White and Satin Black), and its svelte size makes it the perfect foundation for a compact two-channel audiophile listening system. Plus, it's got a few other tricks under the hood.
Setup
There's something that is just comforting when you unbox a product and it has some real heft to it. In these days of throwaway gear, the Rialto 400 feels like some real quality went into the design. For such a small, seemingly simple device, the Rialto 400 actually has a lot going on, and I'll commend AudioControl for a very thorough, well-written user manual.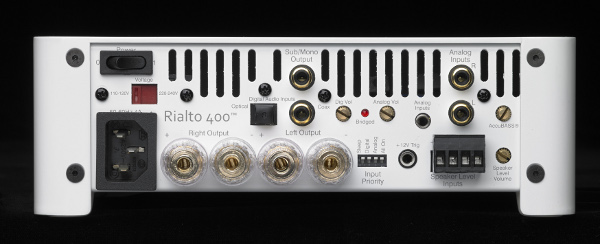 The front panel is completely devoid of buttons or controls, with just a single LED status indicator and minijack headphone connection. However the back panel is a different story completely, with a bevy of inputs, flathead screw trimpots, and dipswitches. At its most basic, you'd connect a single source to either the analog or digital input and a pair of speakers, and you'd be done in about two minutes. I connected a Sonos Connect via TosLink cable as I figured this was one of the likeliest candidates for real-world use.
There are multiple digital and analog connection options for feeding the high-end Wolfson DAC or the amplifier directly, even an unusual speaker-level input. Once your connections are made, you can individually fine-tune the analog and digital input levels, as well as overall system volume, with trimpots on the rear panel. There is also a separate adjustment for AccuBASS level, which I'll discuss in the performance section. The Rialto 400 also provides two other options that demand a bit more discussion.
First, the amplifier is said to be stable with 4 ohm loads; it was designed to allow connection of up to two pair of 8 ohm-rated speakers (wired in parallel) to better fill a large room/area with audio. When you do so, the rated power output doubles from 100 watts to 200 watts per channel. (You can also bridge it into a single mono channel, producing a beastly 400 watts.) The Rialto 400 uses quality gold-plated, five-way binding posts that will accept heavy-gauge speaker wiring, plus an RCA output is available to connect a powered sub. It's definitely got all the goods to be the backbone for a solid 2.1-channel system.
Second, the Rialto has a way-cool priority input system in case you want to connect more than one source. The perfect application for this would be the audio output from a television, allowing you to enjoy way better sound through exterior speakers. For example, when you turn the TV on, the Rialto would automatically switch to TV audio, requiring no interaction for the user. When the TV turns off, it returns to the previous input. Priority can be turned off or set to either the digital or analog input.