Audio-Technica ATH-M50 Professional Studio Monitor Headphones
Price
: $199
At a Glance
: Basic styling with solid build quality • Supremely comfortable to wear • Sounds swell with tablets and receivers
Universally loved audio products are rare, but you won't find too many folks with a bad thing to say about the Audio-Technica ATH-M50 headphones (it has around 800 five-star and just nine one-star ratings on Amazon). The headphone consistently garners raves, but the mundane styling won't cut it with folks craving the latest fashion statements from the likes of Beats by Dr. Dre, V-Moda, or Bowers & Wilkins. While the ATH-M50 is mostly made of plastic, it feels remarkably durable, and its two-year warranty offers double the length of coverage of most headphones, even higher-end models.
Everyone is different, but the racetrack-shaped ear cushions have a better chance of completely enclosing your ears than the round ones I see on lots of full-size headphones. And thanks to the ear cups' double vertical and single horizontal pivots, the soft ear pads conform to almost any size and shape noggin. This closed-back design isolates the wearer from external noise and doesn't leak sound to anyone nearby. That's a plus if you watch movies in bed and don't want to disturb your partner. Head-clamping pressure is moderate—high enough to keep the headphones in place and low enough to remain comfortable after hours of use. The L and R markings on the ear cup mounts are large enough to be easily seen in dim light.
The headphone weighs 284 grams (10 ounces), it has 45mm drivers, and a 38-ohm rated impedance; nothing out of the ordinary there. The biggest design misstep: The cable isn't detachable or user-replaceable, but it feels more durable than what you get with your average consumer headphone. The single-sided OFC (oxygen-free copper) wire attaches to the left ear cup and is terminated with a metal strain-relief-protected 3.5mm plug, and a screw-on 6.3mm plug is included. The ear cups fold flat, but since the headband isn't hinged, the ATH-M50 won't collapse into a tiny bundle for compact storage. The headphone is available in black, white, or red finishes with straight or coiled pro-style cables. A soft carry pouch is the only accessory.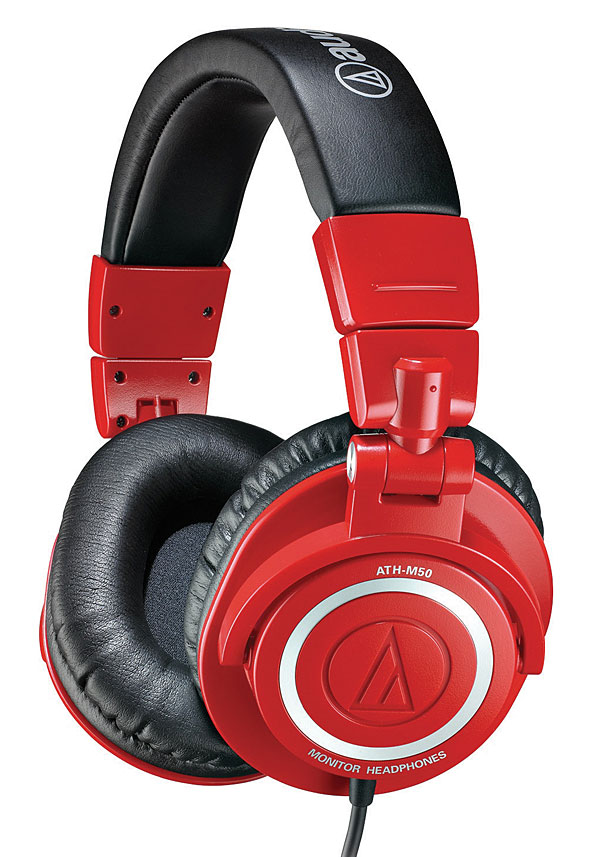 I auditioned the ATH-M50 with my iPod Classic and a $99 Schiit Audio Magni headphone amplifier hooked up to my Oppo BDP-95 Blu-ray player, but the headphone will also sound great plugged into an A/V receiver. The tonal balance is on the warm side of neutral, and the bass is prominent but never overdone. Big bass has been fashionable for years; very, very few headphones, even so-called professional monitors, have accurate bass, but the ATH-M50's is more neutral than most.
To put the sound in perspective, I compared the ATH-M50 with V-Moda's popular M-80 on-ear headphone with the Rolling Stones' Live Licks concert album. These are two radically different-sounding headphones; the M-80's pronounced midrange pushed Mick Jagger's vocals forward and forfeited too much concert ambience. On the plus side for the M-80, there's an immediacy to the presentation that some listeners may prefer, but I felt the sound was too close and the stereo image was stuck inside my head. The ATH-M50 opened things up more and was definitely more comfortable. The M-80's high-ish head-clamping pressure grew tiresome after an hour or so.
With movies, the ATH-M50's easygoing nature was much appreciated. Again, the substantial low-end bass support was key, and the uninhibited dynamic oomph on an action film like Avatar was impressive. After a few minutes, you forget you're wearing a headphone and focus on the story. With a street price hovering around $160, the ATH-M50 is tough to beat. It's highly recommended.
Specs
Type: closed-back, circumaural (over the ear)
Weight: 284 grams (10 ounces)
Impedance: 38 ohms
Company Info
Audio-Technica
(330) 686-2600
audio-technica.com