Are U Ready For 4K?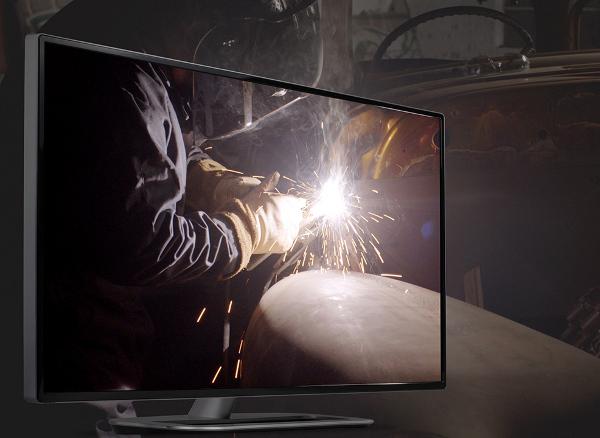 UHD Blu-ray and HDR on the Horizon
As I reflect back on our annual pilgrimage to CES last month in LasVegas, the most exciting news for home theater buffs was around Ultra HD (UHD), both the launch of the first HDR (high dynamic range) UHD televisions and the announcement of details on forthcoming UHD Blu-ray Discs.
In "HDR: The Other LED", we explained HDR, but when it was published we assumed Dolby Vision would be the widely adopted solution for bringing HDR's uber-highlights to sets and that it would take a while before we saw affordable TVs that could achieve HDR-like peak brightness. Nor did we expect the required HDR-encoded content to be coming anytime soon.
But nearly all the TV makers showed prototypes or introduced models with HDR technologies. Samsung will introduce sets later this year that, to my eye, provided among the most impressive of all the HDR demos. Perhaps more critically, a new partnership among movie studios (Disney, Warner, Fox), post-production firms (Dolby, Technicolor), content distributors (DirecTV, Netflix), and TV manufacturers (Samsung, LG, Sony, Sharp), called the UHD Alliance, was also announced to ensure that Ultra HD content can take advantage of the wider color gamut and higher brightness that the UHD standard and new HDR sets can deliver.
Notably, "premium" UHD content will offer the DCI-P3 color gamut currently being used for digital cinema distribution—a logical approach since studios are already creating content for it, and it's a good interim solution until both programming and displays can evolve to the even wider Rec. 2020 gamut built into the UHD standard. As a side note, Netflix announced at CES that it would start streaming HDR content later this year for viewing on the new Samsung sets as well as Sony's new HDR-capable models.
Meanwhile, the Blu-ray Disc Association offered reporters an early peek at the recently settled specs for the new 4K Blu-ray format, which will officially be called Ultra HD Blu-ray.
Here are the basics:
Images will have up to 3840x2160 pixels (UHD resolution), at up to 60 frames per second, with the content carried on either 66-gigabyte dual-layer discs or 100-GB triple-layer discs. (The discs have multiple layers of data that the laser transitions among seamlessly.) A "digital bridge" option for UHD disc content would allow it to be viewed on a portable device or moved to a hard drive video server at the content owner's discretion.
Players must support color gamut up to Rec. 2020 limits, which theoretically futureproofs them for the day that both content and affordable displays can achieve that, and they must support 10-bit color depth. Players must also provide backward compatibility with all regular 1080p Blu-ray Discs. DVD and CD playback support is optional.
Players must be able to support the SMPTE 2084 criteria for brightness and contrast defining a high dynamic range (HDR) display.
Players must provide HEVC (H.265) decoding of compressed content. The spec includes the latest HDMI 2.0 and HDCP 2.2 digital interface, as well as HDMI 1.4, but doesn't mandate either in lieu of new developments in digital interface technology that will surely crop up over the life of the standard.
Will UHD Blu-ray offer a premium in image quality over streaming? Well, let's put it this way: Netflix is currently said to be streaming HEVC-compressed UHD content at bitrates around 15 megabits per second. By comparison, dual-layer UHD discs can hit up to 108 mbps, while triple-layer discs will do 128 mbps. What do
you
think?