Apple Music: Spatial Audio Relations Page 2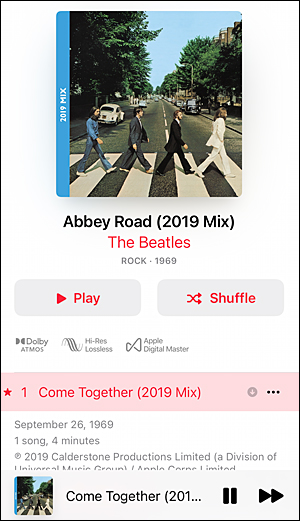 The Beatles: "Come Together"
Still riding our Fab Four high, we thought "Come Together," the opening track of September 1969's
Abbey Road
, would be a righteous, "Life"-affirming follow-up that would display another reason why The Beatles are the toppermost aural progenitors of the 20th century. In short, we were not disappointed. The intuitive interplay between Paul McCartney's loping bass lines and Ringo Starr's skittish drum patterns ahead of the verses sounded even, well, creepier in Spatial Audio, and the character of Macca's harmony vocal choices underneath Lennon's lead vocals during certain verses and choruses were even more pronounced. Plus, slightly bringing forth the sneaky fingers-slide across the fretboard a split-second before Lennon sings "He roller coaster" is but one example of many crafty detail flourishes. In Giles Martin's Dolby Atmos mix on Blu-ray, Lennon's electric piano fills that occur ahead of the verses and during the main solo ring even truer. Because of the mix- emphasis of Lennon's occasional "ooh" vocal improvs in the back half of the track, I was struck how they just might be precur- sors to the gut-wrenching wailing prevalent on his October 1969 solo track, "Cold Turkey." Akin to the previously mentioned 2.0 vibe of "A Day in the Life," the PCM Stereo version of "Come Together" on Blu-ray also felt like it was being performed in front of us—albeit in a most exciting and dramatic fashion—but it serves as yet another example of how the Spatial Audio option can expand the mojo filter of even the best stereo listening experience into heretofore unknown aural realms.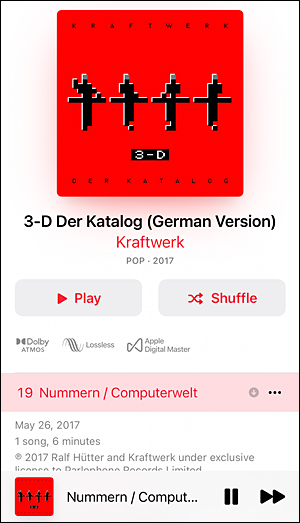 Kraftwerk: "Numbers/Computer World"
For a necessary tone shift, we went from the rock & roll kings of England to the electronic Kaisers of Germany, and were instantly catapulted into the most adventurous Spatial Audio mix of the lot. Kraftwerk's "Numbers/Computer World" combo track, a live version from 3-D The Catalogue as culled from their vaunted 2012-16 worldwide museum/concert hall tour, instantly vaulted to the top of our list as a pre-eminent example of how to take full advantage of a 360-degree listening field from stem to stern. During "Numbers," the militant count-offs from one to eight—sometimes in German, sometimes English, and sometimes not including every number—never once telegraphed which channel and/or field said count would appear in next, whether it be high or low, near or far, front or back. The keyboard and synth flourishes were consistently spooky and foreboding, and I could feel the thumping bass pounding throughout my body. At no time did this track lag or appear static; it was all-in the entire time—and I loved every second of it. On the 2017 3-D Blu-ray, the Dolby Atmos mix clearly pushed the limits of the 5.1 ceiling. The shift from the kinetic "Numbers" into "Computer World" includes a laser-like synth-pulse attack across the planes, and I even whipped my head around when the vocoder-ized presence of the "KGB" popped up during one particularly rousing rear-channel attack. Even in Stereo on Blu-ray—a.k.a. 2-D—"Numbers/Computer World" ping-ponged across the 2.0 sound- stage like the most exciting mash-up of Space Invaders and Pong ever. Needless to say, "Numbers/Computer World" got our full Achtung, baby.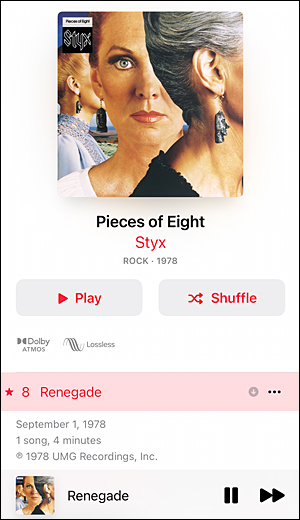 Styx: "Renegade"
Oh, mama—it's a shame we don't yet have a Styx-approved surround version of "Renegade," the signature track from their multiplatinum September 1978 album Pieces of Eight, to compare with the somewhat astray Spatial Audio version we auditioned. The way the song's a capella intro is presented here simply does not do these multi-layered harmonies proper justice. While Tommy Shaw's opening, world-weary lead vocal starts strong down the middle, the decision to keep his voice out in front of, rather than blended with, the ensuing angelic three-part harmonies that follow it, makes it sound like, well—it sounds like something that should be a hanging offense, son. Thankfully, the Spatial Audio mix redeems itself once James "JY" Young's blistering guitar solo takes over the proceedings, galloping its way on up into the ether with all the fury of a determined posse hot on the heels of an outlaw close to the end of his rope. Cueing up the stereo version of "Renegade" on CD confirmed the song's a capella opening is indeed as robust, full, and dramatic as we remembered it, in turn reinforcing the band's avowed Crosby, Stills & Nash influence when it comes to three-part harmony choices. Suggestion to the Apple Music Spatial Audio corps: Please consult Jim Scott's Dolby TrueHD 5.1 mix of "Red Storm," Styx's time-signature-challenging, proto-prog epic from the Blu-ray edition of their June 2017 concept album The Mission, to get a stronger sense of how to lift an all-channel challenging track into the literal stratosphere.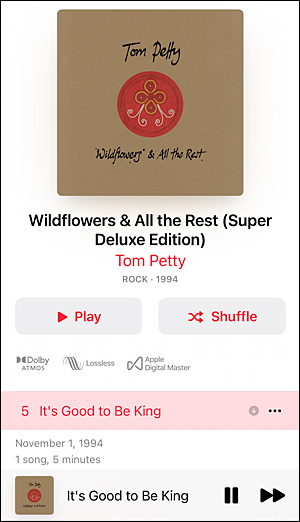 Tom Petty: "It's Good To Be King"
Last fall, Amazon Music HD had an exclusive window for offering its subscribers the Dolby Atmos version of Tom Petty's enduring, and genuinely endearing, November 1994 solo album Wildflowers via a mix served up by Tom's longtime producer/engineer—and longtime surround sound advocate—Ryan Ulyate. While a physical-disc representation of Ulyate's stellar Atmos mix sadly was not included with any version of October 2020's expanded mega-disc collector's editions of the album package now dubbed Wildflowers & All the Rest, thankfully, all the core album's power and dynamic glory have since become fully accessible in Spatial Audio. To prove it, we summoned "It's Good to Be King" and marveled at how Benmont Tench's ever-tasteful piano accents have been relegated to a sky-worthy perch with most every plink, in addition to how the dramatic orchestral swells intermingle both with and in between Petty's two separate vocal readings of the phrases, "Can I help it if I" and "still dream time to time." In the song's back-half instrumental crest, the string section ascends even further up in the clouds, as Tench's piano takes over the melody Petty had been singing. In stereo on the remastered 2020 CD, we found "King" was able to give us a few sturdier elements than what we heard in Atmos—namely, Mike Campbell's measured guitar solo felt more prominent instead of being lost in the clouds, and some of Tench's keyboard lines and Steve Ferrone's clever cymbal rides supporting the string section had more impact overall.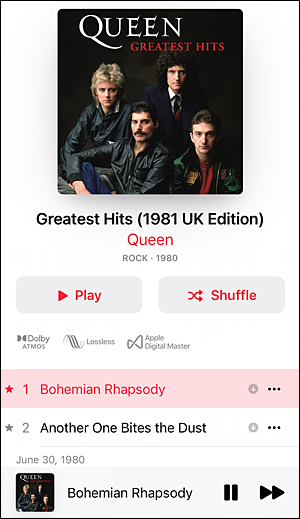 Queen: "Bohemian Rhapsody"
If ever there were a track built for true Spatial Audio dominance, one would think Queen's "Bohemian Rhapsody," the multi- layered magnum opus from November 1975's A Night at the Opera, would be one of them—but, to put it bluntly, Bismillah, no! Oddly enough, we were both under- whelmed by what unfolded around us, especially as each vocal layer progressed into, well, thin air as opposed to evoking feelings of heavenly bliss. In short, we kept waiting and waiting for that one unadulterated "wow" moment that never quite arrived. Even the crucial band-jam "spit in my eye" section failed to elicit that reflexive Wayne's World headbanging feeling. Somewhat mystified, we cued up the DTS-HD Master Audio 5.1 version on the 2014 High Fidelity Pure Audio Opera Blu-ray to reassure ourselves "Rhapsody" was the benchmark surround track we remembered it to be—and it was indeed chock full of all the thunderbolts and lightning we knew were always there. Here, Freddie Mercury and his Queen band- mates' call-and-response vocal segments get spread between multiple front and rear channel options in a truly lively fashion—see especially "Galileo (Galileo!)" and "Magnifico-ohh-ohh"—while the breadth of the balls-out jam section was nothing short of exhilarating. Also, Brian May's guitar solo strikes a mightier tone on BD, right down the middle. In PCM Stereo on Blu-ray, Mercury's expressive lead vocals are fuller and basically own the two-channel soundstage, while Roger Taylor's final gong hit is the drama-cherry on top. Perhaps we should chalk up this unexpected Spatial Audio misfire to not-so-divine intervention.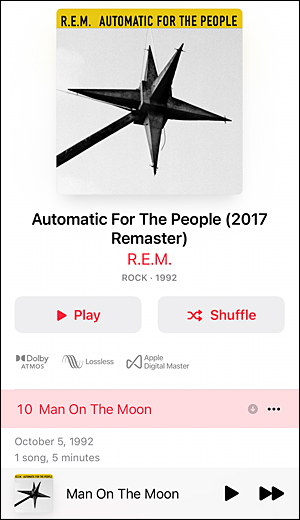 R.E.M.: "Man On The Moon"
Also known as "The Thinking Person's Mix," the Spatial Audio version of R.E.M.'s "Man on the Moon," one of the more sparkling tracks from the album that cemented their international appeal, October 1992's Automatic for the People, shows how subtly placed arrangement elements can unfold like layers of an audio artichoke. On the surface, "Moon" does not share the outright drama most of our other audition tracks do, but the way it reveals itself here is a testament to the more nuanced aspects of Spatial Audio. Note how all three of lead vocalist Michael Stipe's deliberately Elvis- like "Hey Baby!" exclamations shift not only in the degree of his tonal quality, but how they get placed higher and higher vertically each time through. Bassist Mike Mills, one of the most underrated harmonizers of the alt-rock era, takes a starring role in the rear channels, especially with his three-syllable enunciation of "nothing" ("noth-in-hin"). In Dolby Atmos on the 2017 Automatic Blu-ray, Stipe's lead vocals are more prominent out front, while piano, mandolin, percussion, and the droning "ohhhs" all appear exactly when and where they need to. In PCM Stereo on BD, we marveled at how wide Stipe's lead vocal is spread across the soundstage, as well as how many of the layered "Moon" elements so readily discernable in the Atmos universe were essentially buried in the soundfield—underpinning the form-and-function limitations of stereo more than anything else. If you believe in the power of Atmos, this track will take you to the "Moon" and back.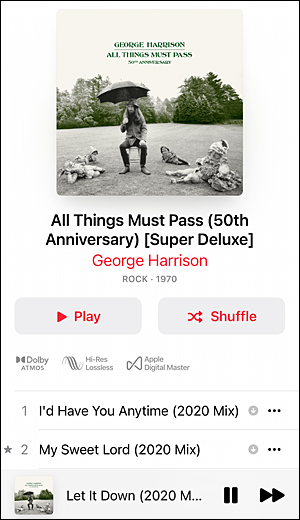 George Harrison: "Let It Down" and "Run Of The Mill"

We could think of no better way to conclude our session than by cueing up a Spatial Audio two-fer from the recently upgraded and expanded 50th anniversary edition of George Harrison's November 1970 solo marvel, All Things Must Pass. How this amazing Pass came to, well, pass was recounted in full in our making-of feature and suffice it to say both "Let It Down" and "Run of the Mill" are prime examples of how to bring out the breadth of track elements that have always been there in the mix, but never fully realized. For example, the low end in both the intro to and choruses of "Let It Down" have a more defined punch to them, and Harrison's extension of the vowel sound in the middle of "feel" is even more heartfelt. Meanwhile, "Run of the Mill" is anything but, most especially in the way the horn section oh-so-sweetly swings above the fray. Dialing up the Dolby Atmos versions of "Down" and "Mill" from the 2021 Pass Blu-ray reinforced the depth of both tracks, and if this were a literary annotation, I would just say "IBID" for both cuts in terms of how well their finest elements in Spatial Audio are mirrored here. (I do outwardly cringe at the random falling leaves on the Pass BD menu, but that's another thing entirely.) Even the 24/192 PCM Stereo versions of both tracks were revelatory to me, being someone who always felt the original Pass LP offered muddier Wall of Sound aesthetics than I prefer.
Spatial Conclusions
There's no doubt our Spatial Audio audition sessions were fruitful across the full 360-degree listening dimension. That said, here's hoping future Spatial Audio mixes can be done as concurrently with their physical Dolby Atmos counterparts whenever applicable, rather than retroactively, because that's what appears to garner the best aural results.
You can access Sound & Vision's Atmos Music test playlist at: apple.co/3BH14PN