Animal House, The Blues Brothers
Born in Chicago, Illinois, in 1949, John Belushi was the offspring of Albanian immigrants. Both he and his younger brother Jim would find success in Hollywood, but on March 5, 1982, John was found dead in his hotel room in West Hollywood from a drug overdose.
Although his career was short-lived, he had a great foundation to become a comedic force in Hollywood. At the age of 22, Belushi hooked up with the Second City comedy troupe in Chicago and eventually found his way to New York as a cast member in the off-Broadway production of National Lampoon's Lemmings. The show was originally slated to run six weeks, but it entertained packed houses for almost ten months. From there, the comedian worked as a writer for two years for The National Lampoon Radio Hour. His big break came in 1975 when he joined the original cast of Saturday Night Live, where he showcased the humor he'd honed while he was with Second City.
His first movie role came in 1978 when he appeared in Goin' South. Here, he caught the eye of director John Landis, who then cast him in Animal House as a beer-drinking frat boy, John "Bluto" Blutarsky. While appearing in only 12 scenes, he stole every one of them and helped it to become the top-grossing comedy of 1978. The film hasn't aged particularly well, but I have to give props to Landis for launching an entirely new genre that still lives on today. Without Animal House, we may have never gotten such classics as Porky's, Revenge of the Nerds, or even American Pie. You won't find an Oscar for the genre, but they've entertained millions of Americans throughout the years with their sophomoric humor.
In 1979, Belushi and co-star Dan Aykroyd left SNL to pursue full-time movie careers, and the pair briefly appeared in Steven Spielberg's 1941. In 1980 they starred in The Blues Brothers, the first of many movies that took characters from SNL and transitioned them to the big screen. While the film wasn't as commercially successful as Animal House, I prefer it due to the chemistry between the stars, the plethora of cameos, and the great music.
Belushi and Aykroyd portray Jake and Elwood Blues, the former leaders of a blues band that broke up after Jake was sent to prison for armed robbery. Once released from the big house, the brothers learn that their childhood home—the St. Helen of the Blessed Shroud Orphanage—will have to close its doors unless it can come up with $5,000 to pay its back property taxes. With only 11 days to score the money, they receive divine intervention and put the band back together in order to save the orphanage. While pursuing their mission from God, they make enemies with a wide variety of characters, including the Illinois State Police, a band of neo-Nazis, and a gun-toting mystery woman (Carrie Fisher).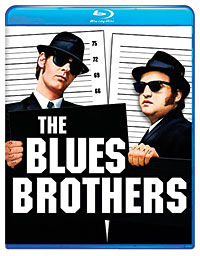 The video encodes are miles apart in their quality. Animal House is plagued with digital noise reduction and liberal edge enhancement. Furthermore, fleshtones look like an exhibit at Madame Tussauds Wax Museum, and crush obscures detail in the shadows. On the other end of the spectrum is The Blues Brothers, which received a Landis-approved remaster, and it really shows. Other than some occasional digital noise, it's the best the film has ever looked. Colors pop off the screen, fleshtones actually have textures, and the detail is mesmerizing.
Unfortunately, Universal decided to use a lossy DTS 5.1 soundtrack for The Blues Brothers in lieu of a lossless track, which is a big disappointment. That being said, the music has never sounded better, and the dialogue is crystal clear. Occasional effects sound a little thin compared to a modern soundtrack, but for a 31-year-old catalog title, fans shouldn't skip a purchase based upon its lack of lossless audio. Animal House does include a lossless track, but it's mostly wasted on the pedestrian sound design that's heavily skewed toward the front of the room.
Supplements on Animal House include two U-Control features, a retrospective documentary with most of the cast, writers, and director, and a couple of other featurettes. The Blues Brothers includes a making-
of featurette, a look at the music, a tribute to Belushi, and a theatrical trailer.
Although his life ended prematurely, Belushi's career was filled with many laughs, and his fans will love to have his two best films in HD. Recommended. 
David Vaughn
Ratings
Picture: 2.5
Sound: 4
Extras: 2.5
Interactivity: 2
Specs
Animal House
Studio: Universal, 1978
Aspect Ratio: 1.85:1
Audio Format: 
DTS-HD Master Audio 5.1
Length: 109 mins.
MPAA Rating: R
Director: John Landis
Starring: John Belushi, Tim Matheson, John Vernon, Donald Sutherland
Ratings
Picture: 4.5
Sound: 4
Extras: 2.5
Interactivity: 2
Specs
The Blues Brothers
Studio: Universal, 1980
Aspect Ratio: 1.85:1
Audio Format: DTS 5.1
Length: 133 mins (theatrical); 
148 mins (extended)
MPAA Rating: R
Director: John Landis
Starring: John Belushi, Dan Aykroyd
LATEST VIDEO