American Reunion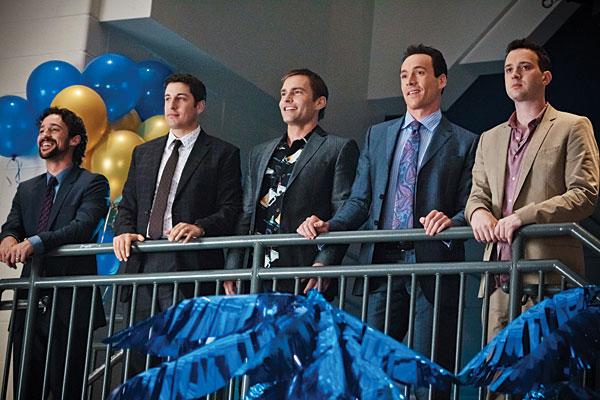 Being either a dedicated reviewer or total glutton for punishment (you decide), I engaged in my own…pardon the expression, pie-eating contest and watched all seven films before going to the Reunion. And believe me, there is such a thing as too much pie. Reunion features more of the same sexual shenanigans, embarrassing situations, and gross-out humor that have become a familiar staple of the franchise. This Blu-ray features both the theatrical cut and an unrated version that runs one whole minute longer.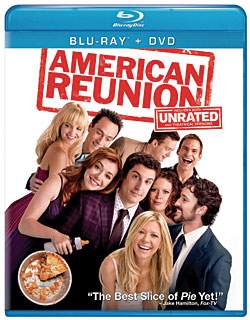 The HD picture is pretty solid all around but has some noticeable graininess and soft blur in the darker scenes. It also sports a somewhat saturated color scheme, with skintones that border on the reddish hues. The DTS-HD Master Audio 5.1 is nothing stellar but has some fine moments and is at its liveliest when the usual juvenile hijinks is in full gear. A scene involving two destroyed Jet Skis is brief but worthy of note. Musical interludes offer some extra verve and pep, too, in a well-rounded soundtrack.
This disc is loaded with bonus content. There are deleted and extended scenes, alternate takes, a gag reel, featurettes, vignettes, an interactive yearbook, audio commentary, and the "Out of Control" track, which offers pop-up commentary from the actors. There's also the My Scenes bookmarking feature, a bonus DVD, and a Digital Copy via UltraViolet. Guess they didn't have room for the theatrical trailer.
Clearly, the series still has some juice in it, and I'm sure we can look forward to further adventures: American 401(k), American Retirement Home, and American Afterlife: Stifler Goes to Hell. Maybe then we can finally say, bye-bye, Miss American Pie…and mean it.
Blu-Ray 3D
Studio: Universal, 2012
Aspect Ratio: 1.85:1
Audio Format: DTS-HD Master Audio 5.1
Length: 113 mins. (theatrical); 114 mins. (unrated)
MPAA Rating: R
Director: Jon Hurwitz, Hayden Schlossberg
Starring: Jason Biggs, Alyson Hannigan, Seann William Scott
I saw American Pie in the theater and enjoyed it enough to stick it out through two sequels: American Pie 2 and American Wedding. By that point, though, I felt the creative teat had pretty much been sucked dry and it was time to call it a day. Imagine my astonishment when I discovered that the success of those films had spawned no less than four direct-to-video sequels: American Pie: Band Camp, American Pie: The Naked Mile, American Pie: Beta House, and American Pie: The Book of Love. Not done by a long shot, the original cast now reunites for another go-round in American Reunion. As the title implies, it's been more than a decade since our fresh-faced and inexperienced teenagers graduated from high school and made the awkward transition into adulthood.
LATEST VIDEO