Alexander: The Ultimate Cut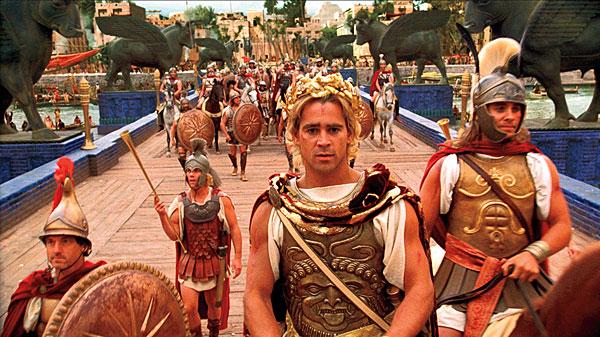 The strongest arguments in favor of this new Ultimate Edition are the inclusion of the first HD version of the original Theatrical Cut, and a remastered 5.1 DTS-HD Master Audio soundtrack, which is a substantial improvement upon its predecessor. The battle sequences offer the greatest punch and widest field of dynamic sound with clashing soldiers, thundering hoof beats, and charging chariots. It trumps what was already an impressive mix. The HD picture suffers only the minutest degradation issues from being compressed onto a single disc instead of split onto two like the previous edition. Colors and textures are just as vibrant and consistent as before.
Extras include a slightly altered audio commentary with Stone and a new historical documentary called, The Real Alexander and the World He Made. Stone's son, Sean, crafted an immensely compelling on-set documentary called Fight Against Time: Oliver Stone's Alexander. The Theatrical Cut disc features extras borrowed from all previous editions including original commentaries, featurettes, and trailers. All of this is presented in a handsome sturdy slipcase along with a hardcover booklet called The Art of Alexander and a small collection of reproduced correspondence between Stone and his cast.
Alexander is still and will always be a truly great film in the grand tradition of classic Hollywood epics, whichever version you choose to watch. At the risk of further ridicule and censure, Stone has remastered and refined it one last time. We should finally embrace it.
Blu-Ray
Studio: Warner Bros., 2014
Aspect Ratio: 2.40:1
Audio Format: DTS-HD Master Audio 5.1
Length: Theatrical Cut: 175 mins. / Ultimate Cut: 207 mins.
MPAA Rating: Theatrical Cut: R / Ultimate Cut: Unrated
Director: Oliver Stone
Starring: Colin Farrell, Val Kilmer, Angelina Jolie
To commemorate the 10th anniversary of its release, Oliver Stone returns once again to his much maligned and misunderstood epic. This is officially the fourth cut of the film, but before you grouse, hear me out. The progression follows thus: The original Theatrical Cut was Stone's epic vision pared down to a marketable length to appease the studio executives; the Director's Cut was the result of Stone yielding to pressure to appease the masses and their aversion to the film's blatant homo-eroticism; and the Revisited Final Cut was a tenacious filmmaker getting the chance to finally realize his passion-project in the version that he originally intended audiences to see. What's curious, though, about this new Ultimate Cut is that it differs only slightly from the Revisited Final Cut and runs just eight minutes shorter.