Adventures In Zambezia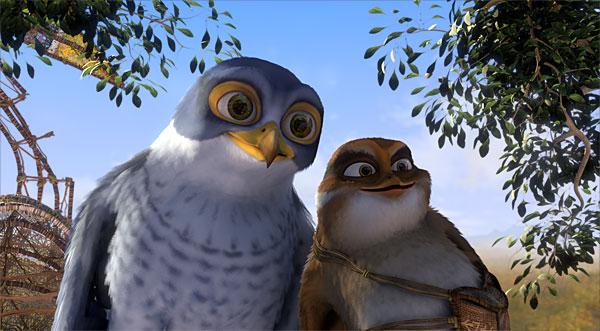 Adventures in Zambezia (called simply Zambezia in some markets) is an odd…um…duck of a computer-animated film. While distributed by Sony Pictures, it's a South African production, the first from Triggerfish Animation Studios. It's a low-budget production, and it shows. While this is a well-drawn film, with more than a few compelling images, it lacks the refinements in texture, detail, smooth movement, and sophisticated lighting we've become accustomed to in modern computer animation. Technically, it's less polished than 1995's Toy Story. But it's perhaps a little unfair to critique the look of an animated feature with a budget of around $20,000,000. The average Pixar release costs roughly 10 times that much to make.
Of course, the kids won't care about visual refinement as long as the images are colorful and the story easy to follow. Both are certainly true here. And while adults may wish the story was a little more coherent, taking wing in ways that keep us interested while moving us emotionally in the manner that Pixar films almost always do and others often can (including DreamWorks—see in particular How to Train Your Dragon), the ankle-biter contingent won't notice these story shortcomings, either.
The movie apparently didn't see a wide theatrical release in the U.S. when it came out in July 2012. This Blu-ray release is also oddly grounded. As I write, it doesn't appear on Amazon, though you will find it at Walmart.com.
The picture quality is good as far as it goes, but the relatively unfinished look of the animation keeps the score low. The audio is also less ambitious than in most animated films. It's clean and listenable but distinguished mainly by a good music score. In particular, there are several beautifully recorded African choral interludes that were far too brief.
The extras are limited to four brief making-of featurettes and a music video.
Blu-Ray
Studio: Sony, 2012
Aspect Ratio: 1.78:1
Audio Format: DTS-HD Master Audio 5.1
Length: 82 mins.
MPAA Rating: G
Director: Wayne Thornley
Starring: Jeremy Suarez, Abigail Breslin, Jeff Goldblum
Kai, a young falcon, yearns to spread his wings and explore the world, more specifically an avian community called Zambezia. There he hopes to join the Hurricanes, the skilled and brave flying corps that defends the city. But his father is unalterably opposed to his leaving their safe but boring life for reasons Kai does not at first understand. Kai leaves the nest on his own anyway, joining a flock of geese headed to the fabled bird city. Once there, he finds the city in danger from a terrifying enemy.
LATEST VIDEO