50 Years Later, B&W Reinvents Its Flagship
Last September,
Bowers & Wilkins officially introduced the bulk of its new 800 Series Diamond speaker line
, but held back the crown jewel flagship model. Now, in the summer of B&W's 50th anniversary year, and with the backdrop of its recent acquisition by a well-funded Silicon Valley start-up, the company has introduced the 800 D3 tower, the total embodiment of three-and-a-half years of intense R&D leading to what is said to be it's most advanced and best speaker ever.
At a recent press gathering at its North Reading, Massachusetts headquarters and Experience Center, B&W treated journalists to demonstrations of the new model, in both a stereo pair in the company's new listening room and a 5.0-channel music demo in its custom theater space. Demos were also offered of the legendary Nautilus loudspeaker in a stereo pair, of B&W's CWM8.5 high-performance in-walls, and of three B&W branded car audio systems in a Volvo SUV, BMW sedan, and McLaren sports car.
Along with office space, a service area for product repairs, and four formal listening/demo rooms, B&W's facility includes several product display areas, including a gallery in its lobby, a museum hall showing several generations of B&W speakers and Rotel electronics (a brand not owned, but distributed by B&W's parent company), and a living room space set up with a working pair of classic (and rare) B&W 808 floorstanding speakers—a high SPL version of the storied B&W 801 developed for recording studios that needed and wanted a speaker rated to achieve 120 dB of output.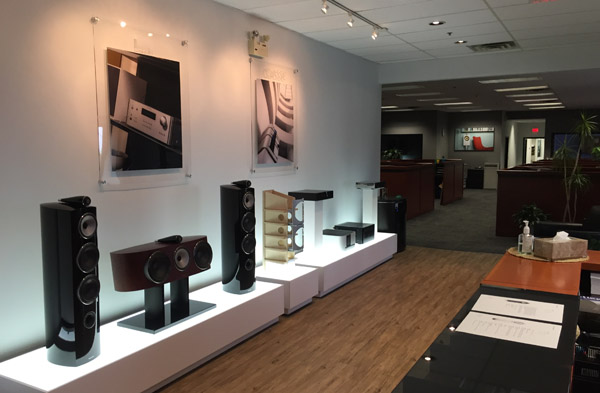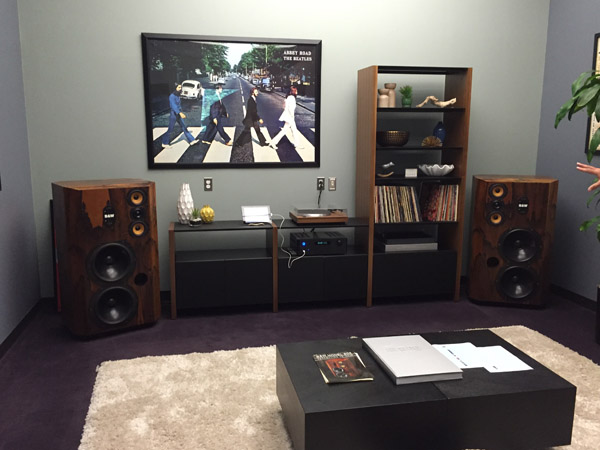 During a brief press conference in the museum area, B&W Group North America president Doug Henderson and B&W Group CEO Joe Atkins addressed questions about the company's recent acquisition of by EVA Automation, a small Silicon Valley startup headed by former Facebook exec Gideon Yu. Although little detail was shared about the technology that EVA has had under development, the B&W execs said that the combination of EVA's wireless audio technology and a staff that's highly skilled in the design of enaging user experiences (including many former Apple staffers) created a desireable synergy for B&W as the world moves toward app-driven, multiroom audio products and away from classic, component driven sound systems. The company has not, to date, offered any answer to Sonos or its premium competitors who have adapted the DTS Play-Fi platform to respond to this emerging market.
"Technology is what this transition is about," said Atkins. "The passive [audio] world we've lived in is changing, and the path that Sonos and the Sonos wannabees are following is going to turn into a new reality...Bowers & Wilkins needs to transition and provide a premium experience in that space." Henderson added that these changes stand to provide access to a vastly larger audience of customers who aren't interested in the arduous research, sales process, and operation of traditional audio systems. "The high end of audio has burdened people through the years with complexity. That pushes away 90 percent of the population," he observed. The first products coming from the partnership are expected to be released in 2017.
About the 800 D3, Henderson commented on the vision of John Bowers, who imagined a perfectly transparent loudspeaker back when he started building speakers in a garage behind his electronics shop in Worthing, England in the early 1960s and subsequently founded B&W in 1966. (He passed away in 1987.) "I don't think a finer loudspeaker has ever been made," Henderson said. "It is literally the realization of John Bower's dream."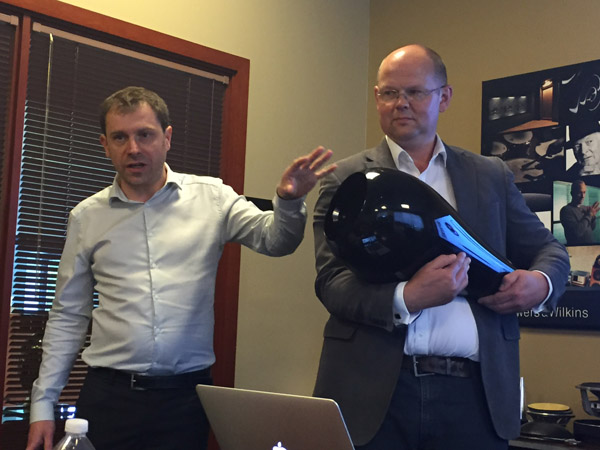 A technical presentation by head of research Martial Rousseau and senior product manager Andy Kerr, both out of B&W's U.K. headquarters in Worthing, bore out the extensive effort to draw upon the body of knowlege and sonic tradition built up with several generations of 800 series products and push that out to the limits with new materials and more refined designs. Some critical parts, such as the tapered pod housings for the tweeter drivers (and now the mids, as well), have gone from aluminum alloy in the previous generation to pure aluminum in the 800 series, and have undergone refinements to further reduce inherent distortions. While the stiff diamond tweeter of earlier models was retained (albeit with some adjustments to its motor structure), the classic yellow woven-Kevlar midrange drivers that were a B&W hallmark for decades are now gone, replaced with the new silvery-gray Continuum cone, a similar woven driver of an unspecified material said to be eight years in development and offering a considerable reduction in the dreaded break-up nodes that can lead to distortion.
Likewise, an incredibly stiff, lightweight composite material as been developed for the new Aerofoil woofer cones, which feature an unusual crossectional shape that is thick at the center of the cone and tapered off at both the inner and outer edges. It is said to provide near-perfect pistonic behavior and much reduced spurious flexing of the cone despite the tremendous forces put upon it. The attractive laminated multilayer curved cabinet for the 800 series is built around a entirely new Matrix bracing form built from thick plywood with metal reinforcement, and there's a new, solid aluminum plinth with a clever industrial design that allows easy switching between the built-in spikes or casters.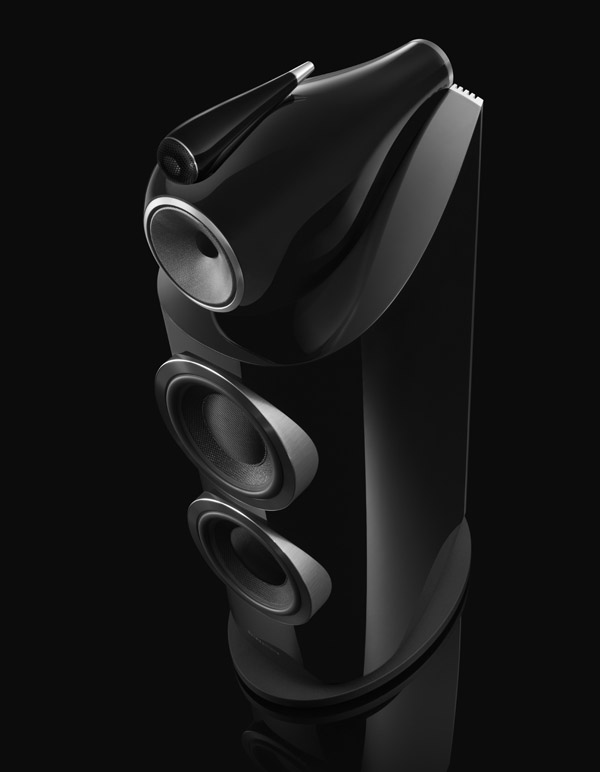 The flagship 800 D3 ($30,000/pair) improves on the step-down 802 D3 introduced in the fall ($22,000/pair) with somewhat larger dimensions and pair of 10-inch Aerofoil cones versus the 802's 8-inch woofers, which slightly improves low frequency extension from a rated 17 Hz in the 802 to 15 Hz (+/- 3 dB) in the 800; both speakers share the same 1-inch diamond dome tweeter and 6-inch Continuum midrange and are said to extend out to 28 kHz (again, with +/- 3 dB tolerance). The D3 measures in at 47.9 x 16.25 x 24 inches (HWD), and weighs 212 pounds.
The demonstrations did not disappoint. B&W execs set up a pair of the 800 D3 in their brand new 28 x 17-foot treated listening room and played a variety of music through high-end electronics from B&W's sister Classe brand. Sparsely-recorded tracks from blues harmonica legend Sonny Boy Williamson and singer-songwriter Ray Montagne threw a huge soundstage with near life-like voices into the room and showed imaging to be one of the speaker's strong suits; and they revealed subtleties like the resonance of a guitar body and the almost achingly delicate detail in Montagne's vocal. A 1967 Verde orchestral recording convincingly projected the big-hall acoustics, and rendered polite and voluptuous massed strings. And a Deadmau5 EDM track dialed up just to prove the mettle of the 800 D3's two 10-inch woofers delivered some stupidly clean low bass that didn't overwhelm the room but left listeners (at least this one) with that with in-your-gut queasy feeling.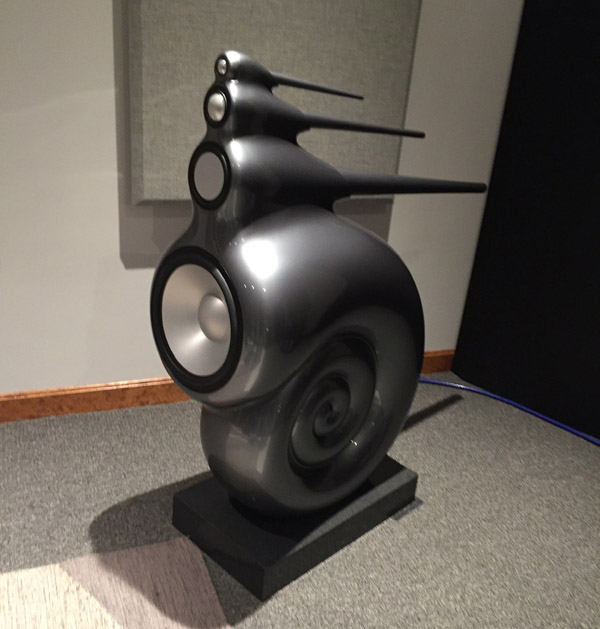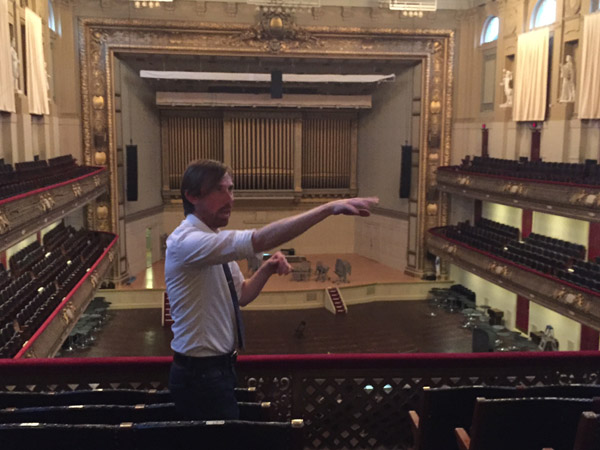 Along with the day's speaker demos, B&W execs treated the invited press to an arranged backstage and on-stage visit to famous Boston Symphony Hall, considered one of the world's best-sounding concert halls. Chief recording engineer Nick Squire explained that with the orchestra on hiatus and the Boston Pops on duty at the BSO's outdoor venue at Tanglewood in the Berkshires, the usual complement of recording gear (which naturally includes B&W's for studio monitors) was not present in their compact studio space. But he guided us out to the stage so we might look out upon the hall as the musicians see it, and treated us to a midi-driven demo of Bach's Toccata and Fugue in D minor on the hall's huge pipe organ—a helpful reminder that, no matter how good the speakers get, there's still nothing quite like the real thing.
You can read more about the 800 Series Diamond line at B&W's Website.