42: The Jackie Robinson Story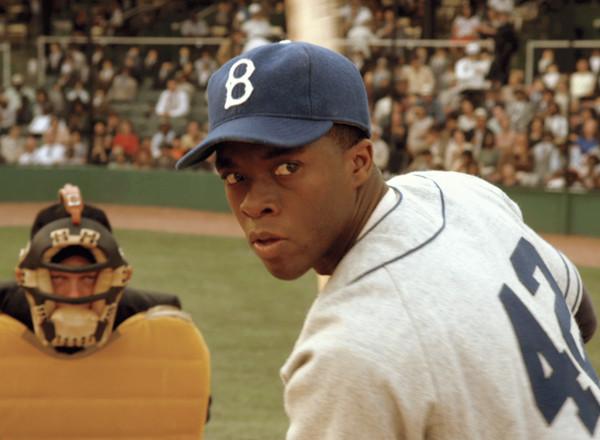 It's all in how you play the game
There may be no crying in baseball, but for the longest time in America, there sure was no shortage of bigotry and intolerance in it. But in 1947, after nearly a century of incompliant segregation in the big leagues, two men changed the game forever when the color barrier was finally broken and baseball legitimately became America's national pastime. When team owner Branch Rickey hand-picked a promising young player named Jackie Robinson from the Negro Leagues and brought him to play major league baseball with "dem bums," the Brooklyn Dodgers, it truly was a milestone in American history.
For the duration of his professional career, Robinson had to endure cruel racial taunts, death threats, and hostile aggression, which he did with courage, patience, and fortitude. For the good of his race and his team, he constantly had to be the better man. But even a better man can only take so much. Three Oscar-worthy performances take center stage: Chadwick Boseman is absolutely flawless as Robinson, a role to which he brings considerable dedication and dignity. Harrison Ford gives his best performance in decades as Branch Rickey, the implacable owner of the Dodgers, and Nicole Beharie is truly luminous as Robinson's ever devoted and supportive wife, Rachel.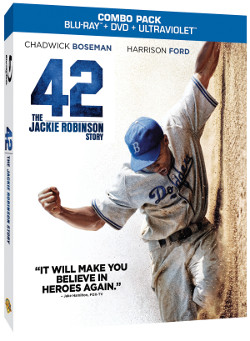 The HD photography is breathtakingly elegant; shot on DV but with no soft focus or grain issues. Period detail is first rate. A good deal of green-screen visual effects were necessary to re-create the historic ballparks of the period like Ebbets Field and fill them with thousands of cheering fans. The fabricated imagery is seamlessly integrated with the real sets. The city streets and brownstones of Brooklyn are rendered exquisitely. The 5.1 DTS-HD Master Audio serves the story exceptionally well and knows precisely where and when to hit or touch you. The crack of the bat and the roar of the crowd have never sounded better, all punctuated by Mark Isham's beautiful score. Extras are minimal and include only three short featurettes that cover the making of the film and the historical context behind it. DVD and Digital Copy are included.
42 doesn't overreach like most bio-pics do by showcasing a greatest-hits montage of a person's life from birth to death. It smartly covers only two key years in the life and career of Jackie Robinson, and it's enough. The rest is just details. This film is one that truly inspires and, like the man it honors, plays it to perfection. Don't miss it.
Blu-ray
Studio: Warner Bros., 2013
Aspect Ratio: 2.40:1
Audio Format: DTS-HD Master Audio 5.1
Length: 128 mins.
MPAA Rating: PG-13
Director: Brian Helgeland
Starring: Chadwick Boseman, Harrison Ford, Nicole Beharie