21 Jump Street
As happens, they come to rely on each other to pass the rigors of training, but they have a hard time adapting to the demands of their job on the mean streets. When a bust goes bad, the two rookies are transferred to the undercover Jump Street program, which sends teams of young-looking cops to pose as students to break up emerging drug rings and such. A deadly new hallucinogen is about to receive widespread distribution, so the boys can waste no time blending in and locating the perpetrators.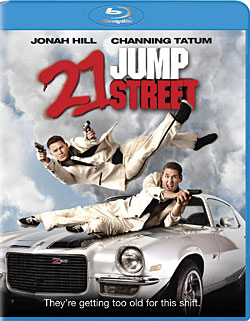 High school sure has changed, however, and each cop is endearingly, hilariously clueless. What these guys really excel at is chemistry (see what I did there?), riffing off each other like seasoned pros in this very crass redux that pokes ample fun at the classic show and the dubious nature of the entire operation.
The 2.4:1 Jump Street is razor sharp, a spiffy 1080p video master that is virtually free of defects, with neither noise nor grain. The surrounds within the DTS-HD Master Audio 5.1 mix are employed nimbly both to enhance the overall atmosphere and to add that extra bit of relish to the jokes. Subtle echoes and discrete beats of music also fill out the multichannel soundfield. It's not quite demo-worthy audio or video, but definitely above average quality.
The bonuses are fairly generous, starting with a commentary from the two stars joined by Phil Lord and Christopher Miller. No fewer than 20 deleted scenes are included, and the disc is BD-Live enabled, with a code for an UltraViolet Digital Copy as well. The gag reel underscores the notion that this movie must have been an absolute blast to be a part of, as further indicated by the making-of plus individual featurettes that focus on members of the supporting cast. The title of one of these video segments printed on the back cover gives away a high-profile surprise cameo, but I certainly won't spoil it.
Blu-Ray
Studio: Sony Pictures, 2012
Aspect Ratio: 2.40:1
Audio Format: DTS-HD Master Audio 5.1
Length: 110 mins.
MPAA Rating: R
Director: Phil Lord, Christopher Miller
Starring: Jonah Hill, Channing Tatum, Brie Larson
Adaptations of old TV shows are a mixed bag, especially when filmmakers take the risky step of amping up the comedy factor of the original. The new gold standard of this bawdy-yet-reverent approach is 21 Jump Street, with much of the credit belonging to star/executive producer/co-writer Jonah Hill. He plays a brainy high school loser who, years later, winds up enrolling in the police academy at the same time as his brawny erstwhile tormentor (Channing Tatum).
LATEST VIDEO