13 Hours: The Secret Soldiers of Benghazi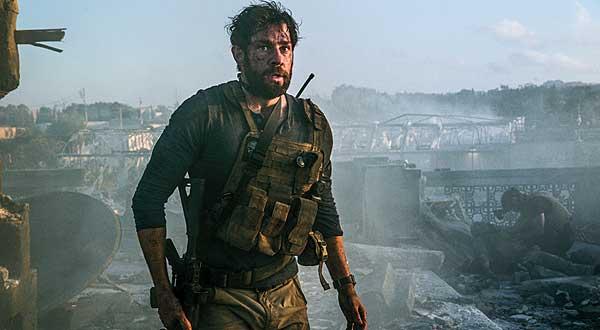 The first act does a commendable job of setting up the characters and the situation on the ground in Libya, but it's when all hell breaks loose that the film really gains its footing. I'm not a big fan of Michael Bay, but he actually delivers a compelling drama along with his well-orchestrated stunts and action sequences that complement the story instead of burying it. It's a balanced approach that's not typical of the director.
The 1080p video encode is excellent and features a lot of detail, inky blacks, and a rich color palette with a caveat—the colors are intentionally oversaturated, and the fleshtones are much too orange and inac- curate. The benefit of this is that the blues and greens really pop, but the heightened contrast exacerbates some minor digital noise.
The Dolby Atmos track is simply amazing from beginning to end, providing such a lifelike experience that you'll find yourself ducking to avoid falling mortars during the frenetic third act. Gunfire shoots throughout the room from every angle, explosions rock the foundation, and the resulting debris gives the illusion of your ceiling falling to pieces all around you. Furthermore, the mayhem doesn't drown out the score, and the dialogue is always intelligible.
All of the supplements are housed on a second disc and include two fascinating documentaries. The first takes a look at the history of the events of September 11 and 12 in Libya and explores the political fallout from the Obama administration's assertion that the attack was caused by an internet video. The second has interviews with the actors and their real-life counterparts. There's also a behind-the-scenes featurette, a recap of the movie's premiere in Arlington, Texas, and a classy "In Memoriam" of the deceased. Finally, there's a DVD copy of the film along with an UltraViolet/iTunes Digital Copy.
Blu-Ray
Studio: Paramount 2016
Aspect Ratio: 2.40:1
Audio Format: Dolby Atmos (TrueHD 7.1 core)
Length: 144 mins.
MPAA Rating: R
Director: Michael Bay
Starring: James Badge Dale, John Krasinski, Max Martini
The film begins with the words, "This is a true story," not based on one. The screenplay by Chuck Hogan (based on the book from Mitchell Zuckoff) steers mostly clear of the politics surrounding the attack and tells the story from the perspective of the people who were on the ground on September 11, 2012 in Benghazi. Regardless of the politics, four Americans lost their lives that night; Ambassador Chris Stevens, information officer Sean Smith, and two CIA operatives, Glen Doherty and Tyrone Woods, both former Navy SEALs who were civilian contractors working out of a secret CIA annex near the U.S. diplomatic compound.