1080p DLP Hits the Shelves
Mitsubishi Digital Electronics America, Inc.
is claiming bragging rights to being the first rear-projection HDTV maker to bring Texas Instruments' 1080p
DLP
technology to your corner TV store. Mitsubishi (sometimes called by customers shopping for big screens "Mister Bushi" - as in, "Let me see one of those Mister Bushi TVs" - seriously, I'm not making this up) says they'll claim their rightful place in the consumer-electronics history books when they begin shipping the 52-inch
WD-52627
to certain lucky (or brown-nosing) Southern California retailers on June 30th. National distribution of the widescreen HDTV will commence in the following weeks. The suggested retail price of the WD-52627 is $3,699 (plus local taxes and applicable delivery charges).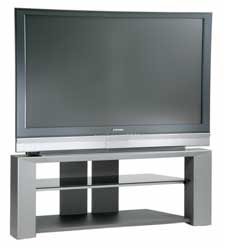 Since there isn't any 1080p material currently available for the average or even above-average consumer to watch, processing circuitry is used to upscale the incoming video (1080i, 720p, 480p, and 480i) and fool you into thinking you're watching true 1080p. Mitsubishi says their 1080p HDTV projectors will utilize an exclusive technology they call Plush1080p to upconvert all incoming signals. The company comments that "given its higher pixel density, even a super-sized 73-inch 1080p DLP HDTV can deliver a sharper picture than a 50-inch 720p model." (Buy your mother still won't let you sit as close to the TV as you want to.)
TI states that the 1080p DLP chip offers a variety of features that the various manufacturers who will soon be shipping 1080p HDTVs - such as Mitsubishi, Samsung, Toshiba, and LG - can adapt in their own technologically creative ways to produce the best image possible:

SharpPicture:

A processing enhancement that works in conjunction with SmoothPicture technology to simultaneously provide sharp, yet smooth and seamless images.

DynamicColor:

Enhances colors and contrast without impacting skin tones, allowing for more vibrant and lifelike color reproduction.

DynamicBlack:

A system level solution which provides dramatic increases in system contrast ratio and grayscale fidelity by as much as 4x, bringing greater detail to dark scenes and images and allowing customers to achieve contrast ratios well above 5000:1.

DarkChip3:

A feature that includes architectural changes to the DLP chip resulting in a 20 - 40% improvement in contrast over DarkChip2.
Earlier this year, Mitsubishi announced nine 1080p DLP integrated HDTVs - ranging from 52 to 73 inches - which are expected to ship during the summer and fall of this year. Three of the nine models to come (WD-73727, WD-73827, and WD-73927) feature a 73-inch screen size.
LATEST VIDEO