Art+Technology: "David Bowie Is" Exhibition Heading to Chicago's Museum of Contemporary Art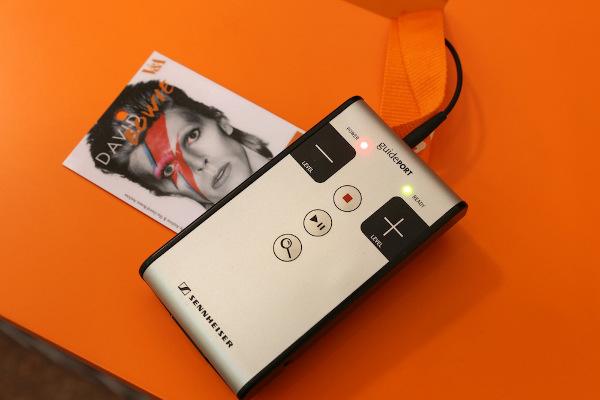 The "David Bowie Is" exhibition will make its U.S. debut at Chicago's Museum of Contemporary Art (MCA) on September 23, following recent visits to London, Berlin, São Paulo, and Toronto.
Curated by the Victoria and Albert (V&A) Museum in London, the exhibition explores the multi-faceted eclectic work of one of the most creative and adventuresome pop artists of our time, including the iconic Ziggy Stardust period. The exhibit goes beyond music to encompass videos, stage costumes, album covers, stage sets, and photographs.
Audio streamed to hand-held guidePORT receiver/headphone combos designed by Sennheiser is said to enhance the visitor experience, enabling them to walk freely through 25 "display zones." The system automatically switches to the appropriate soundtrack as visitors enter each display area.
In addition to a "pristine" personal audio experience, visitors are treated to a mash-up of Bowie songs, created by long-time producer Tony Visconti. The music is "upmixed" to 3D and delivered through a hidden array of Neumann speakers.
Click here for a preview of the exhibition.
LATEST VIDEO
WHERE TECHNOLOGY BECOMES ENTERTAINMENT