Monoprice Monolith 7 Amplifier Review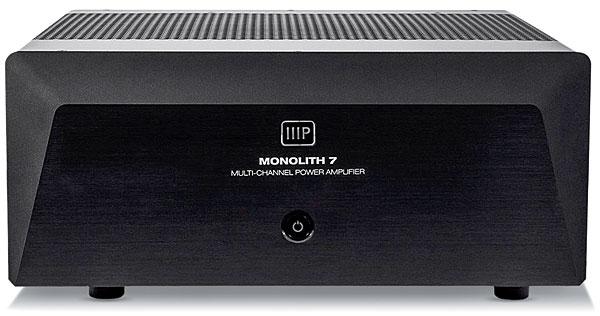 PRICE
$1,499
AT A GLANCE
Plus
Class A/B design
Impressive sound quality
Equal power to all channels
Minus
Very heavy
Lacks balanced inputs
THE VERDICT
At $1,499, this amp is an incredible steal. While it doesn't quite reach the heights of its more expensive competition, it still offers a helluva view.
My introduction to Monoprice happened about 10 years ago when I needed some interconnects for a system I had designed for someone on a tight budget. I'd read how great a value the company's offerings were and decided to take the leap. Not only was my friend happy to save a few bucks from the store brands, he didn't sacrifice any of the quality, either. From day one, the interconnects worked like a charm. Since then, Monoprice has been my go-to source for home theater cables.
As the years have gone on, the company has branched out into other areas, including networking and IT devices, mobile accessories, PC and gaming gear, pro audio products, imaging items, ink and toner supplies, and home theater equipment. In Monoprice's daily e-mail newslet- ters, I've seen ads for AVRs, but now the ever-expanding company has ventured onto yet another new path: They've produced their own seven-channel power amplifier, the Monolith 7, offering 200 watts per channel (into 8 ohms) at the shockingly low price of $1,499. That's one heck of a deal at roughly $215 per channel. But does it sacrifice sound quality in order to save a few bucks?
The Debut
Since Monoprice is a strictly e-commerce company, the shipping box for the amp needs to be able to withstand the rigors of UPS and other carriers. The 105-pound beast arrived without incident to my home, but getting it indoors required a handcart.
Aesthetically, the amp is what you'd expect. It's a heavy black box that sports a rugged chassis with a black powder-coated finish. Monoprice proudly points out that the finish is Teflon-coated (but advises not to cook on it, since it's an amp, not a grill). The simple front panel isn't your typical flat façade; the sides and top are angled out slightly, giving the panel a 3D effect. The product name is etched into the faceplate front and center, with the illuminated power button underneath it.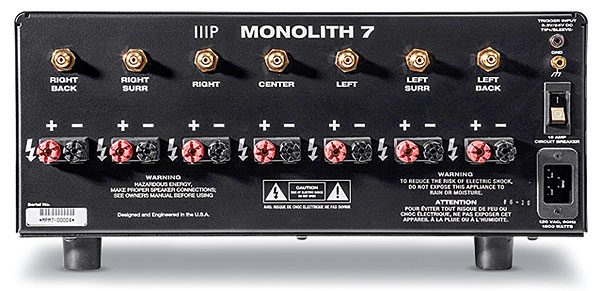 Around back are seven chassis-mounted gold-plated RCA jacks, allowing for a sturdier connection than what you'd get from jacks mounted directly to a circuit board. The five-way speaker binding posts are well spaced along the rear and accept banana plugs. Rounding out the back panel are a master power switch, 12-volt trigger input, grounding screw, and high-current IEC C19 power inlet for the matching detachable power cord. Unfortunately, the amp doesn't offer balanced inputs, but at $1,499, this isn't surprising.
With a net weight of 93.2 pounds, the Monolith 7 certainly isn't a lightweight by any means, and the majority of that weight comes from two massive toroidal power transformers that sit directly behind the faceplate, making the amp very front-heavy. Each channel features its own double-sided, glass epoxy circuit board with metal film resistors specified to 1 percent tolerance. Each channel also gets its own set of transformer windings and storage capacitor, which essentially means each channel all but has its own power supply. It's a Class A/B design, so be sure to give it plenty of space to breathe because it gets hot with seven channels loaded into one fan-free chassis.
Monoprice also touts that the amp is "speaker thump free," owing to an engineered soft-start circuit that gradually powers up the unit. The first time I turned on the amp, it took nearly 30 seconds for the front LED to light up and for audio to begin to flow. I'd thought the amp was D.O.A. and didn't relish the prospect of boxing it back up and waiting for a replacement. Fortunately, by the time a few expletives left my mouth, it powered up. Monoprice has since revised the amp so the LED glows dimly upon turn-on, then illuminates fully when the amp is ready.
My days of lifting 100-pound amps in and out of my equipment rack are over, so setting up the Monolith 7 involved placing it near the floor on a custom-made, removable stand that spares my back from hefting amps up and into my shelves. I used the amp in conjunction with my reference Marantz AV8802A pre/pro, which I connected with Monoprice 10-foot RCA cables for the seven listener-level channels in my Dolby Atmos system. The overhead channels were driven by a Parasound Zone- Master 1250 for the movie portion of the review.
The seven channels connected to the Monolith 7 consist of three THX- certified M&K Sound S150 speakers across the front and four SS150 surround speakers, all of which are 4-ohm loads. Because the speakers are satellites, a subwoofer is defi- nitely required, and since I'm a bass- oholic, I employ two. In the front left corner of my room sits an SVS PC- Ultra cylindrical sub, and to the right of my seating area in near-field posi- tion is a Hsu Research VTF-15H MK2 (Sound & Vision Top Pick); yes, it's all about that bass (no treble). Once everything was hooked up and pow- ered on, I manually calibrated the speaker levels using a THX test tone disc and my RadioShack SPL meter.