PSB Speakers M4U 4 Headphone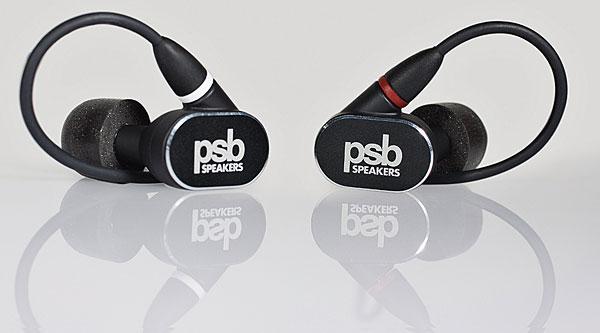 PRICE
$299
AT A GLANCE
Plus
Two-way hybrid dual-driver design
User-replaceable cables
Two-year warranty
Minus
Resolution no match for all-armature in-ear designs
THE VERDICT
The PSB Speakers M4U 4 blocks a good amount of external noise, feels comfy, and sounds sweet. What's not to like?
PSB Speakers' Paul Barton is a quick learner. After decades designing his company's speakers, he jumped into headphones with the PSB M4U 2 full-size, noise-canceling 'phones. The M4U 2 was hailed by critics and consumers alike, and his next design for NAD, the Viso HP50, was even better, Barton was clearly on a roll. Now, with the M4U 4, Barton may be the first celebrated speaker designer to ever tackle crafting an in-ear headphone.
While most in-ear headphones have dynamic or balanced armature drivers, the M4U 4 Hybrid Dual-Driver System uses both. Barton selected a balanced armature driver (BA) for its low distortion and extended high-frequency response, and the dynamic driver for its bass potency. Inside the earpiece, there's a waveguide linking the BA driver with the proprietary 8mm dynamic driver. The two drivers are time-aligned, and Barton uses surface-mount parts for the crossover network that divides the signal between the two drivers starting at 2.5 kilohertz. The low-frequency driver is tuned with three separate chambers within the earpiece to produce a flat response. Barton designed and 3D-printed earpiece prototypes not only to measure and listen to the sound, but also to craft the earpieces to be as comfortable as possible. The drivers were voiced during the design process with a KEMAR dummy-head testing system for headphones at the same National Research Council of Canada facility that Barton uses for designing PSB speakers.
The M4U 4 is light and very comfortable, and you can wear its earpieces with their cables looping back over and behind your ears, or with the cables hanging straight down. Two user-replaceable 1.2-meter-long cables are included, one with a three-button Apple remote with a microphone for answering and making phone calls, and a "plain" cable. The M4U 4 comes with two sets of small, medium, and large silicone and Comply foam tips to ensure the best possible fit. You also get a 6.3mm adaptor plug and a zippered carry case. The M4U 4 is available in Black Diamond or Arctic White finishes; the warranty runs two years, double what you get with most in-ears.
The M4U 4 is a neutral-sounding, easy-to-like headphone. Then again, recordings all sound different. Some are bright and harsh, while some are massively compressed, and the M4U 4 let me hear the good and not-so-good sounds of my music. Fleet Foxes' glorious Sun Giant album with its beautifully recorded choral harmonies was a real thrill. Annie Lennox's recent Nostalgia album puts her big voice front and center, which is great, but the accompanying musicians' contributions are miniaturized. The M4U 4 was just telling it like it is.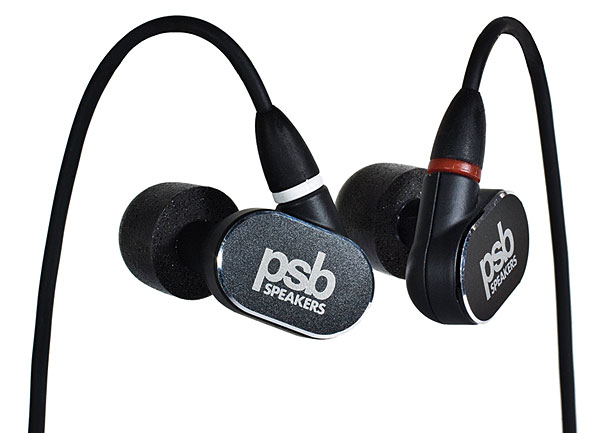 I did the bulk of my listening with my iPod classic, before I stepped up to the latest version of FiiO's high-resolution X5 music player ($350) to tap the M4U 4's full potential. Dynamics and transparency improved, a lot, so with Aphex Twin's Drukqs album, the seriously deep bass passages were more viscerally felt, and with Rob Wasserman's Solo album, his acoustic bass's dexterity and precision were no less astonishing. A hi-res FLAC of Wilco's Yankee Hotel Foxtrot album thrust Jeff Tweedy's vocals forward in the mix, while the band's densely textured and layered percussion focused further back in the soundstage. Compared with the Ultimate Ears UE900s in-ears, the M4U 4 came up a little short on resolution and treble clarity, but the M4U 4's bass potency leaped ahead of the UE900s'.
No doubt about it, with the PSB M4U 4, Paul Barton has done it again and made a headphone that advances the state of the art for affordable in-ear headphones. What's he gonna do next?