I Watched the New Mission Impossible at Home for $500
OK, full disclosure: I didn't really spend $500 of my own, personal, John money; I had a reviewer's account. But I
did
watch
Mission Impossible: Rogue Nation
and
Terminator: Genisys
and
Southpaw
in my home theater over a month ago using the coolest piece of technology you've probably never even heard of. The company behind it is
PRIMA Cinema
and their movie player allows an elite group of owners the ability to watch first-run Hollywood films in the privacy of their homes, usually on the same day they are released to the cinemas. Not only that, but PRIMA delivers the best picture quality of anything you've ever seen outside Hollywood's ArcLight or El Capitan.
Let's get the nasty bit out of the way up front: PRIMA is expensive. Like, luxury, extended trip to Europe expensive. And I mean the trip where you fly First Class on one of those Dreamliner sleep pods and then stay in a James Bond-type hotel where you have your own personal water taxi and there is a bottle of '69 Bollinger waiting on ice in your suite. The hardware is $35,000. There. I said it. For that skrilla you get a large black box with a gorgeous royal purple anodized aluminum rear panel that will be the envy of every other component in your rack and a remote fingerprint scanner housed in a glorious, multi-faceted bit of kit that looks like it could be on display at MOMA.
Connection-wise, PRIMA is all about full redundancy, making sure that once you swipe your fingerprint to purchase the movie -- just one of many security features on board -- it won't be interrupted barring a power outage. The system features redundant power supplies, dual Ethernet connections, two HDMI outputs, two USB connections (for installers), dual fingerprint scanners, and a 4 Terabyte hard drive in a full RAID array.
Beyond all the AV and power, the near 50-pound PRIMA box is crammed with an insane manner of security features designed to keep Hollywood's precious content safe and secure. Between whitelisted IP addresses, accelerometers, watermarking, EDID management, dealer Personal Security Keys, biometric sensors, and more, PRIMA guarantees the content is 100-percent safe and secure.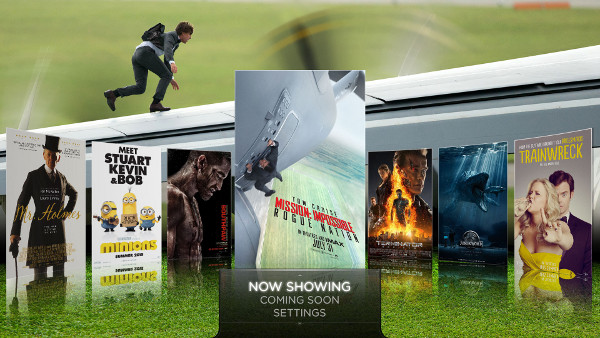 In a way, PRIMA offers the ultimate pay-per-view experience, with each showing costing $500 ($600 for 3D, with some indie titles available for less or even free). Once a movie is purchased, you have 24 hours to finish it. You can pause it and even rewind up to 10 minutes from the furthest point viewed, but $500 gets you one viewing. So think twice before you enroll your kid's fingerprints and tell them to go nuts with Minions (my daughter watched it twice).
PRIMA currently has agreements in place with 12 studios, including Universal Pictures, Paramount Pictures, Lionsgate Entertainment, The Weinstein Company, Relativity EuropaCorp, Focus Features/Film District, Roadside Attractions, Gravitas Ventures, Magnolia Pictures, Samuel Goldwyn Films, IFC Films, and Open Road. This means that you won't be able to watch every movie that comes out. For example, PRIMA probably won't have The Force Awakens but likely will have Mockingjay Part 2. But with 12 studios supplying content, there is generally always terrific content available for viewing. For example, there were 17 titles available while I had the system, and I had to return the system two days before Straight Outta Compton dropped.
If you're gonna drop half-a-K on a movie, then you want to be damn-sure it looks and sounds awesome. Rest assured, PRIMA's video quality is absolutely spectacular, with the system delivering 10-bit, 4:2:2 video signals (the same as the upcoming UHD Blu-ray format). The result on my 115-inch screen were simply gorgeous, with incredibly rich and deep black with no hint of noise or compression artifacts and none of that banding you encounter with traditional HD fare. The night scenes in Genisys and Mission Impossible: Rogue Nation looked stunning, and the costumes in Pitch Perfect 2 had exquisite, razor-sharp detail and color reproduction, reproducing vivid detail. On the audio side, the uncompressed PCM audio delivers huge impact and punch, producing an incredibly lively and intense surround mix.
Is $500 a lot to spend for one showing of a film? Abso-frickin-lutely. And is it beyond the reach of most consumers? Totally. But there is a subset of the one-percenters out there that wouldn't think twice about taking their private planes on a quick jaunt up the coast, or buying a case of Bordeaux, or spending an evening at The French Laundry to whom $500 is literally chump change. These are the people that have six and even seven figure home theaters with massive Digital Projection or Runco projectors and JBL Synthesis, Wisdom Audio, or Meridian speaker systems that drink the milkshake of any commercial theater. And for these folks, privacy, security, convenience, and wow factor plays a far more important role in making lifestyle decisions than the $500 to watch a movie.
And for those fortunate, privileged few, PRIMA offers an experience truly unlike any other!