Infinity One Wireless Speaker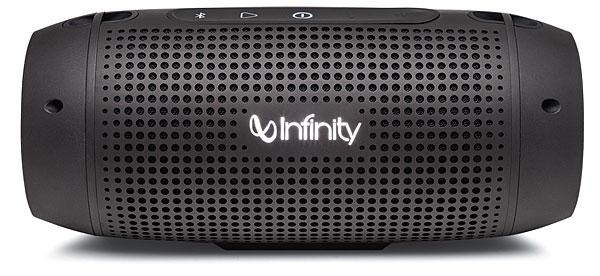 PRICE
$300
AT A GLANCE
Plus
Exceptional sound and bass response for the size
Easy to set up, NFC pairing a bonus
Unique design
Minus
Lacks detail of stationary speakers
While portable, still takes up a lot of bag space
THE VERDICT
The One would be my pick for portable/desktop crossover. It's not tiny, but it's definitely easy to take with you, and the sound is really fantastic when you take the footprint into account.
How It Connects: Bluetooth, NFC, ⅛" analog.
Another relatively compact portable option, the Infinity One weighs just under 3 pounds and costs $100 more than the Cambridge Audio Go. That $100 is well represented, however, in both added features and sonic quality. With four 1.77-inch drivers and two passive radiators, the One puts out an impressive amount of sound. This is a speaker that can easily fill a midsize room or a small backyard. Made to be rugged and versatile, the Infinity One is water resistant, so a random party foul won't end its life. And an internal microphone means the One can handle phone calls as well as music. USB and mini USB charging ports will power your device, and the internal battery is claimed to last up to 10 hours on a full charge.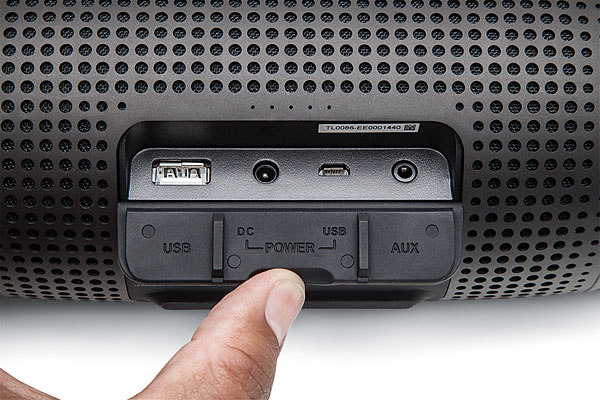 An excellent choice for music-enthusiast college students and small offices, the Infinity One is, at the same time, a desktop speaker that likes to play outside. The chassis feels solidly built, has a sleek and appealing look, and includes just enough design details to keep the One from veering into plain, black, and boring territory. When the speaker is powered on, the Infinity logo and the controls light up. And, unlike with the Cambridge Go, my iPhone volume controls, as well as the play and pause functions, were paired with the One's controls over Bluetooth. This is handy because it means you need to keep just one or the other next to you for basic functionality. The only downside, it seems, is that the One doesn't automatically power off when idle. So if you leave it on and not plugged in, you could cut your battery time dramatically.
How Does It Sound?
While the highs and mids are clear and rich, the bass is really where the One shines. This is a bass lover's portable. Not overpowering, but pleasantly palpable and forward, the lower frequencies on the One have pitch as well as volume all the way down to the lower range of male voices. This is balanced out with a small bump in the presence region that, while not a flat response, is still exciting and fun to listen to from a speaker this size. Rock, pop, and hip-hop are obvious matches for the One's sound profile, but jazz and acoustic music didn't sound out of place, either. While you don't get the detail, volume, or deepest low frequencies that true bookshelf stereo speakers provide, the One offers a delightful middle ground between stationary and portable, between desktop and poolside.
The Bottom Line
The One's solid volume output also means that when you're outside, the music won't get lost a few meters away. Add in the paired controls, speakerphone functionality, and water resistance, and the One is worth the investment.
Specs
Passive radiator (2), 1.77 in drivers (4); 10.8 x 6.7 x 5.4 in (WxHxD); 5 lb
Test Bench
This graph shows the quasi-anechoic (employing close-miking of all woofers) frequency response of the One Sound System (purple trace). The left channel was measured with grille at a distance of 1 meter.
The One Sound System's listening-window response (a five-point average of axial and +/–15-degree horizontal and vertical responses) measures + 5.67 /– 2.46 decibels from 200 hertz to 10 kilohertz. An average of axial and +/–15-degree horizontal responses measures +5.63/–2.06 dB from 200 Hz to 10 kHz. The –3dB point is at 65 Hz, and the –6dB point is at 63 Hz.—MJP