Sony VPL-VW1000ES 4K SXRD Projector
Editor's note: Click here for Tom Norton's review covering the 3D capabilities and performance of the VPL-VW1000ES.
Editors Note: Home Theater is pleased to bring you this exclusive first review of Sony's VPL-VW1000ES, the world's first 4K projector built from the ground up for the consumer market. With more than four times the resolution of HDTV, 4K is already transforming digital cinema, and it now stands to create a more engaging and dramatic home theater experience as well.—Rob Sabin
Price: $25,000 At A Glance: Superb resolution • Excellent blacks and shadow detail • Four times the pixel density of 1920x1080 HD
Things could hardly be looking better for the video projector fan. The quality you can get today for under $10,000—or even under $5,000—is astonishing.
But the competition is fierce, and to stand out in the crowd, manufacturers are constantly on the lookout for the next big thing. True, 3D is still on its run as the NBT of the decade. Beyond that, 4K video lurks, waiting for its time in the spotlight.
What is 4K video? It's a format that can display a maximum resolution of 4096x2160, or sometimes 3840x2160, otherwise known as Quad HD. The former has a total pixel count of 8,847,360—more than four times the resolution of our current HDTV maximum of 1920x1080.
4K has shown up in dream displays at a number of recent trade shows, but at the 2011 CEDIA Expo, two manufacturers showed actual products that should be on the market by the time you read this. JVC announced new projectors in which conventional 1920 x 1080 LCOS chips, together with a pixel-shifting technology (which the company calls e-Shift), produces what it claims is a convincing replication of true 4K performance from current HD sources. Although we can't fully comment yet on the effectiveness of the simulation, the upside is that JVC has added e-Shift to its top two projectors at about the same price as last year's models, as low as $8,000. The downside is that these will not accept native 4K source material—although such content isn't readily available to consumers apart from a few short clips on the Internet and the 4K still photos from digital cameras or the Sony PS3 game console, which has been updated to include a 4K slide viewer.
On the other hand, Sony made a splash at CEDIA by announcing its new VPL-VW1000ES, a 4K projector that will accept true 4K 2D material (at resolutions of 3840 x 2160/24p, 3840 x 2160/ 25p, 3840 x 2160/30p, and 4096 x 2160/24p—with additional rates possible in the future). It will also upscale existing source material to 4K. The projector is 3D capable, but it won't accept 3D at 4K, assuming we ever see such material. It does, however, upscale 3D Blu-ray Discs to 4K, offering the same benefits as with upscaled 2D sources.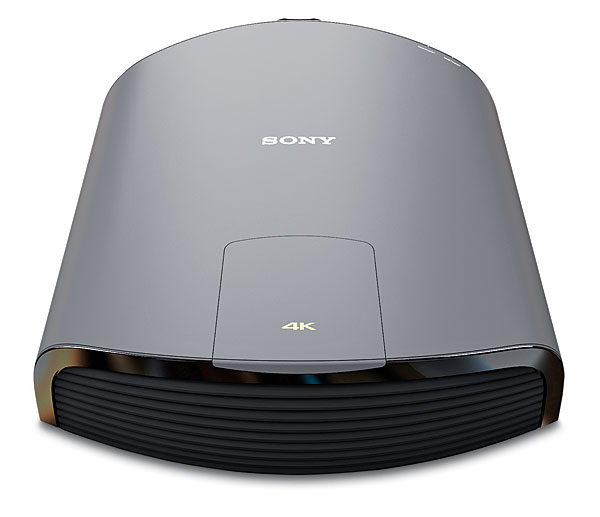 The VPL-VW1000ES is the first true 4K projector designed and built for consumers, although it's not the first 4K projector marketed directly to the public. Meridian's 810 Reference Video System, an adaptation of a JVC professional LCOS design with a resolution of 4096 x 2400, has been available for several years. It's an impressive device, but at a price of $225,000 when we last checked (and no 3D capability), it's clearly in nosebleed territory. The VPL-VW1000ES isn't exactly cheap at $25,000, but the difference will buy you a decent house in many parts of the country.
Early in November 2011, Sony brought a pre-production sample of the VPL-VW1000ES to our studio and left it long enough for a thorough look-see. The company also included a server with a limited but useful selection of true 4K content. Unfortunately, what wasn't fully cooked in this early sample was the 3D section. Sony reported that our projector's panel driver and lamp had not yet been calibrated for 3D, but full production samples should be available by January. We'll be doing a follow-up on the projector's 3D performance, both online at HomeTheater.com and in print, as soon as Sony can provide one.
Features
Finished in a textured flat black, the VPL-VW1000ES' large, curvy, but not intimidating chassis is free of bling, apart from the decorative, segmented necklace surrounding its large lens. The latter, protected when not in use by a motorized lens cover, is slightly recessed. Should you plan to go the anamorphic route, you'll need to plan carefully and select an appropriate anamorphic lens. The aspect ratio selections also include anamorphic stretch. For this review, I used the projector au naturel, without any such aftermarket accessories.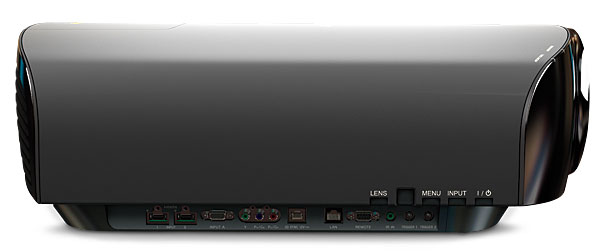 The inputs are located on the side of the projector, with large ventilation ports on the back. There's some light leakage from these ports, but it's dim and will likely be a mild distraction only to viewers seated behind the projector. The VPL-VW1000ES is also extremely quiet in its low lamp mode. Fan noise is more audible in the high lamp setting, but still quite low.
Three 0.74-inch SXRD imaging chips, each with 4K resolution, comprise the heart of the projector's optical engine. SXRD (Silicon X-tal Reflective Display) is Sony's take on LCOS (Liquid Crystal on Silicon). These latest SXRD devices are said to offer an improved native contrast over earlier designs.
The precise alignment of the imaging panels in any multi-chip projector is critical. The VPL-VW1000ES offers the same (global or multi-zone) convergence that's been a regular feature in Sony's other recent and current high-end projectors. Sony is the only manufacturer we know of that offers panel adjustments to within a fraction of a pixel. The alignment out of the box was good but not perfect; minor adjustments pulled it into line.
The 2.1x zoom, focus, and horizontal and vertical lens shift are all motorized.
There are also five userdefinable lens memories—to our knowledge a first for a Sony home theater projector. This proved useful. I set up the projector to completely fill the screen with the 17:9 aspect ratio 4K material Sony provided. But the image shrank slightly when I switched to standard 1080p HD sources upconverted to 4K by the projector. This resulted in black bars on all sides of the image, each about 3 to 5 inches wide. To eliminate them, I simply zoomed the upconverted image to fill the screen and saved the result in a different lens memory. This doesn't make use of those blacked-out pixels, of course, but it at least moves them beyond the active area of the screen. The reason for the discrepancy is that full HD content is only 16:9, and is upscaled in the Sony to Quad HD, or 3840 x 2160—just shy of the projector's full native resolution. There are good reasons to do this; 4096 x 2160 isn't a uniform multiple of 1920 x 1080, and such nonlinear upconversions are difficult to perform without inviting visible artifacts.
The VPL-VW1000ES has nine so-called Calibrated Presets (picture modes). You can adjust each of them separately by input and also for 2D and 3D. The standard video controls include the usual suspects plus a number of controls I left off: conventional and MPEG noise reduction, Smooth Gradation, Black Level Adjust, Color Correction, Clear White, and Reality Creation (a combination of resolution and noise filtering).