Vienna Acoustics Beethoven Baby Grand Speaker System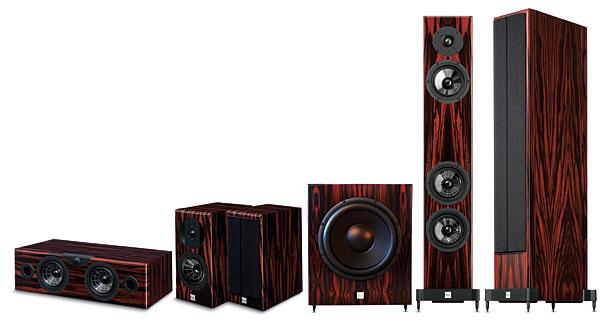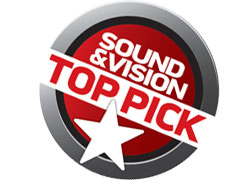 Price
: $11,250
At A Glance
: Silky-smooth sonics • Refined, furniture-grade cabinetry • Depth-charge deep bass
Videophile Ready
Show Vienna Acoustics' living-room-friendly Beethoven Baby Grand system to your hesitant significant other, and you might get the long-awaited nod you've been looking for. This is a speaker system an interior-design-conscious, non–audio enthusiast can make peace with.
The $11,250 system is visually understated, sized right for small to medium-sized rooms, and is furniture-grade built and finished in a wide variety of handsome wood veneers. It won't dominate the space, nor call attention to itself. The closer you look at its fit and finish, the more you'll appreciate the small touches that help produce such an elegant look—despite what is an assemblage of rectangular boxes.
The gracefully proportioned towers are less than 7 inches wide and sit on die-cast powder black metal spiked supports. Front and rear grooved accents break up the slab-like sides and top panels. The radiused edges give the boxes a smoothly finished appearance.
The Beethoven system is as modestly handsome and low key as the much larger, dramatically curvaceous Klimt system I reviewed last year was flamboyant (Home Theater, December 2010). Once installed, the Klimt system grabbed my wife's attention—and not in ways I like. She objected mostly to the size; she prefers speakers to be heard and not seen.
When I set up the Beethoven Baby Grand system, she didn't even notice that the Beethovens had replaced another set of speakers. She looked. She approved. That leaves your spousal acceptance factor: Does Vienna's Beethoven Baby Grand system perform sonically?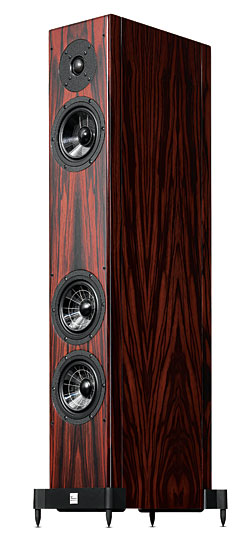 Attention to Detail Great and Small
The Beethoven Baby Grand tower is a three-way, bass-reflex design that features a pair of Vienna Acoustics–developed 6-inch bass/midrange Spidercone drivers used as woofers. They are said to extend down to 30 hertz, but without any details that would make that number meaningful. These clear, radially braced XPP cones of TPX thermoplastic and polypropylene are similar to the three 7-inch drivers that Vienna uses in the somewhat larger Beethoven Concert Grand speakers I reviewed for Stereophile in 2006 (stereophile.com).
The Beethoven Baby Grand's midrange is a 6-inch driver with a more recently developed X3P cone material that's a reformulation of Vienna's original XPP cone. It uses three varieties of polypropylene in addition to TPX. This X3P cone is said to be ultralow mass, rigid, and inherently well damped, which lets it operate over an unusually wide bandwidth and produce exceptional inner detail and control. An inverted rubber surround, used in both the woofers and the midrange unit, is said to more effectively dampen cone edge resonances without loss.
A hand-coated 1.1-inch silkdome tweeter developed by ScanSpeak in association with Vienna is designed to combine high resolution, excellent dispersion, and smooth overall sonics.
The Beethoven Baby Grand has a rated sensitivity of 91 decibels (again without the necessary details to back this up). Its crossover network is said to use high-quality caps and metal-film resistors, as well as solid-core, twisted-pair copper wiring and gold-and-silver alloy terminals that are direct-mounted to the crossover circuit board. The 1.6-inch-thick cabinet baffles are 30 percent thicker than on previous models. Vienna has even given attention to the grilles, which feature an integral dispersion-controlling V-shaped aluminum diffusor that adds an additional visual dimension to the front panel.