Carada Masquerade
Make off like a bandit with a masked home theater.
I 'm always on the lookout for new and innovative improvements to make to my home theater. One of the best I've seen to date is from screen manufacturer Carada, which directly sells its products online and over the phone. The company's Masquerade screen-masking system features motorized panels that eliminate those obnoxious black bars that appear when you watch a "scope" movie on a 16:9 screen. The system accommodates any projected aspect ratio between 1.78:1 and 2.70:1. It also provides a big increase in perceived contrast and depth. Additionally, Carada's innovative, motorized system costs less than most motorized masking systems on the market. Since you can mount it over your existing fixed-screen frame, you won't need to invest in a new frame or screen.
The Design
Carada designed the Masquerade specifically for the 16:9 screens that have been popular for a long time. This is opposed to most current masking systems, which are geared toward 2.35:1 screens for constant-height setups. (See Thomas J. Norton's feature on constant height on page 50). The frame is made of aluminum that's wrapped in Carada's Black Hole trim. It looks similar to the black velvet you see on many deluxe screen frames. The frame's transitions are completely seamless, and when the frame is assembled, you can't see any of the hardware. The frame bevels as it nears the screen surface. Honestly, I could barely tell the difference between the Masquerade and the Stewart Deluxe VeLux frame I installed it over. The only real difference is a very small IR sensor on the bottom right-hand corner that controls the motorized masks.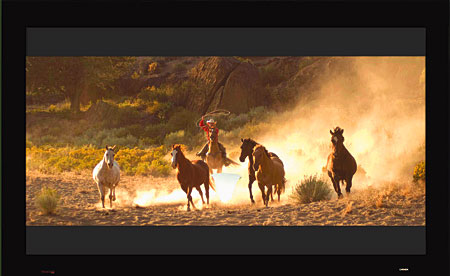 The Masquerade uses a single motor that is quiet and moves at a nice pace. Carada didn't skimp with its motor selection and went with an ultra-quiet Somfy Sonesse. Many high-end masking systems use Somfy motors, so it was nice to see Carada include this level of performance. I never felt that the system was sluggish. Also, the transitions are very smooth, which gives the system an elegant look when you use it.
A small IR remote controls the masking panels, with preset buttons for 16:9 (1.78:1) and 2.35:1. Nearly every film has one of three common aspect ratios: 1.85:1, 2.35:1, and 2.40:1. With the mask completely open, the image perfectly zooms on a 1.78:1 (16:9) screen with no overscan in the projector. However, you will see some very small black bars on the top and bottom of your screen with 1.85:1 material. A lot of people zoom their image out slightly, so they may not see these bars at all. The Masquerade's Jog feature can also compensate for them. The Jog control lets you adjust it with very small movements, so you can dial it in perfectly. This also works well with 2.40:1 material. The Jog function supports aspect ratios from 1.78:1 all the way to 2.70:1. With the preset masking, the bars with 1.85:1 and 2.40:1 material were so thin that I didn't even feel the need to use the Jog control. Unless I really looked for them, I couldn't tell that the bars were there.
Installation
Since Carada is a factory-direct, online dealer, you'll have to install the Masquerade system on your own. Carada made this procedure painless, and installation doesn't take very long at all. The instructions guide you step by step through the process, which involves very little labor. The biggest key to installation is that you must ensure that the frame is level with your existing frame. You may also want to shim your existing frame to put the masking material as close to the existing screen as possible. This prevents shadowing on the image.
While Carada offers a 30-day return policy for most of its screens, that policy doesn't apply to the Masquerade. When you order a Masquerade, Carada custom makes it for your exact screen. It's not reasonable to expect Carada to resell a returned unit. The company spends a lot of time with each prospective customer. They make sure the Masquerade is the right product for each customer and that the consumer can perform a smooth and easy install. The Masquerade comes with a one-year warranty for defects in material and workmanship.
Sizing Up Your Image
Without a doubt, the most invaluable tweak I've made to my home theater room is making it as light controlled as possible. I'm one of those people who has a "bat cave" theater. I can control the light completely at any time of the day. But with wider aspect-ratio movies like 2.35:1 and 2.40:1, the black bars on the top and bottom of the screen do hurt perceptual contrast. The unused space in the image isn't as dark as the black material that surrounds my Stewart screen or my black curtains. So it essentially adds more dark gray to the image instead of black.