B&K Reference 7260 Six-Channel Amplifier
The B&K Reference 7260 six-channel amplifier proves to be a solid all-around performer.
Like many people, I often dream of what it would be like to have unlimited funds to buy the very best. You know, a Mercedes S500 and a Ferrari F50, along with a Hummer for those off-road adventures (not to mention a ski lodge in Aspen and, of course, a 250-foot yacht in the Bahamas). These are nice to fantasize about; however, when the reality of our lives takes over, most of us would probably buy a more-sensible vehicle like a Honda. While much of the glamour and notoriety in magazines tends to revolve around the most exotic stuff, there are companies that can give you most of that performance for a fraction of the price.
B&K is a company that has embraced this philosophy since the start. They established their no-nonsense reputation early on with the ST140, a 70-watts-per-channel stereo amp that sounded better than it ever had a right to for its modest price, and they continue with the Reference 7260, their new top-of-the-line home theater powerhouse. This amp is to B&K what the Lexus LS 400 is to Toyota: a statement of what they can do to compete with state-of-the-art exotica, at a more-sensible price. While $2,798 isn't exactly cheap, it's a lot less than some of the really exotic amps we've been looking at in the past few issues.
Six-channel amps are a pretty rare breed. Until recently, the main reason you'd need a sixth channel would be to drive a passive subwoofer. Now, with the introduction of Surround EX, which includes a nondiscrete center rear channel, six channels of amplifier power are needed even when a powered subwoofer is used. For those of you not using a passive sub or Surround EX, there's a five-channel version of this amp—the Reference 7250.
In keeping with its no-nonsense character, the 7260 gives you all the features you really need, but not a lot of frills. The front panel's power switch is supplemented by a remote-trigger input, and each channel has a single-ended RCA input, plus a pair of CE-compliant binding posts. One nice touch is the inclusion of separate level controls for each channel—a feature that will often come in handy on a six-channel amp like this. Some passive subwoofers have a high-enough sensitivity that it's difficult to balance things easily using just the level settings on your pre/pro. By turning down the input level at the power-amp stage, you'll get much finer control over the level at the processor stage.
With 200 watts per channel into 8 ohms and almost double that into 4 ohms, the B&K has plenty of power for most home theater systems. We've seen several approaches to power-supply layout recently—B&K's approach is to use one enormous transformer to feed all six channels. With a two-channel stereo amplifier, having separate power supplies for each channel makes plenty of sense because the demands made on each channel at any given moment are usually very similar. With home theater soundtracks, the signal level to each channel will often vary wildly from moment to moment. By using one big power supply, each channel can draw power as it's needed. Of course, B&K could've done what Cary did with the CAD-500-T, giving each channel its own huge power supply, but then they would've ended up with an amp that weighs more than double the 7260's 70 pounds.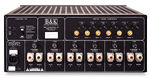 Hooking up the 7260 is a straightforward affair. I particularly like the binding posts, which were easy to use with the bare-wire ends on the cable that feeds my Snell passive subwoofer. A detachable power cable also makes hookup easier. Once connected, I did a quick run-through with the test tones to set levels, then I broke in the amp for a few days.
As I normally do, I began by evaluating the 7260's performance on music. Jonny Lang's "Lie to Me" sounded great, with a smooth, powerful sound that had a really fine, effortless quality to it. Usually, when an amp is being stretched to its limits, I want to turn it down. With this amp, though, I only wanted to turn it up, to the point where I worried about getting complaints from the neighbors. No matter how high I went, the amp sounded smooth and assured.