Arcam Solo Integrated Music System and Alto Loudspeakers
Sophisticated sound and connectivity in a surprisingly compact form factor.
For years, I've had a distinct interest in bookshelf audio systems. Perhaps it's my fascination with the miniaturization of electronic gadgets in general, but these systems' compactness has always intrigued me. Unfortunately, my interest generally waned the moment I began listening. Until recently, the phrase, "Good things come in small packages," usually didn't hold much water in terms of audio playback quality. Well, times have changed. Enter Arcam's new Solo music system and the companion Alto loudspeakers.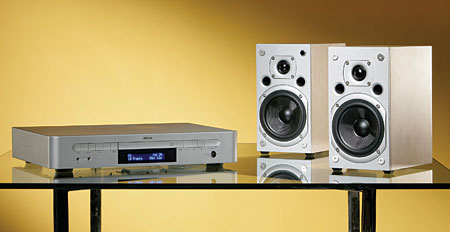 Long recognized as a dominant player in the United Kingdom, Arcam is now forging new frontiers throughout Europe, Asia, and the Americas. Designed as the first in a series of integrated home-music/entertainment packages, the Solo is the result of Arcam's roughly 33 years of developing high-quality audio and video components.
Getting Acquainted
Arcam's market research indicates that women, who are frequently the primary or co–decision makers regarding home aesthetics, dislike harsh corners and sharp edges. Hence, you won't find them here. The Solo's visual appeal is very pleasing, with a bold-looking yet refined front panel made from a solid aluminum casting. It has rounded corners, curved and slightly recessed switches, and a blue fluorescent display set against a black backdrop. Designed to address the lifestyle market, where customers typically look for a compact, handsome, all-in-one system as opposed to a rack full of individual components, the Solo meets these criteria with aplomb.
Throughout Europe and Canada, the Solo usually consists of a CD player, a DAB (digital audio broadcasting) digital-radio/FM tuner, and a power amplifier rated at 50 watts per channel. In the United States and Far East, an AM/FM receiver module replaces the DAB/FM receiver. My evaluation unit, however, included the DAB/FM receiver module.
Unfortunately, I couldn't take advantage of the Solo's DAB capabilities. While the DAB format is widely recognized throughout Europe, Canada, South Korea, South Africa, and Australia, the best we can hope for here in the States is that the FCC will eventually decide to get on the bandwagon. As it scanned for digital stations, the Solo attempted to locate a digital broadcast, then ceased after about 90 seconds. So it seems that Arcam has chosen—with good reason—to market the U.S. version with an AM/FM tuner instead.
The Solo provides five additional stereo line-level inputs that accept audio signals from a TV, DVD player, satellite system, or similar equipment. The front panel has two 3.5-millimeter connectors. One is an output for stereo headphones, and the other is an input for portable music players. With a full-function wireless remote control, the Solo is a capable receiver.
Of Special Merit
The Solo is unique in its dual-zone and remote-control capabilities. You can listen to the same material in two different rooms at two different volume settings. While this requires a second power amplifier and loudspeaker setup, the system's capability facilitates sophisticated listening options. To unify an entire two-zone system, the Solo incorporates a 12-volt trigger, "in local," "in zone 2," and output connectors to power up all connected equipment, as well as to transmit or respond to remote-control commands.
The Solo also has an RS-232 serial connector. With this feature, the unit can interface with a home-automation system, such as those from companies like AMX and Crestron. If so equipped, your electronic house could wake you up by disabling the security system, raising the room temperature, starting your coffee maker, and instructing the Solo to gently draw you into consciousness with your favorite music while simultaneously turning on the lights. At press time, structured wiring packages—the infrastructure upon which home-automation systems are built—are attracting homebuyer interest more than ever, and many new homes offer such options. The Solo has these seemingly futuristic capabilities now and can function as a local source or as a head unit for a wholehouse distributed audio system.
Furthermore, the Solo provides a clock with four timers/alarms that you can set independently by day of the week and signal source. Is this just an inexpensive radio-alarm-clock function? Perhaps. But the Solo really is a perfect system for the bedroom. And, since the Solo supports RDS (Radio Data System) text, you'll see the station ID, artist name, song title, and other related information, provided that the broadcaster transmits it. No more guessing what that song might be.
Alto Loudspeakers
The Alto loudspeakers feature a two-way design powered by a 4-inch glass-fiber, mineral-loaded bass/mid-frequency driver and a 1-inch cotton-dome carbon-loaded tweeter. The loudspeakers feature dual front-facing ports, which make for flexible placement options. They also incorporate gold biwiring speaker terminals that facilitate single or biwiring connections, as well as biamp configuration. The Altos are available in a real-wood cherry or maple veneer, and you can pair them with an amplifier rated from 20 to 100 watts at 8 ohms. For my evaluation, I used a single-wire configuration with the Altos' high- and low-frequency speaker terminals bridged.
Performance Impressions
The combined Solo/Alto package delivers a surprisingly big, full sound. When I listened to the system flat (no added treble or bass), I found the sound to be remarkably well balanced. I eventually made minor changes, but only to the bass settings. I should mention that the Altos have a commanding presence in the midrange. This is, apparently, intentional, since most people listen to voice-driven music. With the speakers placed roughly 7 feet apart and my chair about 7 to 8 feet away, stereo separation was excellent, and musical articulation throughout the entire frequency range sounded clear and detailed.
In addition to treble and bass controls, the Solo provides a speaker-equalization circuit called Bass Correction. When used with small speakers such as the Altos, this setting can add a little more than an octave of palpable low-frequency response—making these speakers sound surprisingly full-range.
Since the Solo provides multiple auxiliary inputs, I patched in my DISH Network satellite receiver's stereo outputs and used the system for audio with my TV. While the sound was infinitely better than any conventional television's playback, I found myself longing for a subwoofer. Explosions and car crashes just don't have that convincing oomph without this all-important component, which leads to my only concern with the Solo.
I immediately began searching for the subwoofer connection on the Solo's rear panel. There isn't one. Instead, you use a Y-adapter cable to sum the left and right preouts and feed the combined signal to the subwoofer's input. This strikes me as a rather inelegant solution. My bet is that more people will want to incorporate a subwoofer to create a 2.1 audio system as opposed to feeding the left and right program material to a separate power amp for sound-quality enhancement. The Solo already has dedicated outputs for dual-zone applications. Let's face it; running wires across the floor is perhaps the single biggest impediment to greater acceptance of home theater systems. A 2.1 system, while not perfect, is a credible way to go—given the nature of this system's intended use.
In Conclusion
The Arcam Solo music system and Alto loudspeakers make a wonderful stereo system that is perfect for the office, bedroom, or vacation home. The lack of a dedicated LFE connection won't prevent the inclusion of a subwoofer. It merely hinders its installation at a time when ease of use is a primary concern.
With an extensive range of features—including timers, RDS text, a front-panel input for connecting portable music players, plus extensive remote-control and dual-zone capabilities—the Arcam Solo is a well-thought-out integrated music system. It can fit into many environments where other bookshelf systems wouldn't stand a chance. Combined with the Alto loudspeakers, this is a terrific-sounding stereo package with a look and feel that denote attention to detail from the get-go. The verdict: We have a winner.
Highlights
• Arcam Solo Integrated Music System:
• Extensive remote and external control capabilities
• Dual-zone capability
Highlights
• Arcam Alto Loudspeakers:
• First-class Danish cabinet construction
• Gold biwiring terminals