World's Most Kick-Ass Home Theater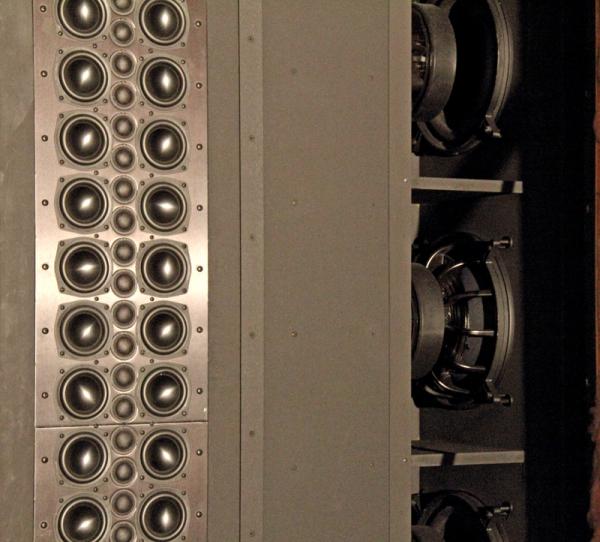 An audio reviewer hears two lines over and over: "That never happened with any of the other samples" and "We created this [fill in the blank] because the products that are out there now are inadequate." I heard the second line last week in a ramshackle Van Nuys, California industrial space bordered by a security gate and half-filled with piles of decades-old test gear. Unlikely as the setting seemed, its tenant actually delivered on his claims.
The company's name is Infinite Environments and its proprietor is David Riddle, a former audio mixer, video engineer, and camera designer. "We realized that last year, despite the economic turndown, there were 20-plus multimillion-dollar home theaters built. But most of them are eye candy," Riddle said. "They have good designers but the designers don't have the resources to really do it right."
Riddle's solution is a speaker system designed by ex-JBL engineer Dan Siefert, who worked on the acclaimed Synthesis home theater systems, and Marshall Buck, a Ph.D in psychophysics who has worked for JBL, Harman/Becker, and Cerwin Vega.
The speakers are seven floor-to-ceiling line arrays, each with 64 midrange drivers and 64 tweeters. According to Riddle, the drivers are custom-designed for the system. Each speaker is bi-amped with a Crown XT-2000 amplifier. Each corner hosts a subwoofer module with eight 12-inch woofers paired in a push-pull mounting that cancels distortion. A pair of 2,100-watt-per-channel Crown I-T8000 amplifiers powers the four sub modules. Crossovers, speaker EQ, and room acoustics compensation are all done in the amplifiers' built-in digital signal processors.
The system includes full room engineering and construction, along with lighting, HVAC, power conditioning and all necessary construction permits. The idea is that the room will be constructed inside your available space, which must be at least 39 feet long, 30 feet wide and 14 feet high. Base price: $1.4 million. You and your interior designer provide the decor of your choice, and you'll need to add the video system, the remote control system, etc.