The World's Most Expensive In-Wall Speaker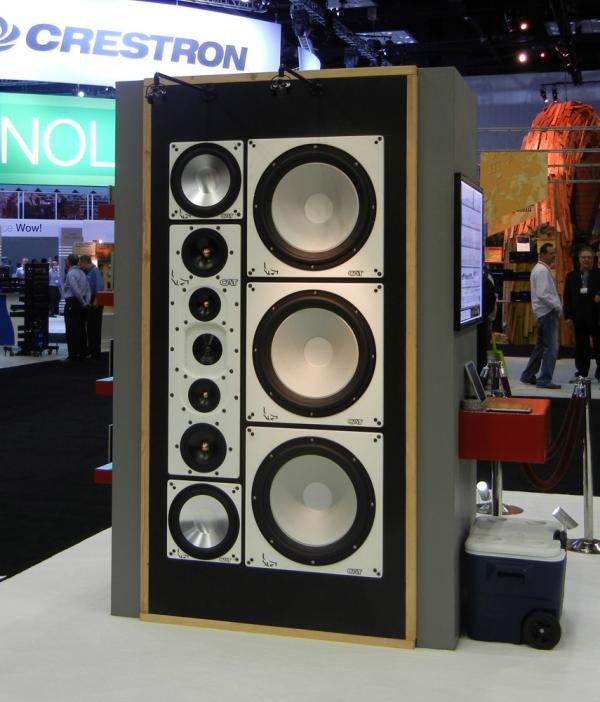 Somehow when I was walking around last month's CEDIA Expo, I completely missed what must surely be the biggest, baddest, most expensive in-wall speaker ever created. The new model from California Audio Technology, better known as CAT, includes 10 speaker drivers and costs a whopping $110,000 per channel.
The most attention-getting part of the speaker is its three 22-inch custom-made aluminum cone woofers, each mounted on its own Avonite panel. Even without those monster drivers, its dual 12-inch aluminum woofers would give it far more bass oomph than almost any other in-wall made. The main Avonite panel houses two 8.5-inch midbass drivers, two 5.5-inch midrange drivers and a 1-inch silk-dome tweeter. Each of the woofers is intended to be driven by a separate amplifier.
Although CAT obviously didn't play the speaker on the open show floor, imagine what it could do. Most days, my home theater (which is far, far better than most people's) uses a single 15-inch subwoofer, and that one sub gives me all the bass I really need. But just one of these CAT in-walls would have 7.7 times as much radiating area in its triple 22-inchers and dual 12-inchers as my 15-inch sub offers. A typical CAT-MBX home theater might use these in-walls for front left and right and the five-driver panel for the other channels—but still, that adds up to more than 15 times the bass radiating area of my single sub.
If the stock Avonite construction seems too déclassé for you, or if you feel $110K per channel just isn't an adequate expenditure for a speaker, CAT can also machine the speaker baffles out of even more elite materials, such as marble, granite, titanium or stainless steel. Budget-conscious ultra-high-end home theater enthusiasts can downscale with baffles made from high-density fiberboard.
CAT president Brian Barr promises I'll get to hear these speakers in an actual installation sometime soon. I'll let you know how it sounds, assuming the pressure from the 22-inch woofers doesn't implode my chest cavity.
LATEST VIDEO