Woodstock at 45: A Soundtrack for the Ages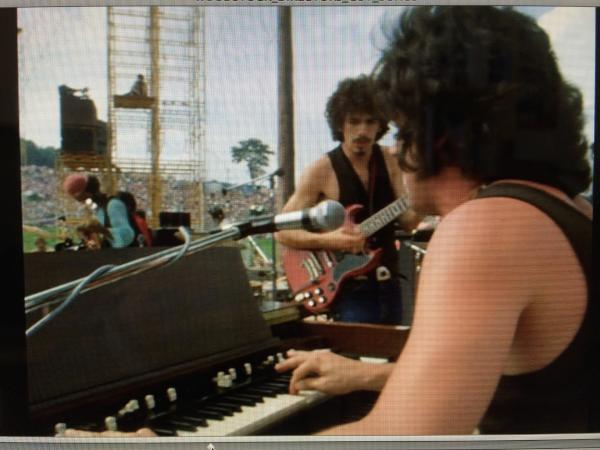 Forty-five years ago this past weekend, the Woodstock Music & Art Fair took place on Max Yasgur's Farm in Bethel, New York, and the world hasn't been the same since. The music and overall collective harmony in evidence August 15-18, 1969, showed how the counterculture had spread to and ultimately influenced the mainstream.
One would think the aural requirements of recording such a massive event in a relatively wide-open location with a mass of free-thinking minds, bodies, and spirits would be nothing less than a logistical nightmare, but onsite producer and recordist Eddie Kramer kept a cool head and oversaw the real-time chronicle of the soundtrack for the festival of a lifetime. "The console had 12 inputs and 8 outputs, and that was it," he recalls. "We were using Shure 565s, which were the predecessors of the Shure 58s, for literally everything. There were no condensers. There was no double-miking. It was just a matter of trying to figure out what each band was doing as they were doing it. It was a minor miracle that anything got recorded at all." That said, Kramer and his team nailed career-defining performances from the likes of Richie Havens, Joe Cocker, Sly & The Family Stone, Janis Joplin, The Who, and Jimi Hendrix (to name but a few). "Working on the Blu-ray edition for Warner Home Video was a wonderful opportunity to set the record straight and show what it could sound like," Kramer concludes. All this and more can be found on the just-released Woodstock: 3 Days of Peace and Music – The Director's Cut, 40th Anniversary Revisited, which includes Kramer's 5.1 mixes of the bonus material not in the original movie plus an additional, third disc of "More Extras," including never-before-released performances from Santana, The Who, Crosby, Stills & Nash, Joan Baez, Jefferson Airplane, Melanie, Sha Na Na, and the Paul Butterfield Blues Band. (Note: Though this BD set is indeed released to coincide with Woodstock 45, the package still has the "40th" nomenclature on it.) Will there be even more once we get to the 50th anniversary in 2019? Read on…
To further commemorate this 45th anniversary, besides Kramer, I spoke with five other Woodstock principals about their experiences during that storied weekend: Michael Lang, Woodstock's chief organizer and festival impresario nonpareil; Gregg Rolie, keyboardist for Santana; Tom Constanten, keyboardist for The Grateful Dead; Graham Nash; vocal cornerstone of Crosby, Stills & Nash (and sometimes "& Young"); and folk singer Melanie, who went from relative obscurity to international acclaim in the span of her 30-minute set. It's been a long time coming…
Mike Mettler: So it's 45 years later. Did you think you'd still be talking about Woodstock today? How does that experience still resonate with you?
Michael Lang: You know, I've come to terms with the fact that I'm always going to be talking about it. I think it represents the people's way of being in a community and relating to each other. It was a very encouraging moment. It gave people a sense of hope around the world. In many ways, it's stood up.
Graham Nash: I really understand, in terms of society, how important Woodstock was. I mean, there's a lot of that vibe on our own new box set [CSNY 1974] — either people who were at Woodstock, or wished they'd been at Woodstock. I think they're reliving that hippie kind of dream, and that's why they came to see us.
Tom Constanten: Our minds were already so blown. It was bigger that any of us could wrap our brains around. We knew we were onto something special, especially with all the people coming together to make music. We couldn't quite make out what it was going to be like, but we knew that what was happening was so amazing.
Gregg Rolie: Nobody's gonna let that one die, huh? [laughs heartily] Well, it was a milestone in music, it really was. Especially when the movie came out. It exploded. But nobody really knew that. "Ok, they're making a movie; that's great." You're not watching any of this happening; you're just playing. There were many festivals back then, and this was gonna be another one. But it turned into, "If you build it, they will come," like Field of Dreams — or Close Encounters of the Third Kind, even. It was wild. But it turned out to be that if you were there, you had a career. That was pretty much how it worked.
Melanie: I walked onstage an unknown person, and walked off a celebrity. It was instantaneous. It was incredible. I thought it was going to be this pastoral thing —arts and crafts, with families and picnic baskets. My first concern was, "How can I possibly do this? I'm somebody nobody's heard of, I just have a guitar, and what am I gonna sing?" I didn't even have a set written, or anything. I had one song that was being played by Roscoe on WNEW-FM in New York: "Beautiful People." I think he was the only one in the whole country playing that record. So maybe a quarter of a percent of those people had heard that record. It wasn't identifiable. I didn't have a press photo or anything!
I was just waiting around all day to go on, and I developed this wonky, nervous cough. I guess Joan Baez heard me coughing, over from the upper-echelon tent. And her assistant, some beautiful flower child person, came over and said, "Joan has heard you coughing, and thought you might like this." And it was a little teapot with tea in it! This was my idol, saving me!
Mettler: Let's discuss the sonic aspects. Despite logistical problems with rain, wind, and a number of other physical factors, the overall soundtrack is something to behold.
Lang: It was a big moment when Richie Havens hit the stage [at 5:07 p.m. on Friday, August 15, 1969] and the sound worked. Everybody could hear him, and he made that connection with the audience. That was a big moment of relief. We left Eddie Kramer and his crew to figure out the approach to recording. He was a pro. The records we released [Woodstock and Woodstock Two] were going to be a reflection of the soundtrack of the film, and I wanted something that had a very live feel to it that brought you back to the actual experience. The film really, really portrayed what happened that weekend in such a great and visceral way that brought the actual experience to the world. I felt it was captured beautifully. Eddie and his crew were able to capture great live recordings without a lot of interference, feedback, and ambient noise. They just miked it well, and were able to reproduce a very true picture of the music.
Rolie: "Soul Sacrifice" is when it really came together for us, yeah. We were kind of struggling through tuning problems — you know, everybody had problems. But that's when it was coming together. We were supposed to play hours later, but they threw it on us: "Well, you guys are here, and you're going on now." [Santana performed from 2:00-2:45 p.m. on Saturday, August 16, 1969.] Well, whoa, ok! So we did. Of course, we wanted to play well. The only thing to do was to focus on the playing. Santana was the kind of band where Carlos would play with his back to the audience half the time, and we'd play to each other like a jazz band.
And we played that hard every time we played, so that wasn't unique. When we practiced, it was the same thing. There was no kidding around. Songs evolve, and the height for a player was about the soloing. I've heard Santana music described as jazz, guitar, B3, and Latin percussion put together. [chuckles] No matter what you call it, when you hear it, it's unmistakable what it is, and who it is.
Constanten: Strange to say, I had a pretty good time of it. I could hear myself and my Hammond B3 pretty well that day, and the sightlines were good — which is important. I could see and hear the other guys, good old Jerry [Garcia], over there, and then the drummers [Bill Kreutzmann and Mickey Hart]. Mickey had this cannon he would fire off in this certain spot in the set, so I knew when to duck. [pauses] I hope I didn't spoil the surprise for anyone.
When The Grateful Dead played, there were problems with the electricity and the grounding [10:30 p.m.-12:05 a.m. on Saturday/Sunday, August 16-17, 1969; The Dead's set was cut short due to the amps overloading onstage]. The guitar players were getting shocked with the strings. I was behind the Hammond B3 organ and that wasn't my problem, but it certainly did dampen the atmosphere in a way. The sheer weight of our equipment at the time — it wasn't quite The Wall of Sound yet, but it was heavy. They couldn't fit it onstage in the usual way. The way they had it set up was on this Lazy Susan that would spin around for the next act so they could play. Well, we were so heavy that the Lazy Susan was too lazy, and couldn't get us up. [MM laughs] Meanwhile, we were feeling the stage sort of moving, which gave a little apprehensive edge to everything.
But "Dark Star" and "Turn on Your Love Light" were both there. I look upon the performances of those pieces then as one single continuum. "Dark Star" was a piece we didn't so much begin and end as we entered it in progress, you know? It was free and flowing and different every time. "Love Light" was much the same, although there were certain stations of the tune where Pigpen would be sure to stop and do this, that, or the other, but he got pretty free and loose also.
Melanie: It started to rain, and I thought, "Ahhh, people are going to go home now. It's over!" [Melanie played from 10:50-11:20 p.m. on Friday, August 15, 1969.] But then I hear the announcer, I think it was Wavy Gravy, saying the Hog Farm was passing out candles, and you should light the candles and hold them high to stop the rain, or something. I wasn't really hearing it, but I absorbed it. That's what came out in the song I wrote after Woodstock, "Candles in the Rain."
It looked like fireflies out there, coming closer and closer. It was this powerful image. When I went onstage, I had an out-of-body experience. Yeah, I wasn't there. I finally came back to myself, and sensed that I was safe and was gonna sing my ass off. [laughs} They liked me, and it was ok, and I sang a whole set. Playing "Birthday of the Sun" — it was spontaneous. I had just written that song. No one had heard it before. After I was done, I was flying! "What was that?" It was an incredible flow of humanity toward me, and I had never experienced anything quite like it. Before that day, I don't think I had ever sung for more than 500 people, ever. It was just me and a guitar out there.
Mettler: Woodstock 50 is practically around the corner. What can we expect to see then?
Lang: For the 50th, there will be somewhat of a new approach. Much will be updated, and it will be a unique experience.
Nash: I'm definitely interested in helping Warner Bros. get the best out of it all, if they'll have me. In my world, you start with the movie, and you've got to rescan it at a higher res. The movie was over 3 hours long or whatever it was, but it was 3 days of music. There was an incredible amount of shit that wasn't put on there. I want to go through everything that wasn't on there and go, "Look at this performance by John Sebastian! Put it in there!"
Mettler: Ok, let's project to the 100-year anniversary. What will people be saying about Woodstock in 2069, and beyond?
Constanten: People are going to look at the music more and the mud less. [both laugh] That's how it works. It's wonderful when the light shines down through the years. And it's a wonderful thing to share that light with those who will come to it in the future.
Melanie: Oh, the mythologizing will continue. It will be bigger than life. God Almighty might have been there for all I know. [laughs] It was astounding because people just did it. It was almost a silent calling, like Close Encounters of the Third Kind! It was like somewhere in dreams and people's subconscious. They knew they had to go. They were being called.
Rolie: It is an ongoing saga of a phenomenon that has never been repeated, and I don't think it ever will be. It's kind of like the land rush in Oklahoma — they're never gonna do that again either, you know? [laughs]
It's always going to be a point of history that 500,000 people got together, listened to music, and didn't harm each other. Wow. You know? It happened.
Lang: It seems to be something rather eternal. It always represents that moment where people are shown at their best, given the possibility in the world where people relate to each other with that level of respect, in that kind of community. That's why it's so enduring and why it endures, really. I think it has to do with allowing the human spirit to shine through and create an environment where people can be at their best.
The interesting thing is, anyone I meet from that era — and I get recognized at film festivals, pretty much consistently — every one of them says it was life-changing for them. And I think it was life-changing in the sense of possibility, and a way to feel more open to each other. Kids pick up on that too. They look at it as a moment where they wished they could have that experience.
Most of the people who played that weekend were of the same cultural sphere as the audience. It really was the thing where the audience was the star. And it was something that the artists were striving for, and talking about, writing about, and singing about. Everybody there really felt that.
Extended interviews with Lang, Rolie, Constanten, and Melanie will be on Mettler's own site, www.soundbard.com, in the coming days and weeks.