What We're Listening To: December 11, 2012: John Cale, Happy The Man, The Zombies, and More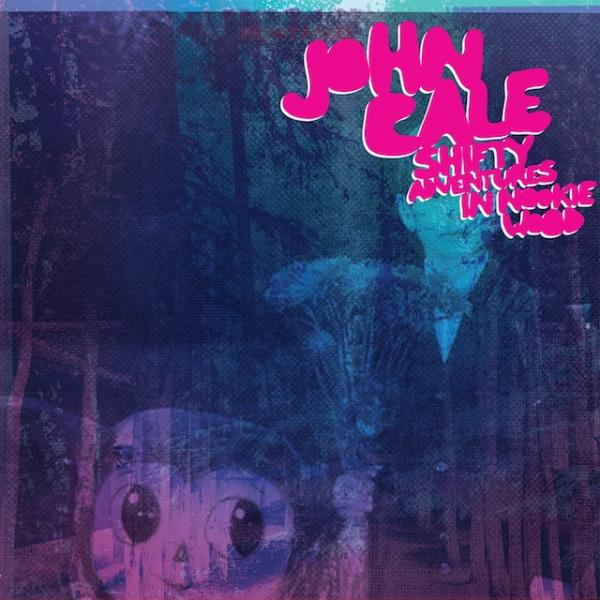 Cale Tales and Adventures
I could say John Cale's latest album Shifty Adventures in Nookie Wood is a "return to form" but I'd be lying as he hasn't ever been out of form. I could say that this new Cale release is further evidence he's been on a roll since 2003's Hobosapiens. But I'd be lying again because he's been putting out great albums and EPs for years now. I could say this new collection reflects Cale's new fascination with hip hop, drum machines, sampling and dance rhythms 'n such, but I'd be misinforming you again. He's been into this kinda thing for some time and even put out a great dance-flavored album with Brian Eno in 1990 (Wrong Way Up) which had a single that made it onto the charts ("Been There, Done That"). Fact is, Shifty Adventures is yet another solid John Cale album that grows on you with each listen, the kind of thing the guy has been making since his first solo album in 1970, Vintage Violence.
Now, I do not know what you know about John Cale, but if you are glazing over with that blank-slate look I sometimes get from people, here are some clues:
• Cale co-founded the influential Velvet Underground (with Lou Reed). If you don't know who they are, please immerse yourself in their music -- it is ground zero for what we know today as indie rock, modern rock, alternative rock, etc.
• Cale was the guy who rearranged Leonard Cohen's Hallelujah into the stark single instrument and vocal version popular today. He did this in 1992, even before Jeff Buckley; k.d. lang sang the tune at the Olympics last year. Cohen's original was quite a bit overblown production wise, arguably masking the essence of the song.
• Cale is a masterful, classically trained musician with early ties to the avant-garde and a gift for making incredible noise as well as beautiful melodies
• At one time he was an A&R man for Reprise and he produced Patti Smith's seminal album Horses (among many others).
• He apparently did cut the head off a dead chicken on stage, not his finest hour.
This new album is as good a place to start on your John Cale journey as any since it has some great tunes on it including one co-written with Gnarls Barkley's Danger Mouse (the snappy album opener, "I Wanna Talk 2 U"). "Scotland Yard," "Face To the Sky" and that first track have already ear-wormed their way into my consciousness. The only tracks I find frustrating are "December Rains" and "Mothra," as they employ that annoying auto-tune effect found on so many pop hits this side of Cher's "Believe." They are otherwise good tunes if you don't mind the clichéd effect.
The CD sounds good and I'm sure the 150-gram LP would sound about the same since it uses lots of samplers and other digital production techniques. If you want a more analogue Cale album to challenge your hi-fi, start with his records from the pre-digital age: 1981's Honi Soit (on A&M) is a brilliantly produced bright pop record and Paris 1919 is his landmark from 1973 (on Reprise Records) replete with strings -- many consider it to be his best album. Fear (on Island) is another great rock and roll record as is Helen of Troy, with the wrenching "Leaving it Up To You."
Here are some clips worth your attention from the new album (as well as from some albums past). Time to begin your adventures in Nookiewood and beyond!
"Hatred" (new song previously only available on bonus 7-inch single)
"Perfect"
Happy Happy, Joy Joy!
Happy The Man is back in print! Happy The Man is back in print!
"Who?" you say. Well, in the late 70s, Arista Records released two fabulous albums by an incredibly talented group from Maryland called "Happy The Man," playing a sort of progressive melodic rock jazz fusion that fell stylistically somewhere between Return to Forever, Jean Luc Ponty and Genesis (where they got the their name, BTW). They were produced by the now legendary Ken Scott, who at the time was particularly notable for having engineered The Beatles "White Album." The band's keyboardist and leading light, Kit Watkins, went on to a successful solo career. While Kit has since put out many previously unreleased Happy The Man recordings, the original two albums have seen limited release over the years. Thankfully, they are back in print, with new CD remasters which hold a lot of promise from what I've read on various fan forums and such. I plan to get them soon but heartily recommend you at least check out their second album, "Crafty Hands," which is right up there with the best of the best prog rock albums from the era. You can find it online at Amazon, or to be sure you are getting the remasters, order it direct from Kit's own Linden Music artist site.
For an idea of what to expect, bask in the "Morning Sun" Also check out Stan Whitaker's awesome soloing at the end of "Ibby It Is" (like "Sun," taken from the Crafty Hands album.
Streamin' In A Wonder Winterland
Nothing like tasting a prime slice of 1973 Stevie Wonder in concert from Winterland in San Francisco. Wow! A nice holiday gift from the folks at Wolfgang's Vault.
Sharing the Love (But Please. . . Don't Hate Me For it)
Friends have thanked me and in the same breath told me they hate me for telling them about Oldies.com. Why? Because, like me, they get addicted to it and spend money on all manner of curious bargains they never knew existed! With the holidays upon us and budgets tight everywhere, I feel compelled to share it with you. I discovered this site years ago due its mesmerizing selection of obscurer-than-obscure movies that -- trust me -- most of us haven't heard of, much less seen. I mean, where else can you get the Bela Lugosi–narrated Mondo Balardo, a 1964 documentary of all things then strange, for $1.98?
That is only "half the fun" (if you will); there are great music bargains to be found there too, from obscure surround sound SACDs to DTS CDs, DualDiscs to CDs, LPs and 45s and more. You can find the 5.1 SACD of George Harrison's 1991 Live in Japan new on SACD. I just ordered an "EAD" of Sir Simon Rattle conducting Mahler's 8th (featuring a DTS 5.1 mix) for $15 and - sorry , I couldn't resist - Punk and New Wave Masters for $7 on DualDisc, which could either be wonderful or terrible, but for $7 I'm willing to take that risk. See what gems you can find.
Zombies Take Metropolis
The latest live CD+DVD package from The Zombies, recorded at Metropolis Studios in London, is a fun document of the reinvigorated British rock legends performing in a very intimate live setting in 2011 before 120 lucky fans.
The concert shows the band performing vintage hits and obscurities as well as tracks from their fine recent album Breathe Out, Breathe In. On "I Do Believe" Colin Blunstone's impassioned vocals and falsettos take this awesome new bluesy love song to that other level, ringing true with almost angelic Gospel-like delivery.
The Zombies today are a much better band than they were in the the early 60s -- and they were great then! These are mature players making music because they want to. The new songs are great and clearly not throwaways tunes from old farts riding on former glories -- songs like "Mystified" (from Blunstone and Argent's first reunion album Out of the Shadows) and "Any Other Way" are winners from a band thrilled to be given a second chance at the Golden Ring!
Of course there are the big hits, which the band tackles with passion, including "She's Not There" and "Tell Her No." They play a mini set of tracks from their influential Odessey and Oracle album including the mega hit "Time of the Season." They also play hits from keyboardist Rod Argent's early 70s namesake band ("Hold Your Head Up" ) which rock just royally (especially since bassist Jim Rodford was in the original Argent band back in the day before leaving to join The Kinks in the mid-70s).
Check out this clip of them doing "I Don't Believe In Miracles," a song written by Argent's original vocalist/guitarist Russ Ballard for Colin Blunstone's early 70s solo album Ennismore - evidence of the loving intertwining family nature of The Zombies and Argent as bands, as well as the various solo projects of its members. Particularly listen for the wonderment of Blunstone's amazing voice at the end of the tune.
The Zombies at Metropolis Studios isn't a fancy video production -- just guys playing on a small stage in a controlled studio environment, sans grand lighting, effects, stage props and dance routines. If you seek something fancier, perhaps go watch PSY's "Gangnam Style" video again. ;-)
The standard DVD has a pleasant enough 5.1 DTS soundtrack, mostly presenting the soundstage in front with room ambiance in the rear surrounds. The DVD also has a stereo LPCM track (48 kHz/16-bit), which I found a bit warmer than the CD for general listening but in the car the CD rocks out just great. Ultimately you will want to buy this album for the performances and the music within as - really - that is what matters at the end of the day. Get this.
LATEST VIDEO