This Week New Movies for January 8th 2013: Peace is Hell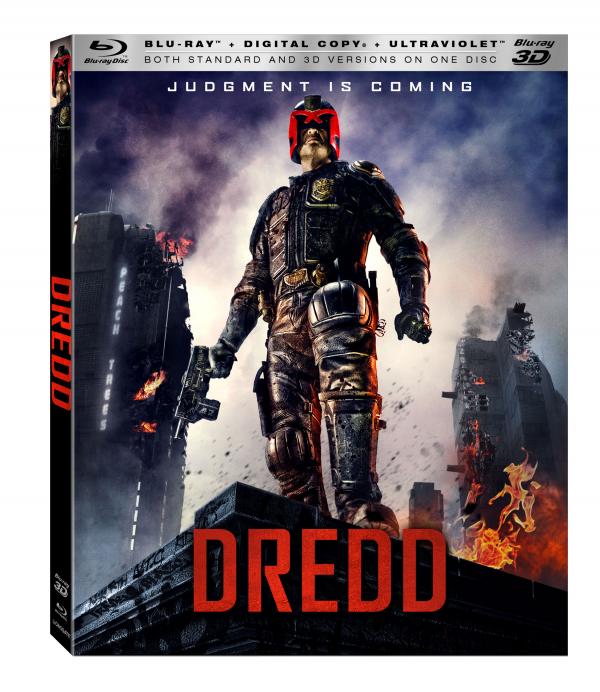 Dread
Graphic violence, gore, and wholesale shoot-'em-up slaughter. In the weak of heart or the strong of mind this might instill . . . well, dread - especially accompanied by catchphrase statements like "I am the law!" and "Judgment time!" - but the film is surprisingly inventive and at times visually striking. Dredd, based on the British comic 2000 AD's strip Judge Dredd created by John Wagner and Carlos Ezquerra, is set in yet another post-apocalyptic America where the East Coast now consists of one vast walled city of skyscrapers running from Boston to Washington DC. In Mega-City One crime is so out of control that cops called judges actually have the powers of judge, jury and executioner. Judge Dredd (Karl Urban) is sent to the projects with a psychic mutant rookie (Olivia Thirlby) to investigate three murders by the heavily armed clan who control a huge high-rise building where they're producing and distributing a new drug called Slo-Mo. As the name suggests, Slo-Mo makes people experience reality at 1% of normal speed and - and it provides the movie with some terrifically original images.
Interesting and well-filled 2.35:1 widescreen compositions (here in a choice of 3D or 2D) depict a future of dull, dark, dusty streets and equally grim and grimy interiors all tinted a sickly green-yellow. Contrast is good with deep black leather judge coats and splashes of scarlet when a pedestrian is squashed across a windscreen or splattered on impact following a fall from a high-rise tower. All is sharp and detailed. Cinematographer Anthony Dod Mantle (who won an Oscar for Slumdog Millionaire) creates striking scenes from the Slo-Mo-effected perspective - villainous scar-faced beauty Ma-Ma (Lena Headey) in a bath splashing streams and sheets of water through the air or a bullet gradually ripping the face off a bad guy - are exceptionally beautiful moments with feathers, dust, or snow floating all around. These shots are in stark opposition to the generally smeary, gloomy look of the rest of the film.
The DTS-HD Master Audio 7.1 soundtrack (optimized for 11.1 Neo X ) is very active with the rears and surround channels in constant use, 1980s-style synthesizer electronica music all around with throbbing, bassy beats from behind and pans of Dredd's motorbike roaring by in all directions or squelchy brains being blown out the back of your head, the endless booming bullet blasts having a sharp snap to them. For the Slo-Mo scenes real instruments were used and then slowed down by thousands of percent to match the visuals with a meandering, melting trippiness that nonetheless remains exceedingly clear.
Video: 2.39:1. Audio: DTS-HD Master Audio 7.1 soundtrack optimized for 11.1 Neo X, Dolby Digital 2.0. Extras: "Mega-City Masters: 35 Years of Judge Dredd," "Day of Chaos: The Visual Effects of Dredd 3D," "Dredd," "Dredd's Gear," "The 3rd Dimension," "Dredd Motion Comic Prequel," and "Welcome to Peachtrees" featurettes; Blu-ray 2D, UltraViolet digital copy for streaming/downloading. Studio: Lionsgate.
Two-Lane Blacktop
Street racers The Driver (James Taylor) and The Mechanic (Dennis Wilson), drive The Car, a souped-up 1955 Chevy One-Fifty two-door sedan, east from L.A. through southwestern America looking for races and . . . something. Having somehow picked up Girl (Laurie Bird) along the way who is heading somewhere, they meet another racer, G.T.O. (Warren Oates), the driver of a 1970 Pontiac G.T.O. at a gas station on Route 66 and agree to race to D.C. for "pinks" (pink-slips endowing the winner with ownership of the loser's car). Along the way, in director Monte Hellman's poetic 1971 cult classic, the little dialogue is about cars, identity, cars, alienation, cars, rootlessness, and cars -and a good 'ol existential time is had by all. Oh, and Harry Dean Stanton plays an Oklahoma hitchhiker.
Two-Lane Blacktop (shot for $875,000) was filmed in Techniscope widescreen, a format popular with low-budget directors in the 1960s and early-'70s for its saving of costs in getting twice as much footage out of the same length of film, for it's low-light capabilities, and the huge depth of field it could provide. (Amongst fans of the process was Sergio Leone who used it to create his magnificent Dollars trilogy deep-focus gunfight compositions of sharp foregrounds, midgrounds, and extreme backgrounds.)
The digitally restored high-definition transfer and uncompressed mono and alternate DTS-HD Master Audio 5.1 soundtracks were supervised by Hellman.
Songs featured in the film, include "Stealin'" performed by Arlo Guthrie, "Moonlight Drive" by The Doors, and "Me and Bobby McGee" by Kris Kristofferson.
Video: 2.35:1. Audio: DTS-HD Master Audio 5.1, LPCM Mono. Extras: commentary by Hellman and filmmaker Allison Anders, commentary by screenwriter Rudolph Wurlitzer and author David N. Meyer, interviews with Hellman, Taylor, Kristofferson, producer Michael Laughlin, and production manager Walter Coblenz, screen-test outtakes, "Performance and Image" look at the restoration of the '55 Chevy used in the movie and the film's locations today, "Color Me Gone" stills and publicity for Blacktop, an illustrated booklet featuring an essay by critic Kent Jones, appreciations by director Richard Linklater and musician Tom Waits, and a reprint of the 1970 Rolling Stone article "On Route 66, Filming Two-Lane Blacktop" by Michael Goodwin. Studio: The Criterion Collection.
Frankenweenie 3D
This black-and-white feature-length stop-motion animation from Tim Burton (Alice in Wonderland, Corpse Bride,Dark Shadows) is an adaptation of the director's cult 1984 live-action short. Frankenweenie tells of a boy and his dog - his dead dog. After losing canine companion Sparky in a tragic baseball accident set into motion by his parents, Edward (Martin Short) and Susan (Catherine O'Hara), young would-be scientist Victor Frankenstein (Charlie Tahan) brings his best (and only) friend back to life with the aid of science, sutures, and a random lightning storm. Victor and Sparky are reunited successfully but when gabby hunchbacked classmate Edgar Gore (Atticus Shaffer) learns of Victor's secret to reanimation and, after their botched attempts to repeat Victor's experiment, the town of New Holland is soon filled with monstrous undead animals - a vampire cat, a wererat, a mummified hamster, a giant turtle creature, amphibious humanoid sea-monkeys - and only Victor and Sparky can save their previously sleepy town from the havoc of the petrifying pets.
Frankenweenie's additional voice talents include Winona Ryder, Martin Landau, Robert Capron and the film has a soundtrack by the inevitable Danny Elfman.
Video: 1.85:1. Audio: DTS-HD Master Audio 7.1. Extras: Captain Sparky vs The Flying Saucers new short, Frankenweenie Burton's original 30-minute live-action short, "Miniatures In Motion: Bringing Frankenweenie To Life" featurette, Frankenweenie touring exhibit art show to celebrate the creation of the film, "Pet Sematary" music video performed by Plain White Ts; Blu-ray, DVD, and digital copies. Studio: Disney.
Mrs. Miniver
This much beloved 1942 saga of war-torn England under threat of invasion, in its portrait of middle-class family life in the first months of World War II, led Prime Minister Winston Churchill to comment that Mrs. Miniver was "propaganda worth a hundred battleships . . . more powerful to the war effort than the combined work of six military divisions." In it, director William Wyler (The Best Years of Our Lives, Roman Holiday, Ben-Hur) created an idealized land filled with England-can-take-it spirit and British stiff-upper-lip resolve in the face of terror, celebrating everything that its people love about that green and pleasant land - the history, traditions, and way of life of this island people - which could all be destroyed by the merciless philosophy of Nazism.
Starring Walter Pidgeon, Greer Garson, Teresa Wright, Dame May Witty, Reginald Owen, and Henry Travers,Mrs. Miniver is a tale of roses, romance, and rugged perseverance dealing with everyday challenges and pleasures, joys and heartbreak - in addition to blitz bombings, parachutists, and the everyman-bravery of the Dunkirk rescue by a fleet of tugs, schooners, and fishing boats.
Garson gave a marvelously restrained but powerful title-role performance as Kay Miniver, which won her an Oscar. The film also won five more Academy Awards including Best Director and Best Picture.
Video: 1.37:1. Audio: DTS-HD Master Audio English 1.0 Mono. Extras: Garson Academy Awards footage, Blitz Wolf, vintage MGM wartime shorts Mr. Blabbermouth and For the Common Defense. Studio: Warner.
The Hour: Season 2
The critically acclaimed, Golden Globe-nominated BBC drama series created by Abi Morgan and starring Dominic West, Ben Whishaw, and Romola Garai is a behind-the-scenes look at a BBC investigative news TV program, "The Hour," in 1950s Cold War-era England. Centering on the professional practices and playtimes of current affairs journalists, producer, and anchormen, The Hour also delivers plenty of Mad Men morals and style for glamour with murder mystery and espionage thriller thrown in for spice. In other words, The Hour offers a world of governmental cover-ups and sexual intrigues in fancy Fifties' suits.
Season 2 rejoins the team in 1957 with the introduction of new characters played by Peter Capaldi, Hannah Tointon, and Tom Burke as the members strive to advance their careers while getting the stories they care about on the air. Their ambitions and passions are played out in the context of the Cold War with its looming possibility of nuclear annihilation, the hopes and fears of the Space Race, and murky governmental machinations. The story is also set in a time when the country is going through rapid changes and a new optimism due to modernizations, economic opportunity, scientific advancement, and culture developments, all accompanied by the inevitable evolution of social mores.
The series co-stars include Anna Chancellor, Anton Lesser, and Julian Rhind-Tutt, Tim Pigott-Smith, Juliet Stevenson, Burn Gorman, Anton Lesser, Anna Chancellor, Julian Rhind-Tutt, and Oona Chaplin.
The two-disc set will contain all six 60-minute second-season episodes.
Video: 1.78:1. Audio: Dolby Digital Stereo. Extras: to be announced. Studio: BBC.
LATEST VIDEO